While many are upset about the NBA's controversial decision to allow ads on team uniforms, young people don't seem to mind
Next season, the National Basketball Association will become the first of America's big four major sports leagues to allow advertising on player jerseys (the other leagues being the NFL, NHL, and MLB).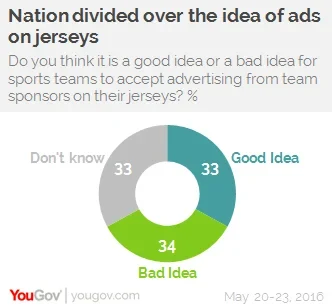 While the practice already occurs in the Women's National Basketball Association and Major League Soccer, and is commonplace in other countries, such as England's Premier League and Canada's football league, the decision gives brands unprecendented access to a space many die-hard American sports fans have long considered sacred. In the first of such deals, StubHub has partnered with the Philadelphia 76ers to feature the company's logo on a 2.5-by-2.5-inch patch located on a player's chest.
According to data from YouGov Profiles, which tracks people's attitudes, opinions, and behaviors on a variety of topics over a long period of time, over 70% of people already report feeling bombarded by advertising. So how will the public react to the NBA's decision to introduce even more advertising?
A recent YouGov survey shows that millennials are largely up for it. Indeed, when asked whether it was a good idea for professional sports teams to allow corporate branding on team uniforms, nearly half of young people aged 18-29 agreed. Opposition to this new source of revenue, then, appears to increase by age group, as over one-third of those aged 30-64, and 44% of those aged 65 and older, consider the decision a bad one.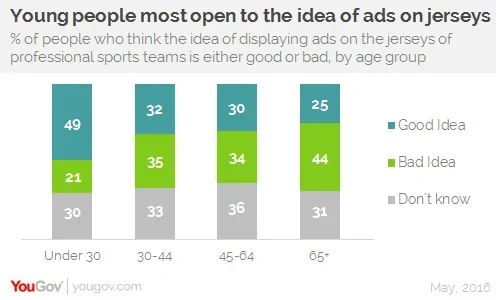 Put another way, when asked if the realm of professional sports entertainment already contains too much advertising — posters for internet travel companies on the sidelines; top-10 plays sponsored by automakers — only 41% of people aged 18-29 agreed. That number increased to 47% for 30-44 year olds, 62% for 45-64 year olds, and 67% for those aged 65 and up.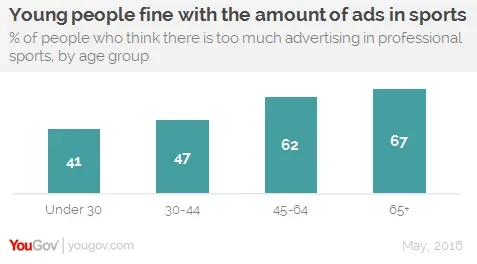 Perhaps the overarching idea is that, having grownup in a media-rich environment, young people aren't as bothered by ads as their elders. That, or they simply haven't lived long enough yet.
Full poll results and margin of error can be found here.