New data from YouGov Profiles shows that, of all the sneaker brands, Under Armour has the wealthiest customers with more than half earning $50,000 or more per year
Selling sneakers is no small business. One report estimates that, in 2015, the U.S. athletic footwear industry produced $17.2 billion in sales. The late Bill Cunningham, renowned fashion photographer for The New York Times, thought that sneakers for men have become the equivalent of elaborate handbags for women — the outfit's all-important statement piece.
So which is the poshest sneaker brand of them all? An analysis of data from YouGov Profiles, the vast database of customers and their preferences, generates the following ranking of the top shoe brands: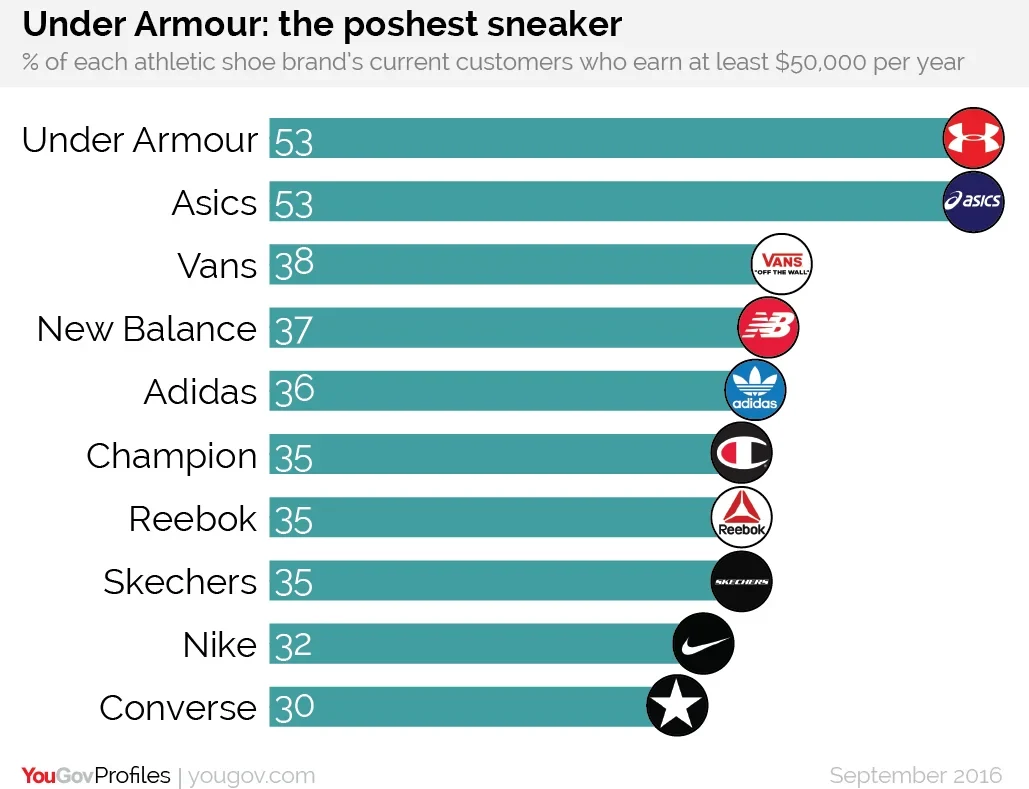 At 53%, Under Armour has the highest percentage of current customers who earn $50,000 or more per year, making it the poshest sneaker brand around. Asics came in a virtual tie with 52.7%, followed after a big jump by Vans (38%) and New Balance (37%).
The levels for Champion, Reebok, and Skechers were very close, as just over a third of each brand's customer base makes at least $50,000 per year.
While Nike dominates the athletic shoe market, its sheer popularity means that people of all income brackets are customers.

Thanks to the athleisure trend — not to mention the subculture of sneakerheads, who collect shoes as a hobby that borderlines obsession — analysts expect the athletic footwear industry to continue along its upward trajectory. As the competition increases, it's important for brands to know the kinds of customers they tend to attract.