Data also shows that policyholders looking for a new plan are more likely to turn to friends and family for advice than price comparison websites
New data from YouGov finds that 70% of US adults who've made an insurance claim in the past are generally satisfied with the resolution.
But not every policyholder shows the same degree of contentment with their plan. In total, about a third of consumers say they intend to actively search for a better insurance policy when their current one is up for renewal, while a slightly larger percentage indicate that they probably wouldn't make a switch.
A look at specific types of policyholders reveals that those with auto, home, health, or life insurance are more likely to keep the same plan than try something new. Consumers with mobile phone insurance, however, are more likely to hunt for a better deal.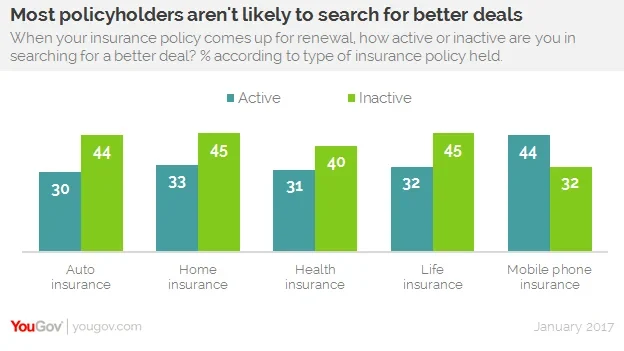 When searching for a new insurance policy, nearly a third of US adults say they either always or normally rely on friends and family as a source of information. Other places people turn to for advice include price comparison websites (28%) and the websites of known insurance companies or brokers (24%). Only 5% say they look into advertisements or newsletters sent via email.