After upstarts Dollar Shave Club and Harry's made serious land grabs on its home razor blade turf, Gillette seems to be achieving some small success after three months of counter-measures.
Over three consecutive months, Gillette lowered the prices on some of its blade products as much as 20% in March, launched a "Welcome Back" marketing campaign in April, and then debuted its "Gillette On Demand" subscription service in May, mimicking the business models of both Dollar Shave Club and Harry's.
The biggest impact seems to be with YouGov BrandIndex's purchase consideration metric, a key indicator of potential sales revenue. From March through now, Gillette's purchase consideration rose from 24% of its own customers considering buying one of their products the next time they purchased consumer goods on March 1st, to its current 31%. At the same time, Dollar Shave Club downshifted from 63% to 51% with its own customers. Although both score movements are within the margin of error, the recent trend results in the smallest gap between the two brands since July 2016.
Secondarily, over the same 90-day period, Gillette's value perception scores with its own customers rose from mild negative feedback to modest positive, the highest it's been since one year ago.
At the same time, Dollar Shave Club's value perception gradually eroded, yet the gap between the two brands is still very wide.
Gillette watched its market share sink from 70% in 2010 to 54% in 2016, likely the victim of the inexpensive direct-to-consumer subscription models of Dollar Shave Club and Harry's. YouGov BrandIndex measured consumer perception with its Value score, which asks respondents: "Does it give good value for what you pay?" A score can range from -100 to 100 with a zero score equaling a neutral position.
Value: Dollar Shave Club v Gillette (their own customers)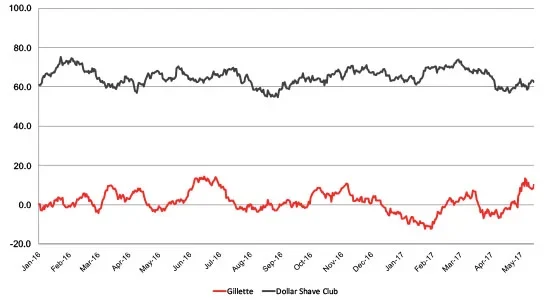 Purchase Consideration: Dollar Shave Club v Gillette (their own customers)