As Adobe releases its second-quarter report, new data from YouGov for Traders reveals the brand's health metrics
Following two weeks of downward pressure on the biggest tech firms, Adobe announces its earnings for the second quarter tomorrow. Ahead of its announcement, we take a look at the health of a brand that reported record revenue in the previous quarter and four out of five American consumers recognize.
Since the turn of the year, Adobe has followed the same share price trajectory of tech giants such as Facebook and Amazon, rising just over 40% before the recent drop in tech stocks saw it fall back 5%. Having achieved record revenue in 2016 and in Q1 of 2017, it is understandable why investors might be bullish on the company's future.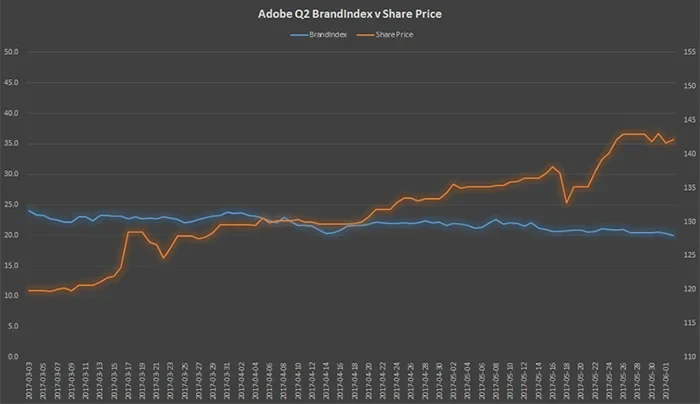 This success mirrors the strength in consumer perception of the brand, too. Around 80% of US consumers are aware of Adobe, which, to add context, is only just below brand recognition of Twitter, around the same as Levi's, and above that of Five Guys.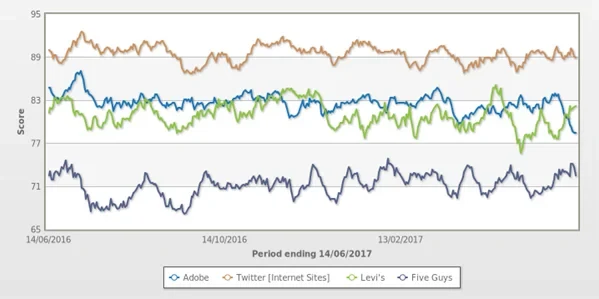 BrandIndex Brand Awareness Score, US Consumers: June 2016 – June 2017.
Two week moving average.
Overall, the way to describe Adobe's brand health is consistently positive, as shown by their Index score of just over 21 points. This consistency in consumer opinion can also be seen in their UK data, though at a slightly lower level.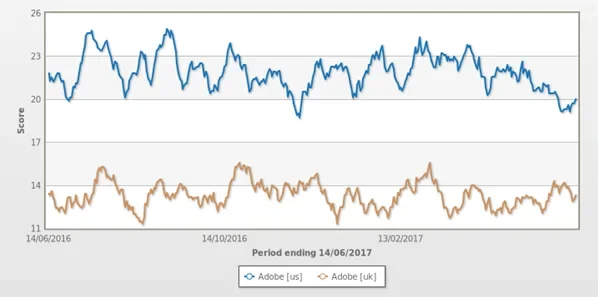 BrandIndex Index Score, US Consumers: June 2016 – June 2017.
Two week moving average.
Disclaimer: YouGov for Traders isn't investment advice.