After seeing its consumer perception damaged during the 2016 Presidential campaign, Americans seem to have moved on from villainizing Goldman Sachs, bringing the company to its highest perception point since January 2008, according to YouGov BrandIndex.
While still receiving more negative feedback than positive, this comeback is even more remarkable considering the finance company was widely portrayed as "evil" during the campaign by two candidates. Donald Trump linked Hillary Clinton to "Wall Street" for being paid to give a speech at Goldman Sachs in 2013, and Bernie Sanders lambasted the company for irresponsible behavior.
Even in the middle of political pummeling, in May 2016, Goldman Sachs sank to its lowest perception point in almost three years when they settled a lawsuit for $5.1 billion for its handling of mortgage-backed securities leading to the 2008 financial crisis.
From June 2016 through March 2017, Goldman Sachs drifted down again, as it became a metaphorical "punching bag" for Trump and Sanders.
The turning point was earlier this year in March, as the bashing went away and President Trump hired five Goldman Sachs alumni for prominent White House positions, including Gary Cohn and Steve Bannon. Since then, Goldman Sachs perception has been slowly climbing, hitting its high point on October 22nd.
While Goldman Sachs has been on a comeback, its perception levels are still significantly below rivals Morgan Stanley and J.P. Morgan, which are both in slightly positive perception territory.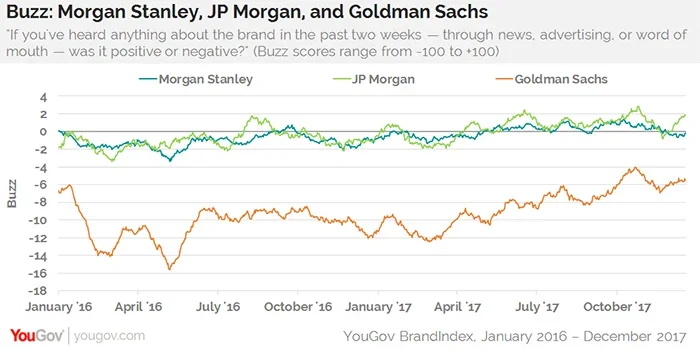 Data from YouGov Profiles shows that while 53% of the general public tends to trust banks and credit unions, the same is true for 73% of US consumers who hold a positive view of Goldman Sachs. Additional figures suggest that nearly half (48%) of the country agrees with the following statement: "Banks try to trick us out of our money."
YouGov BrandIndex measured consumer perception for the financial institutions with its Buzz score, which asks respondents: "Over the past two weeks, which of the following brands have you heard something positive or negative about?" A score can range from -100 to 100, with a zero-score equaling a neutral position.

Photo: Getty
Find out more about YouGov BrandIndex