One in four men (26%) believe men and women are paid equally
More than one-third of men (37%) believe workplace gender diversity efforts ultimately disadvantage males, though only half that figure (18%) say they have actually experienced office discrimination because of their gender. In contrast, noticeably more women (31%) report having faced gender discrimination at work, according to a new YouGov poll. The research among more than 1,000 US adults explored views on gender equality in the workplace.
A little over half (58%) of men acknowledge that males are generally paid more than females in the workplace, a fact that three in four women (74%) agree with. According to the US Census Bureau, women continue to earn less than men in nearly all jobs. America's ongoing gender pay discrepancy is highlighted each year on Equal Pay Day (April 2), which the National Committee on Pay Equity uses to symbolize the number of days into 2019 that a woman would need to work, on average, in order to earn what a man did in 2018.
The same YouGov RealTime research survey showed that one in four men (26%) believe that males and females are paid equally, compared to just 12% of women who say the same. Only 7% of men and 3% of women believe that females in the workplace are typically paid more than males.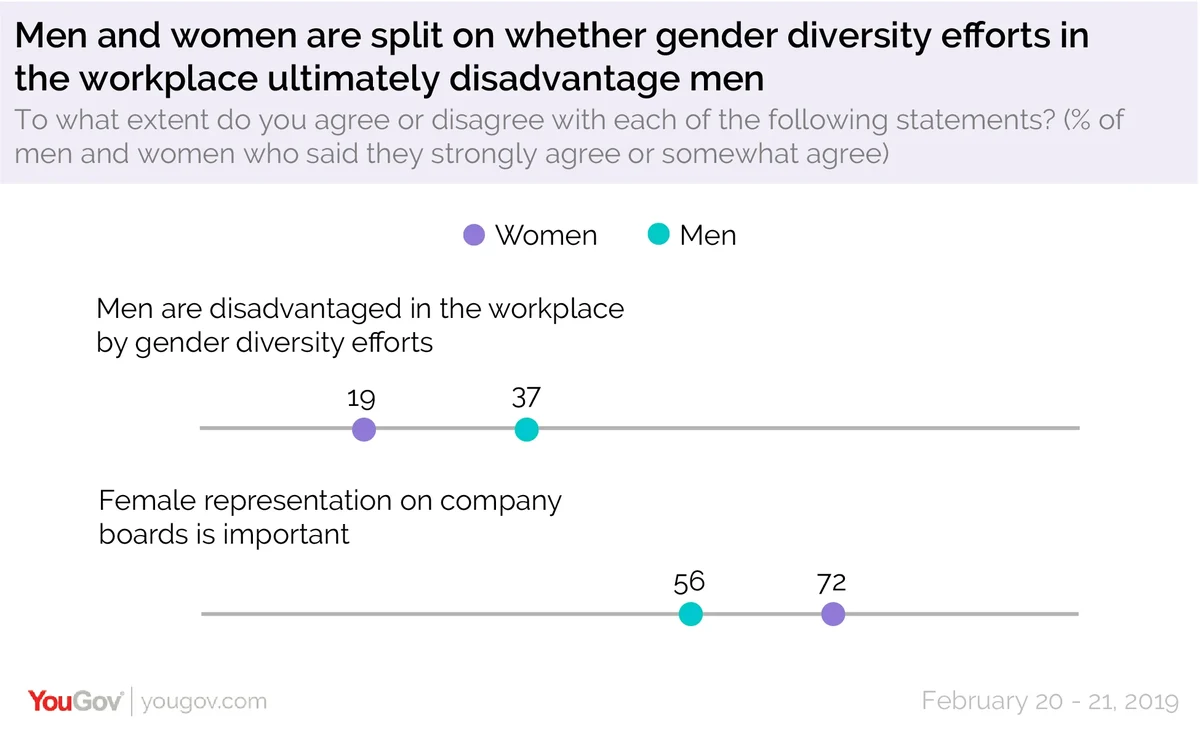 Among both men and women, pay transparency policies — or workplace initiatives where employees know how much money their colleagues make — are similarly popular and unpopular. About one in three Americans believe pay transparency policies would benefit the workplace (33% of women and 32% of men) and that is mirrored by the number of people who say pay transparency would hurt a workplace (31% of men and 31% of women).
The importance of increasing female leadership in the workplace is highlighted by a majority of Americans, particularly on company boards. Women overwhelmingly say (72%) that female representation on company boards is important—another 23% of women were neutral, while only 5% disagree. A majority of men (56%) say female representation on corporate boards is important, and 28% were neutral with 16% disagreeing.
Related: Men think they know women's history better than women believe they do
See the full YouGov results from this poll here and learn more about YouGov RealTime Research.
YouGov Methodology: Total sample size was 1,241 US adults aged 18+, including 674 females and 567 males. The responding sample is weighted to the profile of the sample definition to provide a representative reporting sample. Interviews were conducted online between February 21-22, 2019.
Image: Getty