Additional data shows that an increasing number of US adults would be proud to work for United, Delta, and American Airlines
Presently, just 3.8% of Americans looking for a job can't find one. That's a major improvement from about a decade ago, when around 10% said the same in the wake of the 2008 financial crisis.
At the same time, current data from YouGov Plan and Track reveals that when presented with the statement "I love my job," about one in five (22%) US adults with a full-time job disagree. Furthermore, 70% of full-time employees wish they didn't have to go to work every day, suggesting some discontent among today's workforce.
But, then again, not all companies are created equal. Among the top brands US adults would be proudest to work for — as opposed to embarrassed — new numbers show that, for the second year in a row, health and medical institutes the Mayo Clinic and Johns Hopkins Medicine top the list of YouGov's annual Workforce Rankings. In total, consumers currently give the Mayo Clinic an average Reputation score of +52.6, while Johns Hopkins Medicine stands at +48.7.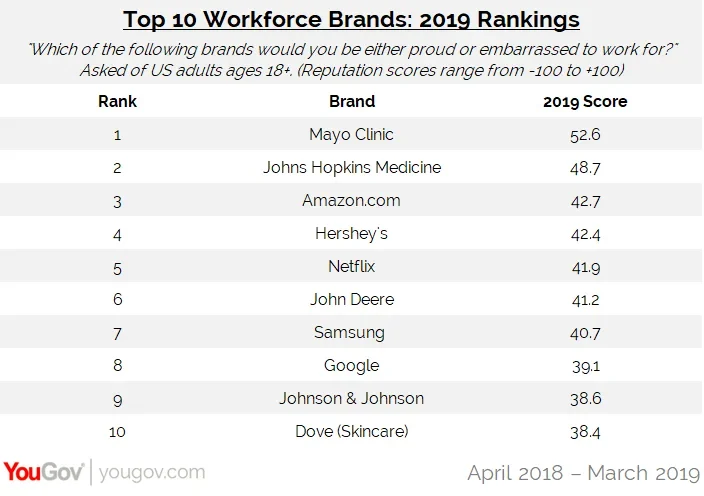 Technology companies also make a strong showing, with Amazon (+42.7), Netflix (+41.9), Samsung (+40.7), and Google (+39.1) all appearing within the top ten.
More established brands that have long dominated their respective fields and become household names, such as Hershey's (+42.4), John Deere (+41.2), and Johnson & Johnson (+38.6), also rank among the top places consumers would be proudest to call themselves an employee.
As for brands that have shown the most year-over-year progress, United Airlines tops YouGov's improver list, climbing from an average Reputation score of +1.5 in 2018 to +14 in 2019, resulting in a 12.6-point improvement. In the past few years, United has suffered a couple public-image setbacks — from footage of a passenger being dragged off one of its planes to a dog dying in an overhead bin — resulting in more people saying they'd be embarrassed to work for the company than proud.
Compared to last year, American Airlines (3.9-point improvement) and Delta (3-point improvement) have also seen their numbers go up.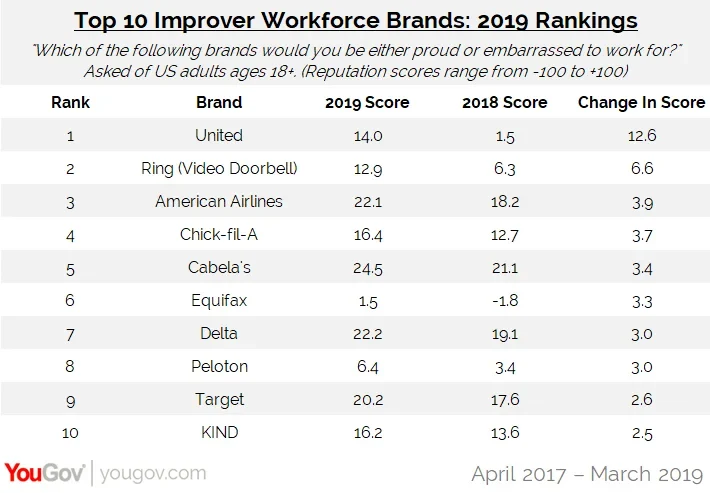 Brands that haven't suffered a crisis, but have seen a steady increase in people saying they'd feel proud to work for them, include Amazon's home security system Ring (6.6-point improvement), Cabela's (3.4-point improvement), Peloton (3-point improvement), and KIND (2.5-point improvement).
Photo: Getty