YouGov is stuck on Band Aid brand and Band Aid's stuck on us.
For the third year in a row, Band Aid has taken the top spot in YouGov's BrandIndex global brand health rankings for the United States. BrandIndex constantly measures the public's perception of thousands of brands every day, tracking a number of variables including Impression, Quality, Value, Satisfaction, Recommend and Reputation.
The top-10 healthiest brands, according to YouGov interviews, include businesses from a range of categories, but just two tech companies: Netflix and Samsung.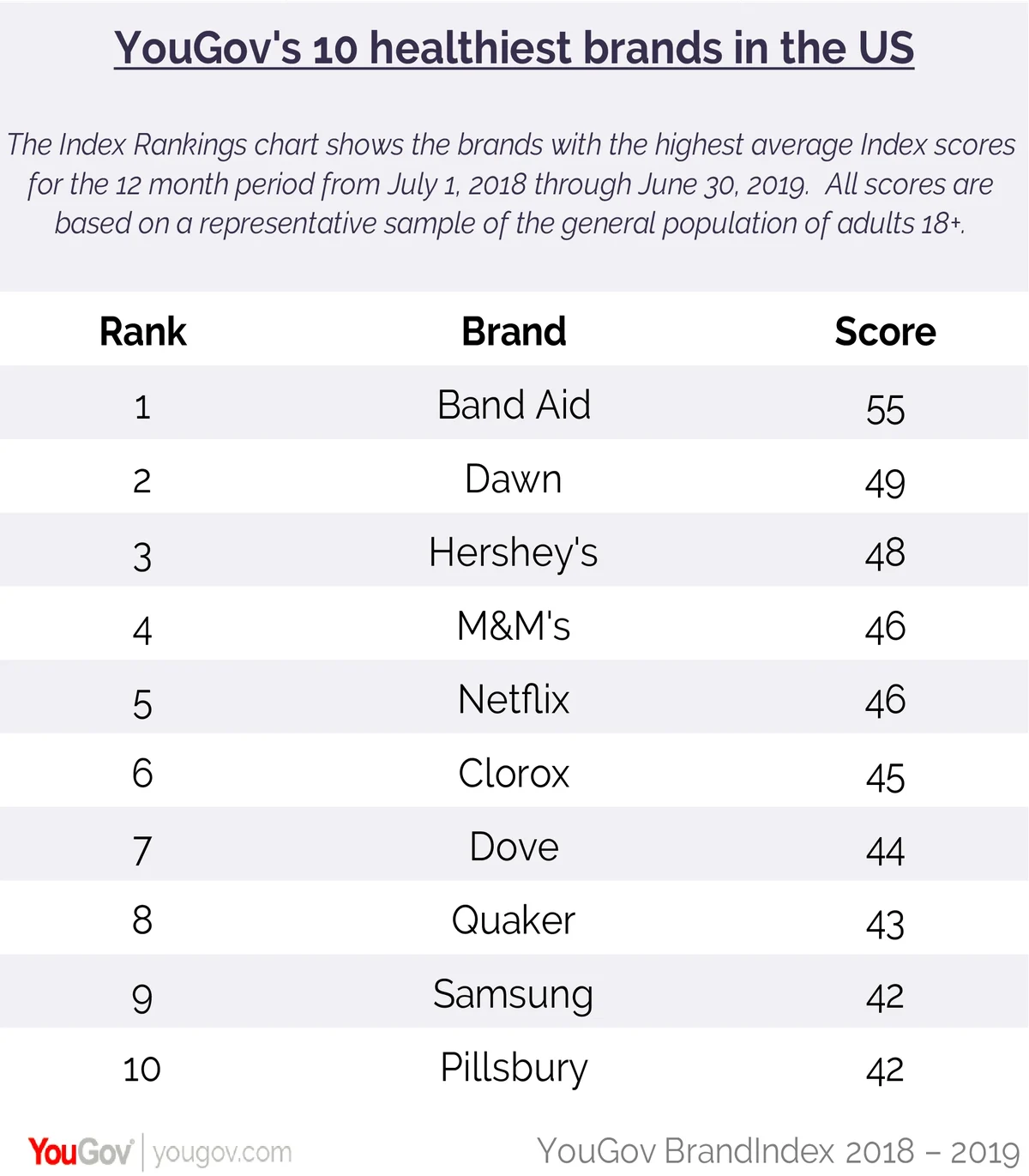 Chocolate makers enjoyed a good year. Hershey's moved up a spot to grab the third position -- behind second-place Dawn dish soap -- and M&M's moved four spots to take fourth place over all for 2019.
The biggest movers on our list, the brands with scores that increased most significantly compared with last year, include United Airlines, Equifax and Ring Video doorbells. The measure on Equifax, it's worth noting, took place while that brand was recovering from a massive data breach in 2017 that affected 143 million individuals. That company has recently seen some negative press around its settlement agreement that isn't reflected in this data.
United Airlines has been recovering from negative press about the way it treated some of its passengers, and while it's the biggest mover, it doesn't crack the top-5 airlines according to YouGov BrandIndex. Southwest leads the airline category in terms of brand health, which seems to be a boon for the company. According to YouGov's Plan and Track data, 37 percent of the country plans to purchase tickets on Southwest over the next 90 days, far more than the 32 percent that plan to purchase Delta tickets, and the 31 percent that plan to purchase with American.
Methodology:
The 1,740 brands in YouGov BrandIndex were ranked based on the Index score, which is a measure of overall brand health calculated by taking the average of Impression, Quality, Value, Satisfaction, Recommend, and Reputation.
The Index Rankings chart shows the brands with the highest average Index scores for the 12 month period from July 1, 2018 through June 30, 2019. The Index Improvers chart ranks the brands with the highest increase in Index, comparing scores from the previous 12-month period. All scores are based on a representative sample of the general population of adults 18+.
All Index scores listed have been rounded to a single decimal place; however, we have used additional precision to assign ranks.
All brands must have been tracked for at least 6 months to be included in the rankings, and must have been tracked for at least 6 months in the prior year's period (as well as being currently tracked) to appear in the movers tables.
For more information about how YouGov's Plan & Track data can help your brand, please click here.
Image: Getty