Americans are growing more and more concerned that a major economic recession may be on the horizon, according to new data from YouGov.
Nearly three in 10 US adults (29%) now believe the next major recession will hit within the next year, up from 18 percent in July. Among registered voters, 33 percent believe a recession is coming within the next year.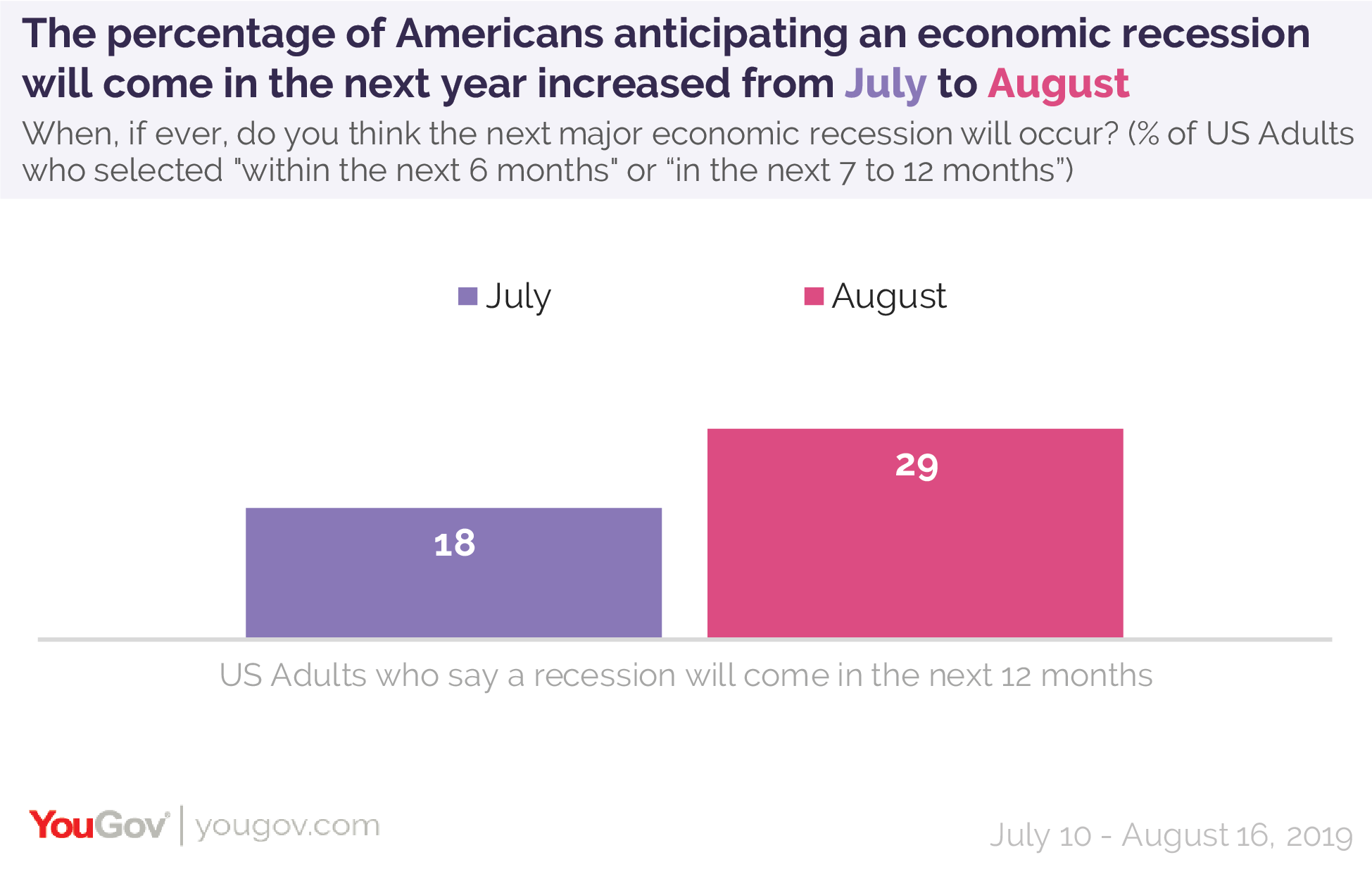 YouGov's August findings highlight an especially strong concern from Baby Boomers. More than a third of that generation (35%) expect a recession within the next year, compared with roughly one-fourth each of GenXers (25%) and Millennials (24%).
American with higher education are also more concerned. Roughly four-in-10 of those with four-year degrees (39%) and postgrad educations (41%) fear a recession in the coming year, compared with roughly three-in-10 (29%) of those with two-year degrees or some college and roughly two-in-10 (21%) of those with high school educations or less.
It's the economy, stupid

As recession and other economic fears can often be seen as a referendum on the current presidential administration, it's perhaps not surprising that Democrats and Republicans resoundingly disagree on recession probabilities and preparedness:
- Nearly half of Democrats (48%) expect the next major economic recession to hit within the next year, compared with just 16 percent of Republicans. Roughly a quarter (26%) of independents indicate the same.
- Republican optimism is a through-line on preparedness as well:
o A 56 percent majority of Republicans feel personally prepared for a major economic recession (vs. 42 percent of Democrats and 40 percent of Independents ); pluralities of Democrats (50%) and Independents (49%) feel not very or not at all prepared (compared with just 35 percent of Republicans).
o Though Americans more uniformly deliver a net-negative assessment across party lines in regards to the country's preparedness as a whole (with more members of each group voting not very or not at all prepared than feeling the country is very or somewhat prepared), there are still divisions by political ranks:
o Republicans (42%) are more likely than either Democrats (18%) or Independents (24%) to feel the country is somewhat or very prepared, while strong majorities of Democrats (73%) and independents (64%) are likely to sound the alarm that the US is not very or not at all prepared (compared with a 47 percent plurality of Republicans).
[Editor's note: a slight variation on positioning exists between the July and August question about when the recession may hit.]
Methodology: This survey has been conducted using an online interview administered to members of the YouGov Plc panel of 2.5 million individuals who have agreed to take part in surveys. Total sample size was 1232 adults. Fieldwork was undertaken between August 15th - 16, 2019. The survey was carried out online. The figures have been weighted and are representative of all US adults (aged 18+).
Image: Getty