One of America's largest bank chains, Capital One, is seeing advertising gains after announcing its partnership with pop-star Taylor Swift to launch her new album, Lover.
On July 26, Swift promoted Capital One's Savor Cash Rewards Credit Card in a 30-second video set to the tune of her summer single release, ME! The advertisement shows Swift working as a clumsy waitress at a diner, standing behind a bar shaking a cocktail unsuccessfully and serving ice cream with a hearty dose of whipped cream. Throughout the sketch, Swift-inspired references were sprinkled as easter eggs—including a bill to the total of $19.89, a doodle of a cat, and an invitation for customers to "shake it off."
Swifties were incentivized to become Capital One cardholders to access an early digital version of the artist's record and new merchandise.
Amid the collaboration, Capital One achieved one of the most significant improvements in Ad Awareness scores (whether someone has seen or heard an advertisement broadcast by a company in the past two weeks) among American consumers in August, according to data from YouGov Plan & Track. This spike in awareness came as the brand battled criticism after a hacker gained access to 100 million credit card applications, as well as thousands of Social Security and bank account numbers.
At the start of August, Capital One's Ad Awareness score was at 33 percent. On August 15, the company's Ad Awareness scores hit 35 percent.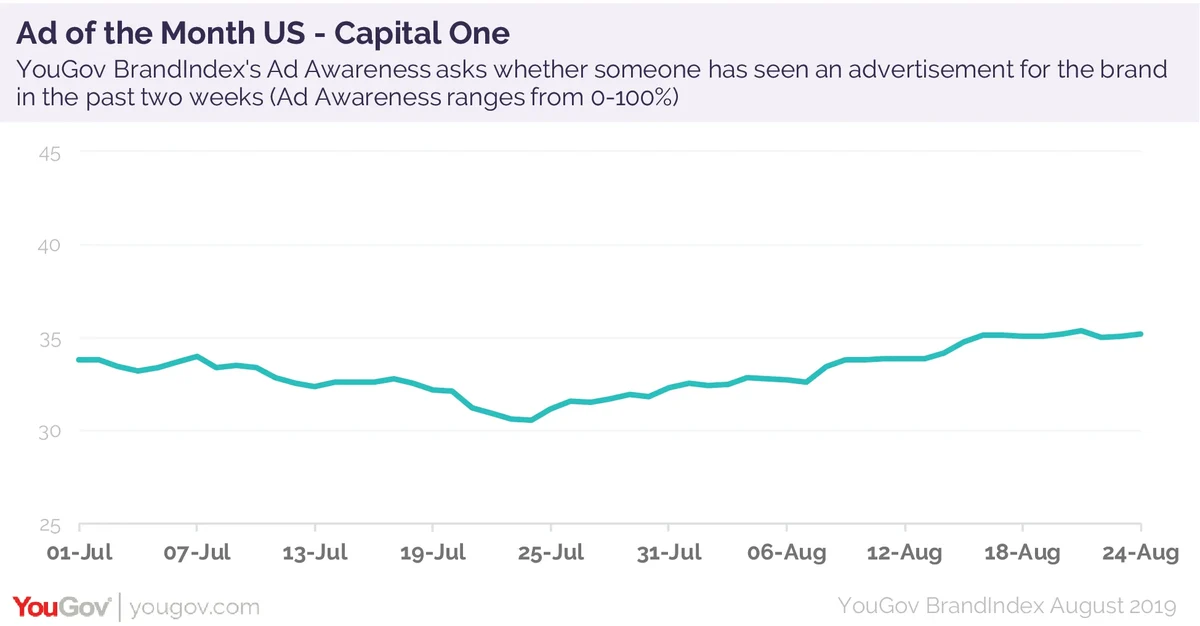 Swift closed out August with a Capital One-sponsored pop-up shop in New York City, which she promoted on her Twitter account with a shout-out to her banking partner. Other YouGov data indicates that Swift fans are most likely to be Millennials or Generation X, but she is equally popular among men and women.