The pandemic has not only changed
, but the ways we make, save and move our money. Though user adoption of mobile banking has steadily increased for some time, the pandemic spurred a flocking of consumers to digital banking, and suggest it's a shift that will likely stick.
A new YouGov analysis tracks mobile banking trends through the past few years and looks at consumer preferences for financial services like contactless payments and visiting in-person branch locations. We'll also take a deep dive into the mindset of a group of power users: daily mobile bankers.
The adoption of mobile banking through the years
Even before the pandemic, mobile banking has been increasingly utilized. Since YouGov began tracking the adoption of mobile banking, the share of weekly mobile bankers has increased by 22 percentage points. Now, in 2021, more than half of US adults indicate they use mobile banking once a week or more often (56%).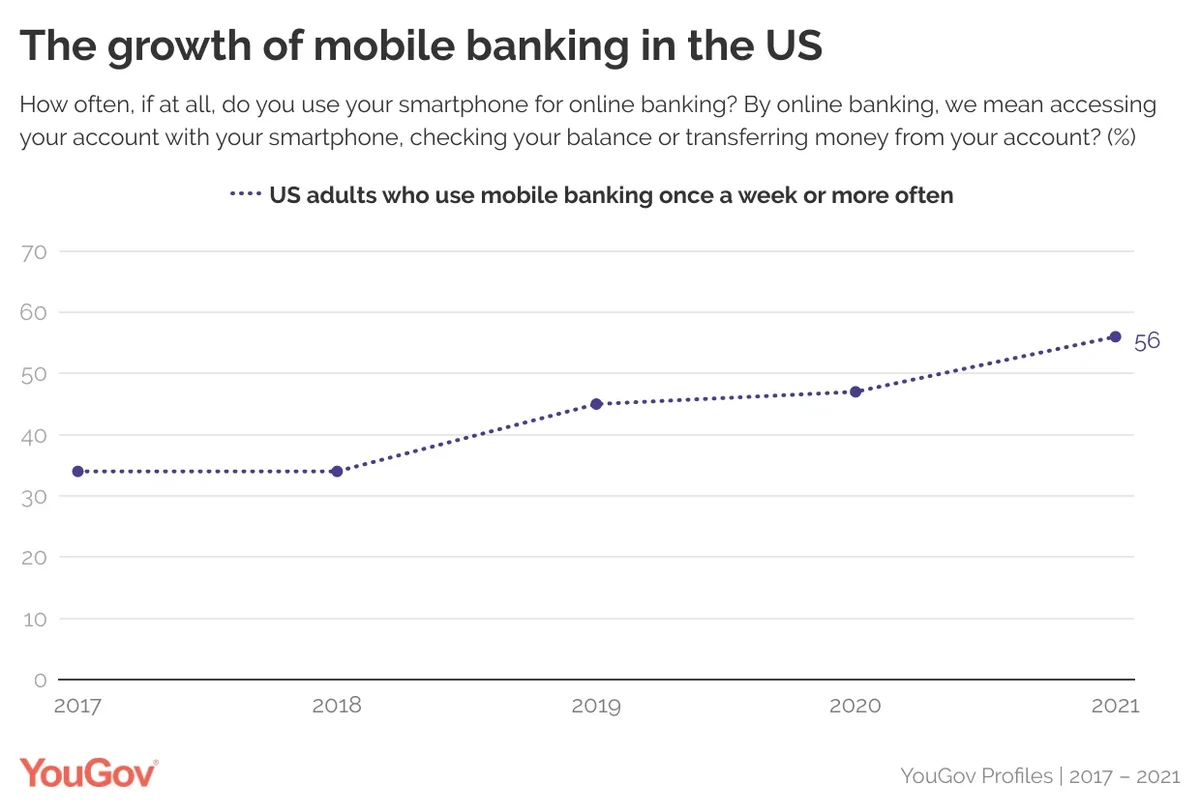 Peace of mind, convenience and security may be key drivers in this shift toward mobile banking. Data from our
Global Banking & Finance report
reveals that more than half of Americans believe it is safe to manage their finances online (57%). What's more, confidence in digital banking security remains steady across all age groups and is especially high among 35- to 44-year-olds (63%).
Among the trends impacted by the pandemic, how we pay for goods and services also shifted. Research from the same report shows that more than two in five Americans (43%) say they use contactless payments wherever possible, while just 30% say they prefer to use cash.
Audience insight: Heavy users of mobile banking
Although COVID-19 restrictions limited or outright prevented in-person visits to bank branches, Americans still required access to their accounts for various banking and payment needs. This accelerated the shift to mobile banking, with some consumers forming new financial habits while existing mobile bankers doubled down. YouGov's post-pandemic research reveals that 48% of US adults now say they will avoid visiting a bank in person whenever possible, providing additional evidence for a permanent shift to digital financial services.
Over the past year, one in five Americans (21%) say they use mobile banking to manage their money on daily basis (vs. 9% of US adults in 2017). Americans aged 25-44 (28%) were significantly more likely than any other age group to use mobile banking every day. Expectedly, this demographic is also most likely to say they will avoid visiting banks in person (54%).
Virtually every major banking institution has its own mobile app, allowing customers to complete simple banking tasks without visiting a branch. From depositing checks, to managing account balances, to contacting representatives, banks have brought convenience to the literal fingertips of their customers.
When it comes to the banks that heavy users say they would recommend, Capital One Bank and Bank of America stand out. Data from
, which monitors consumer perceptions across several dimensions of brand health, shows that, in May 2021, Americans who use mobile banking on a daily basis were significantly more likely than the overall population to recommend these two banks to friends and colleagues.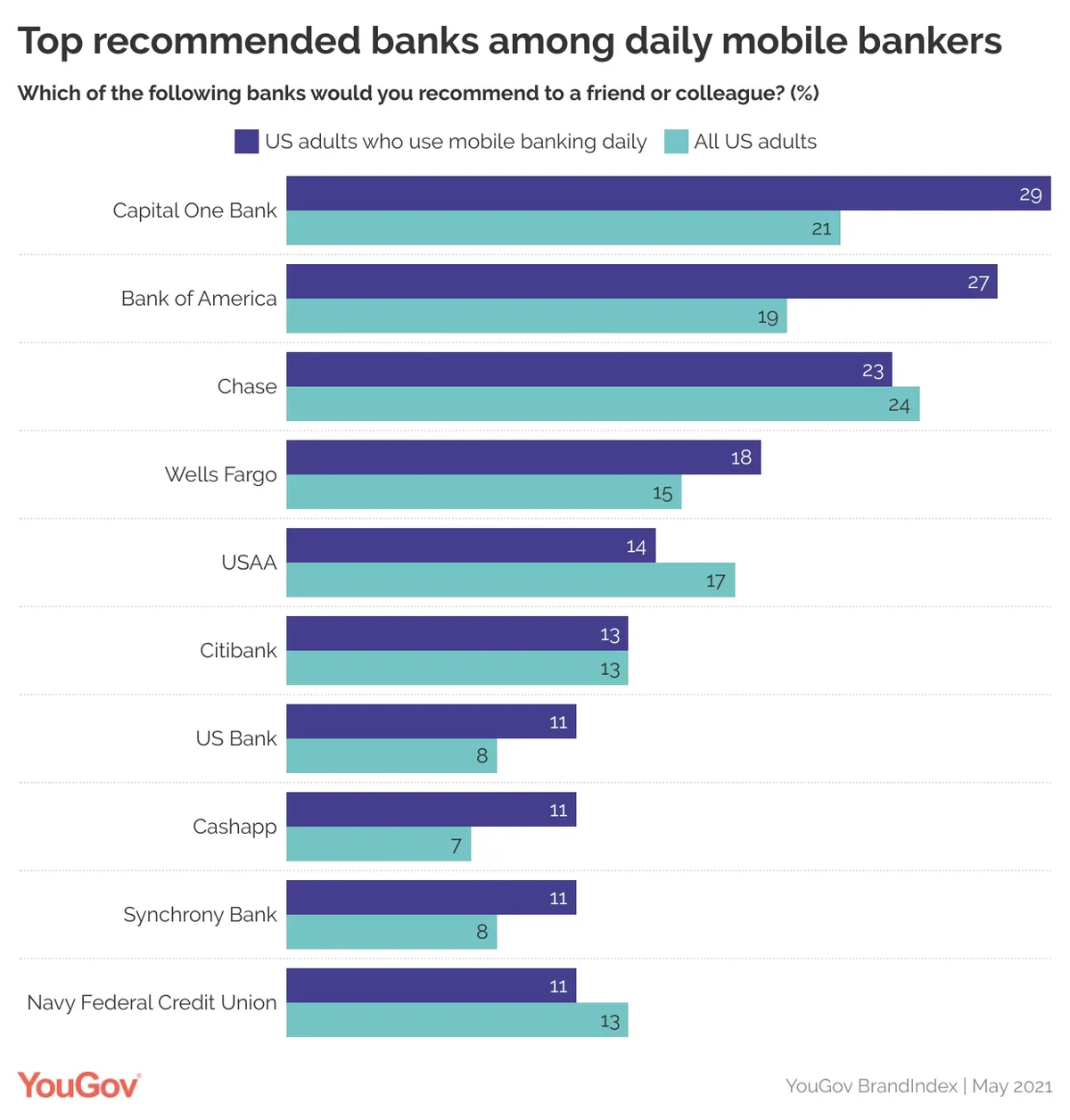 Americans aged 55 and over reported significantly less reliance on mobile banking to manage their finances. Specifically, just 13% say they use mobile banking daily. While this gap signals a challenge for the mobile banking market, persuading this demographic to make the shift to digital could tip the balance away from costly brick-and-mortar banking.
Download YouGov's Global Banking and Finance report 2021 here