New data from YouGov Omnibus also shows that over one in five players have already bumped into someone
It's hard to embellish the current momentum behind Pokémon Go. Over the past week, Nintendo's market cap has grown by $17 billion, as a steady stream of users continue to download the location-based augmented reality app onto their smartphones. Even the presidential campaigns of Hillary Clinton and Donald Trump have tried to leverage the mobile game's popularity to their advantage. As the New Yorker put it, "to say [Pokémon Go] has spread like wildfire is to exaggerate the power of wildfires."
Indeed, according to new data from YouGov Omnibus, which conducts surveys on people's opinions, attitudes, and behaviors, only 14% of the public haven't heard something about it.
Beyond mere awareness levels, however, the Omnibus survey reveals that 54% of Pokémon Go players have left their house to play the game at times when they normally would have stayed indoors. Furthermore, 40% have gone out of their way to catch the little creatures and other items found in the virtual world, while 30% have engaged in conversation with strangers also playing the game. On a more cautious note, about a fifth of users admit they've either accidentally walked into another person or bumped into an inanimate object.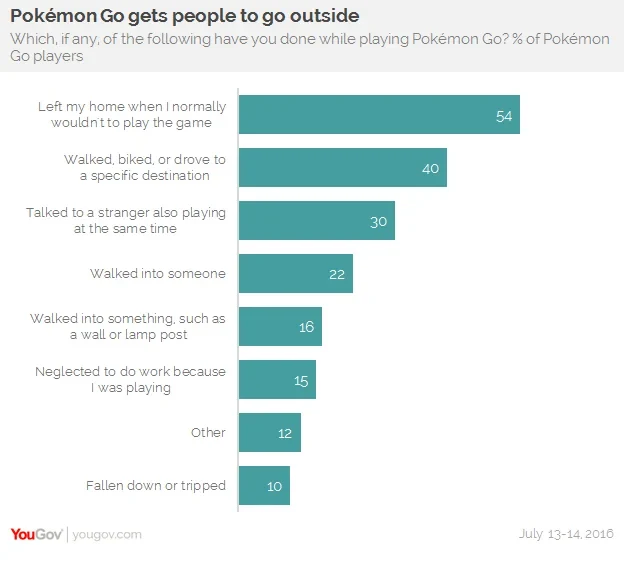 Since Nintendo released the first Pokémon game on Game Boy in the mid '90s, and the majority of Pokémon Go players are millennials, some experts are crediting nostalgia for the game's success. Data shows that though fondness for childhood memories plays a major factor, users report it's not as crucial as the sheer exercise and enjoyment of rediscovering their own neighborhood. Also, half of users said the gameplay itself is what propels their quest to catch 'em all.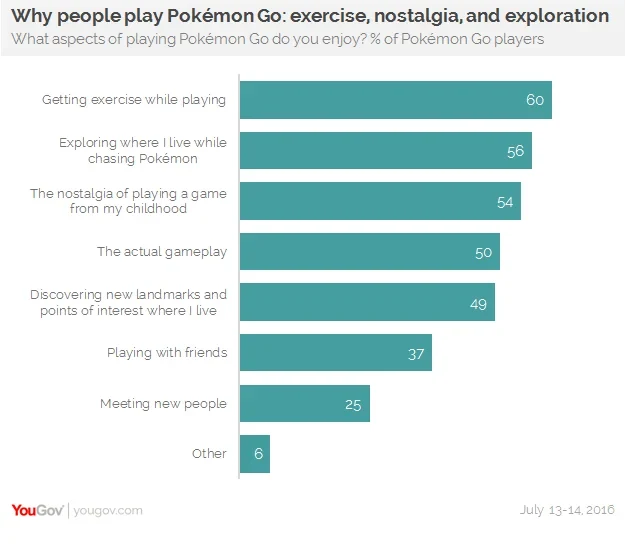 Not everyone, of course, is excited about the game. Only about one in 10 adult internet users said they downloaded the app, and, as mentioned above, it's primarily the current fixation of young people who grew up with the Pokémon franchise. Around 45% of non-users uniterested in downloading the app said they don't enjoy this type of game, while 34% indicated that they don't want to be immersed in their phone. Other reasons for staying away include concerns about battery life and data usage. Some even expressed worry that they might become obsessed with it, and therefore have done their best to keep the game off their phone completely.
At present, Pokémon Go is available in only five countries: the US, Australia, New Zealand, Britain, and Germany. However, it is scheduled for release in around 200 markets "relatively soon," and marketers appear eager to get involved with the chart-topping smash-hit. As the game continues to generate headlines and introduce the public to the many possibilities of augmented reality, this could be the beginning of something very, very big.