Fans of HBO and Showtime's top 3 shows say they don't have cable at all (31%)
Hulu announced last week that it would be adding both HBO and Cinemax as premium add-ons for its users' viewing pleasure. The move comes a week before the highly-anticipated seventh season of Game of Thrones, a medieval fantasy show produced by HBO and known for its political maneuverings, dragons, abrupt character deaths, and general disinterest for human limbs.
Ahead of Sunday's seventh season premiere, YouGov wondered what prompted Hulu and HBO to begin this partnership and found that 62% of current Hulu customers like Game of Thrones. Now that the show is available on the Hulu streaming service, HBO hopes that TV ratings will rise to the levels of Hulu's other partnered shows, like that of Showtime's Homeland and Shameless. In fact, Hulu customers like Homeland (72%) and Shameless (77%) better than Game of Thrones but that all might change now as more Hulu users are exposed to HBO's most viewed program.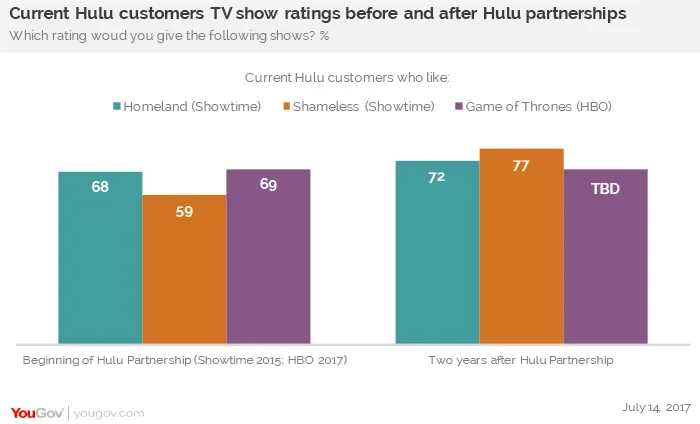 Hulu's partnership with Showtime began on July of 2015, and a YouGov survey from back then reveals that Hulu customers liked Shameless (59%) and Homeland (68%). Two years later, Shameless improved its rating score by 18 percentage points and even Homeland, which rated highly to begin with, showed some improvement.
Given the success of Hulu's past network partnerships like that with Showtime, it makes sense for the streaming service to host one of TV's most viral shows along with HBO's other top programs in a single, convenient place. As Tim Connolly, Hulu's Senior Vice President of Partnerships, says "fans can now watch Game of Thrones live every Sunday…alongside our live TV, sports, classic TV shows and Hulu originals – all without ever having to leave the Hulu app."
Improving show ratings might not be the only thing HBO and Hulu were thinking about when creating a business plan. YouGov polled two groups–fans who like HBO's top three programs (Game of Thrones, Westworld, True Detective) and fans who like Showtime's top three shows (Shameless, Homeland, Ray Donovan)–to examine their likelihood to cancel cable subscriptions.
In both networks, 34% of fans say they're not likely to cancel cable. At least 1 in 5 (23%) of Showtime fans say they will likely cancel, while 17% of HBO fans say they'll also likely cut the cord. As HBO's programming gains more traction with Hulu streamers, it will be interesting to revisit these numbers and see if HBO fans catch up to Showtime's cord cutting madness.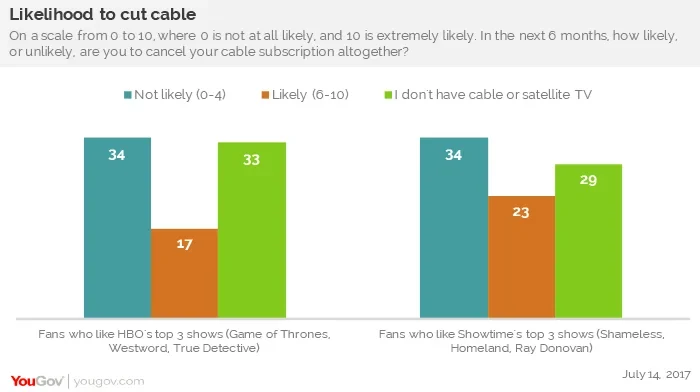 What's most curious are the fans of both networks who say they don't have cable at all (31%). If Hulu decides to target this audience segment and figure out how viewers are watching the shows they love, it could pitch its new HBO premium add-on to viewers who aren't already using the streaming service. Along with the 17% who want to cut traditional cable, Hulu may find an influx of new customers in the next six months.
HBO and Hulu's timely partnership could be just the move to make Amazon Prime Video sweat, although just barely. According to Forbes, Prime Video's total subscriber count should tally up to 85 million users by the end of the year compared to Hulu's projected 32 million users. Even if Prime Video and Hulu combined their total users, they wouldn't be able to trump Netflix, who boasts 128 million global users.
YouGov surveyed fans of HBO's top three shows and found that 57% of them watch TV through Netflix, a staggering number that trails live television usage by only a single digit (58%). Among that population of fans, only 20% use Hulu to watch TV and it's a close fight to see if this new network partnership will help Hulu overtake Amazon's 24%.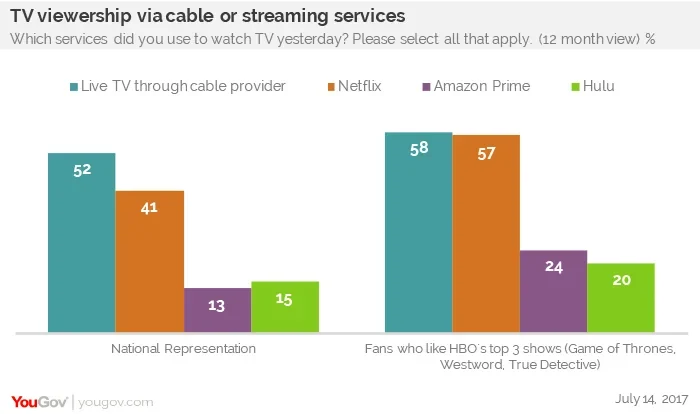 Of course, Netflix and Hulu both have their competitive differences. Netflix is more famous for its full season releases whereas Hulu gives viewers live screenings of the shows it carries. While Netflix keeps its streaming platform ad-free, Hulu offers two pricing models that either include limited or no ads. This might be a nuisance for Game of Thrones fans as only 10% of them are willing to pay for the additional feature to go ad-free
This game between subscription video on demand services just became a little more competitive. With House Hulu allying itself with House HBO, it will be interesting to see if the streaming throne changes hands anytime soon.