One in four of them want their drama and sitcom episodes to last longer
The popularity of original content from streaming services like Netflix, Hulu, and Amazon Prime has earned them top nominations at this year's Emmy Awards, airing Sunday. The cord-cutting giant Netflix has nearly doubled its Emmy nominations (91 total nominations, up from 54 last year) and in turn, influenced what is considered primetime television.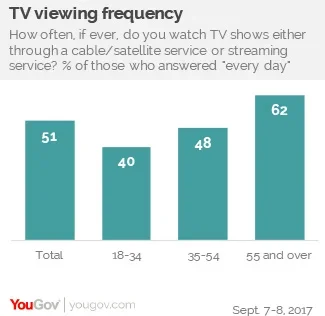 New YouGov Omnibus research reveals that just over half of Americans (51%) watch TV every single day, with those over the age of 55 leading the horde of daily viewers (62%) and millennials rounding out that pack (40%).

The results suggest that how a network or streaming service releases episodes matters. 47% say that they prefer TV shows where all the episodes are released all at once. A majority of millennials (68%) stand by this schedule, and 52% of those ages 35-54 also agree. Only Americans ages 55 and over say that they prefer the weekly, appointment-style schedule over full season releases (44%).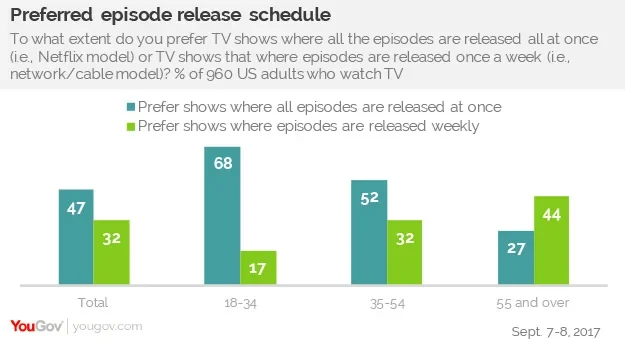 YouGov data shows that the genre of a TV show affects a viewer's episode length preference. Half of Americans want dramas to last an hour, though one in four millennials say they'll also watch an episode that's more than an hour. Most Americans also say that comedies and sitcoms should run for half an hour (52%) but again, 25% of millennials could stand to laugh a half hour longer.