M*A*S*H characters Benjamin "Hawkeye" Pierce and Trapper John McIntyre also figure in the top 10
2019 marks two big anniversaries for ER. On April 2nd it will be 10 years since the show's finale, aptly titled "And in the End…" while September 19th will mark the series' 25th anniversary.
However, despite YouGov Ratings data showing that 43% have a positive opinion of the show, only one of its medics makes the top ten of America's favorite TV doctor - a list topped by Hugh Laurie's curmudgeonly Dr. Gregory House, from House MD.
Among Americans who have a favorite TV doctor, 17% pick House as their physician of choice. Second placed is shared between Alan Alda's Captain Benjamin Franklin "Hawkeye" Pierce of M*A*S*H and DeForest Kelley's Dr. Leonard H. "Bones" McCoy from Star Trek (both 13%).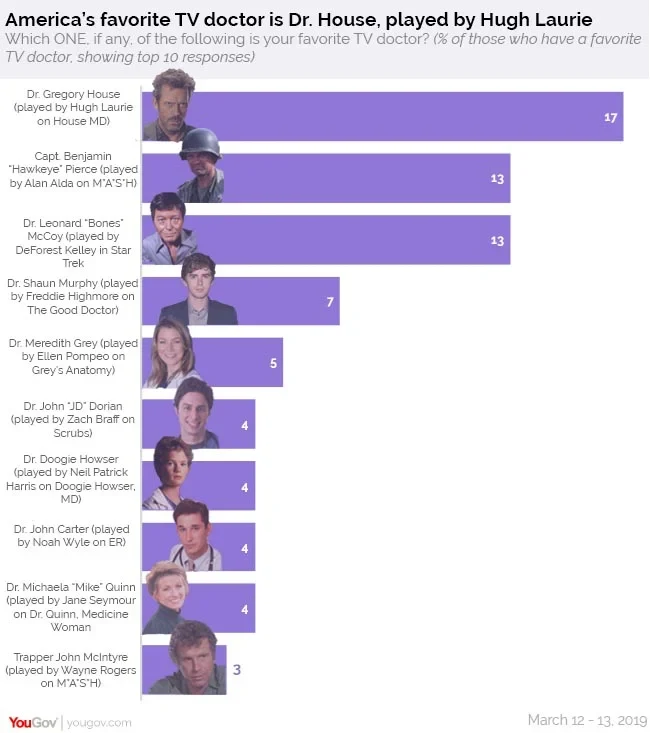 Other common picks are Dr. Shaun Murphy from The Good Doctor (7%) and Dr. Meredith Grey (5%) of Grey's Anatomy fame. Dr. John Michael "J.D." Dorian, played by Zach Braff on Scrubs is tied with Doogie Howser, portrayed by a young Neil Patrick Harris on Doogie Howser, M.D. (both 4%).
Although the show ran for 15 seasons, only one doctor from ER cracked the top ten: Dr. John Carter, played by Noah Wyle. Among Americans with a favorite TV doctor, 4% pick Carter. In a cast that saw many changes during its 15 years on air, Wyle was one of the longest-running cast members. He was a series regular between seasons 1-11 and returned for several other episodes. The only other cast member with a comparable run is Dr. Kerry Weaver, played by Laura Innes, but YouGov's research shows that she's generally not a popular pick for favorite TV doctor, with less than 1% of respondents choosing her.
As for other ER doctors, Dr. Doug Ross, played by George Clooney, came away with 3% of the vote, while Dr. Mark Greene, played by Anthony Edwards, grabbed 2%. Drs. Elizabeth Corday, played by Alex Kingston, and Abby Lockhart, played by Maura Tierney, both got 1% of the vote.
Methodology: Total sample size was 1,270 US adults aged 18+. The sample size was rebased to 871 to reflect the number of panelists who provided an answer other than "Not applicable - I don't have a favorite TV doctor" and "Don't know". The responding sample is weighted to the profile of the sample definition to provide a representative reporting sample. Interviews were conducted online between March 12 - 13, 2019.
See full results here.
Learn more about YouGov RealTime research and sign up to be a panelist here.
Image: Getty