As the Caped Crusader turns 80, new data shows the superheroes people think he could beat in a fight
On Saturday, the nation marks the 80th anniversary of Batman's arrival on the pages of Detective Comics, beginning America's relationship with a wealthy philanthropist who turned superhero to save Gotham City.
New YouGov data shows that most people were first introduced to Bruce Wayne either through a live-action television series (25%) or on the pages of a comic book (24%).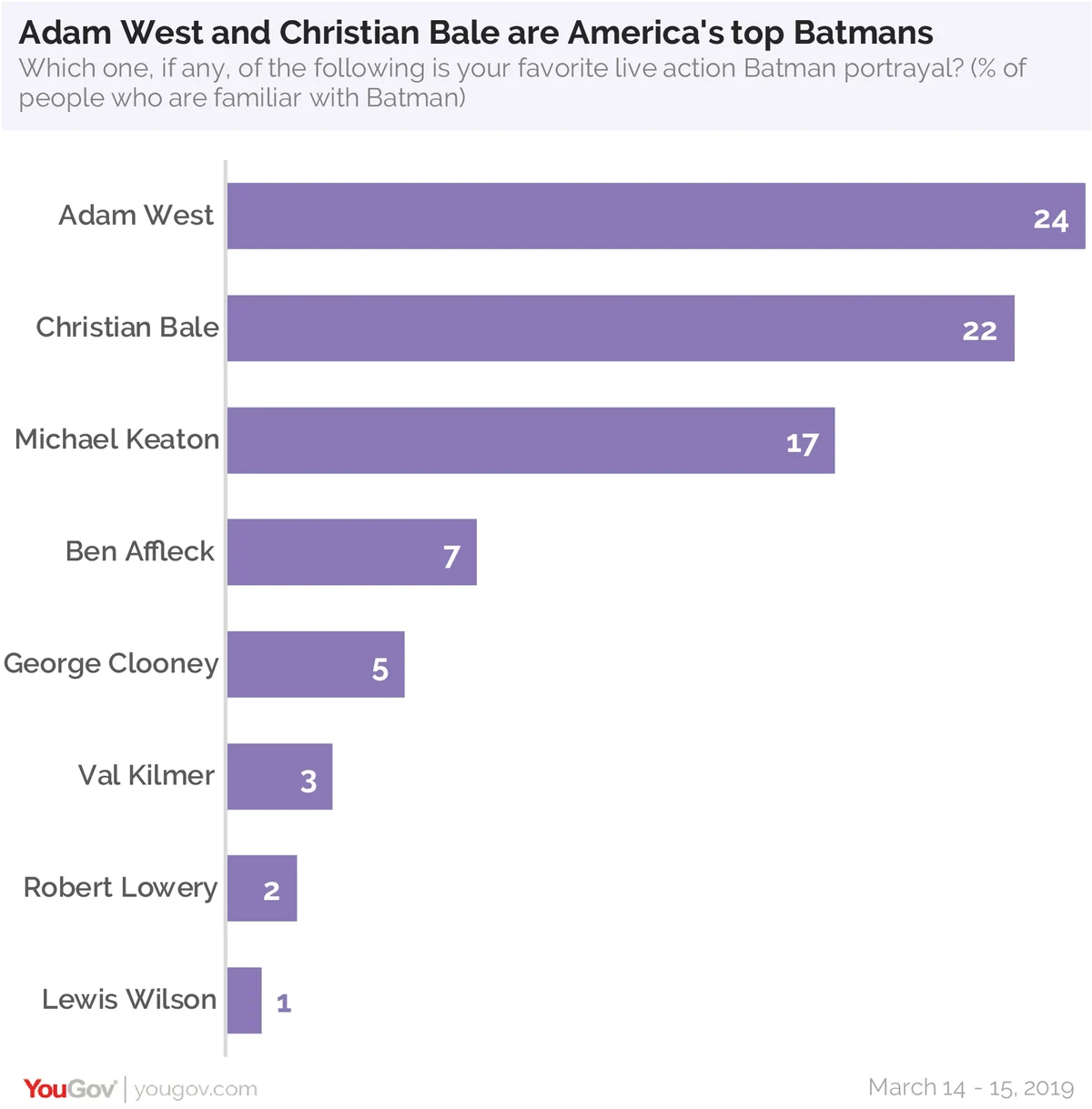 While several actors, from Lewis Wilson to Michael Keaton to George Clooney, have worn the cape over the years, YouGov RealTime Research data reveals that among those familiar with Batman, America's favorite live-action Batman is Adam West (24%) who portrayed the Caped Crusader in the 1960s TV series. He is closely followed by Christian Bale (22%), who played the character in Christopher Nolan's "Dark Knight" films.
The data shows clear generational differences when it comes to people's favorite Batman. Four in ten baby boomers (41%) name West as their preferred Caped Crusader; this drops to just a quarter (24%) for Generation Xers and only one in twenty (5%) millennials.
By comparison, Bale is favored by over a third (37%) of millennials who are familiar with Batman, a figure that falls to just under a quarter (23%) of people from Gen X and one in eight (12%) baby boomers.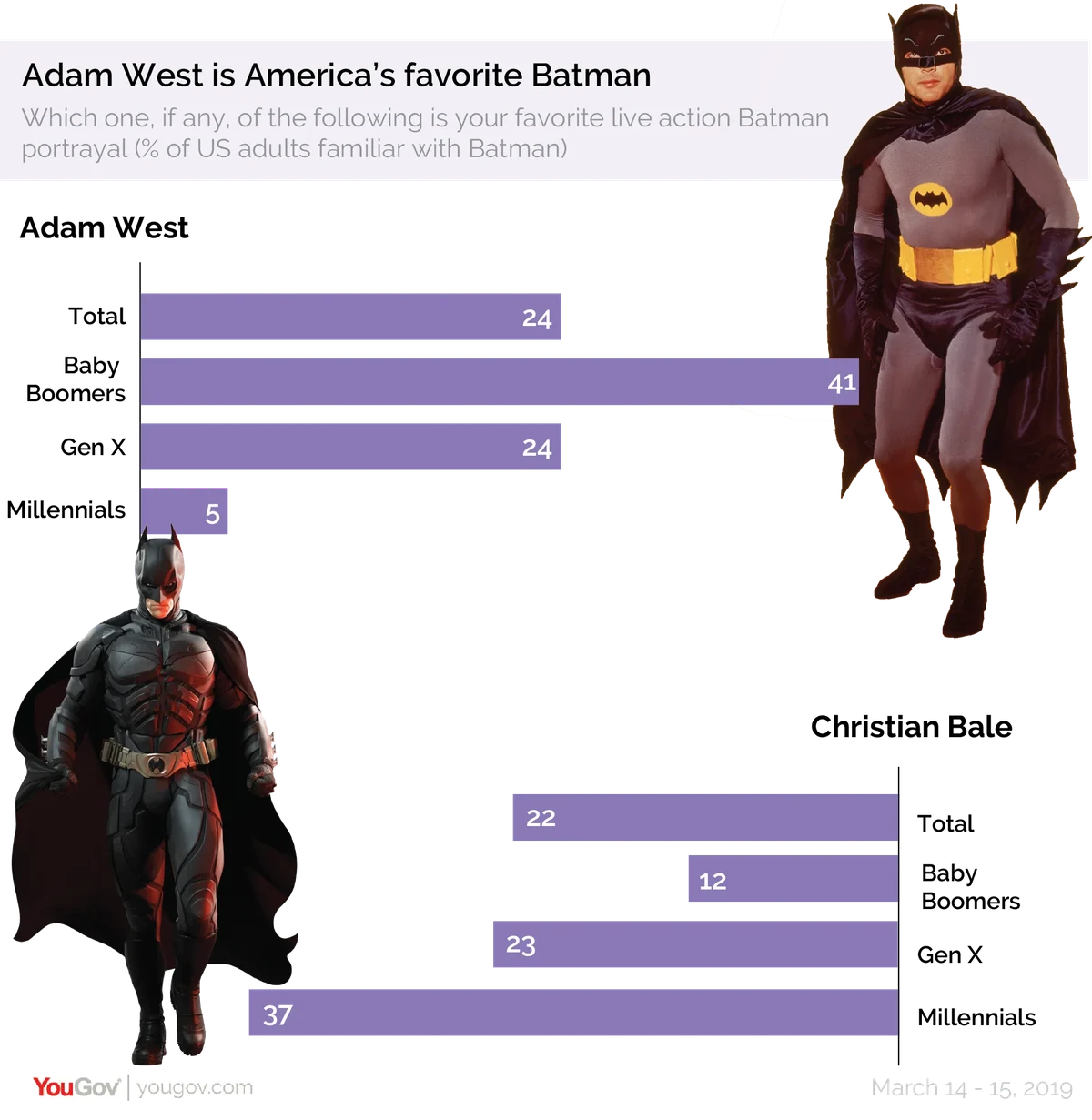 Who Batman could beat in a fight, according to America
The longstanding debate of who Batman could defeat in a superhero fight is finally solved, thanks to a YouGov survey of people familiar with the Batman and his hypothetical adversaries.
Batman easily crushes Catwoman (79% to 21%), his long-time nemesis who is frequently bested by Gotham's hero in the DC Comic series. A majority of people familiar with the superhero universe believe that the Caped Crusader would emerge victorious against the likes of DC Comics' Green Lantern (69% to 31%) and The Flash (59% to 41%). Almost six in ten people aware of both comics (57%) believe that Bruce Wayne could beat Spider-Man.
Batman edges out a tight victory over Captain Marvel with 51% of people believing he would win. Women are more likely to support Captain Marvel with 55% believing the character, most recently portrayed by Brie Larson, would emerge as the winner. Batman is tied with Marvel's Black Panther (both 50%) with black Americans being more likely to Black Panther would emerge victorious over Gotham City's finest.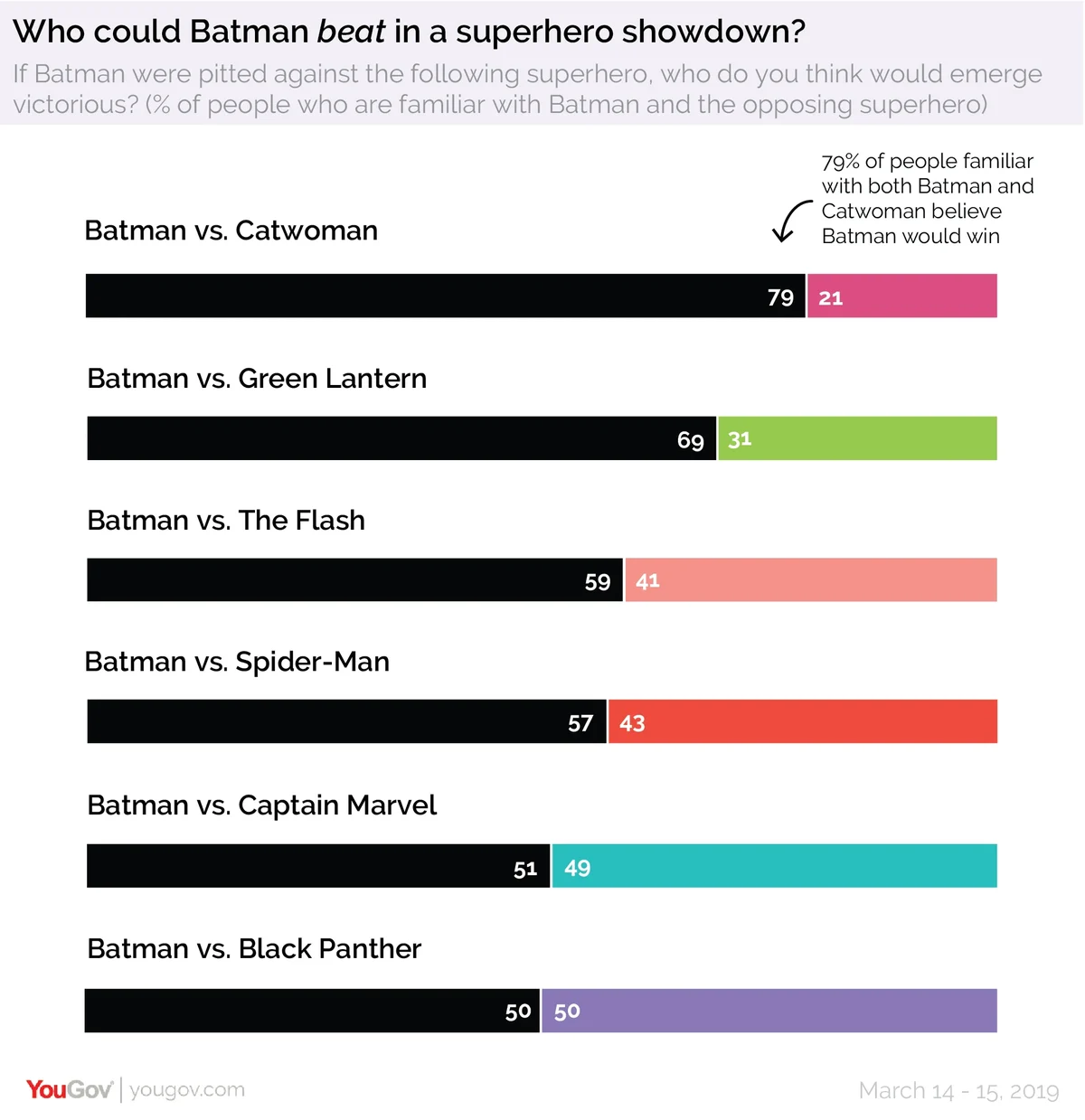 Who would beat Batman in a superhero fight?
The Caped Crusader would not emerge victorious in all match-ups. Three in four (75%) believe Batman would lose to "more powerful than a locomotive" Superman in another Batman vs. Superman mash-up. Very few say Batman could successfully withstand Thor's hammer (74% to 26%) or The Hulk's propensity to smash (70% to 30%). Superhero fans also believe Batman would also lose against Iron Man (67% to 33%), Wolverine (63% to 37%), Deadpool (53% to 47%), Wonder Woman (53% to 47%) and Captain America (52% to 48%).
Of Batman's more traditional villains, those familiar with Batman picked a clear favorite with The Joker (37%). Just 15% of people familiar with Batman do not have a favorite villain, while 13% name Catwoman as their archnemesis of choice. The Penguin follows closely behind with 12% of the vote.