Smells Like Teen Spirit is the most popular Nirvana song among Americans who have a favorite song by the band
April 5 marks the 25th anniversary of Kurt Cobain's death. Research from YouGov RealTime indicates that though it's been nearly a quarter of a century since his death, Cobain's work continues to have a considerable impact, particularly on older millennials between the ages of 27 and 37.
Three in ten (31%) Americans agree that the impact of Cobain's music has grown stronger than when he was still alive. People between the ages of 27 and 37 ("older millennials") are especially likely (44%) to agree with this statement.
A similar number (30%) of Americans agree that Nirvana had a bigger influence on rock music in the 1990s than any other band did. Slightly fewer (27%) Americans agree that Cobain was the voice of his generation (Generation X.) Gen X'ers themselves are more likely (33%) than the general public to agree that Cobain was the voice of their generation.
Although Nirvana is often associated with Generation X, it's actually older millennials who are most likely to agree with statements that emphasize Nirvana's influence on rock music and the continuing impact of Cobain's work.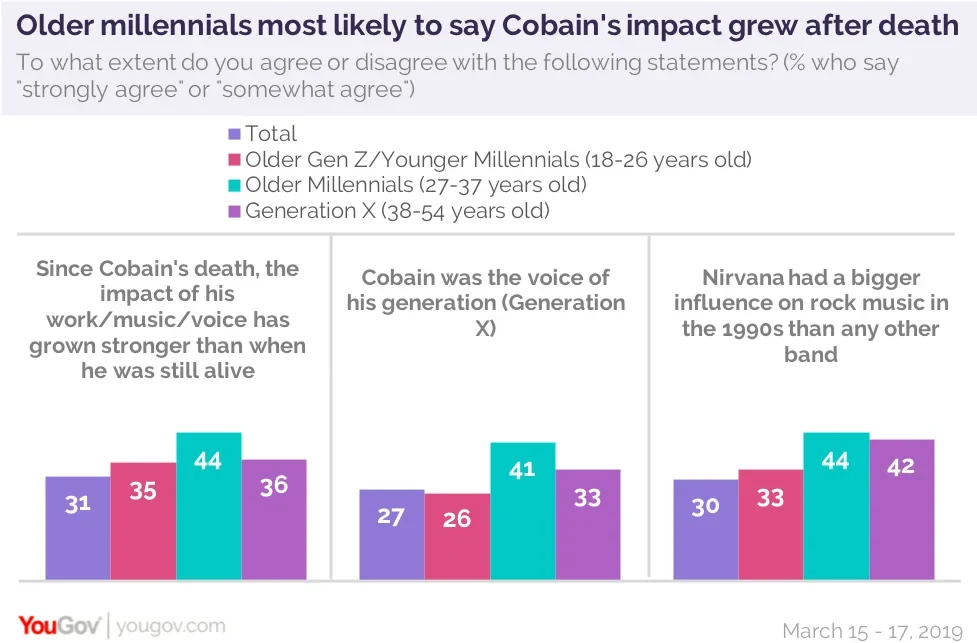 Smells Like Teen Spirit is the most popular Nirvana song across generations
Among Americans who have a favorite Nirvana song (excluding those who don't have one and those who say "don't know"), 30% say their pick is Smells Like Teen Spirit. The second most popular is Come As You Are (20%), followed by Heart-Shaped Box (10%) and Lithium (8%).
Millennials (62%) and Gen X'ers (61%) are about twice as likely as baby boomers (31%) to have a favorite Nirvana song in the first place. But across generations, the top pick is Smells Like Teen Spirit: 25% of millennials, 29% of Gen X'ers and 42% of baby boomers say this is their favorite. Come As You Are is another popular pick among those who defined their favorite song, with 17% of millennials, 23% of Gen X'ers and 22% of baby boomers choosing this 1992 hit.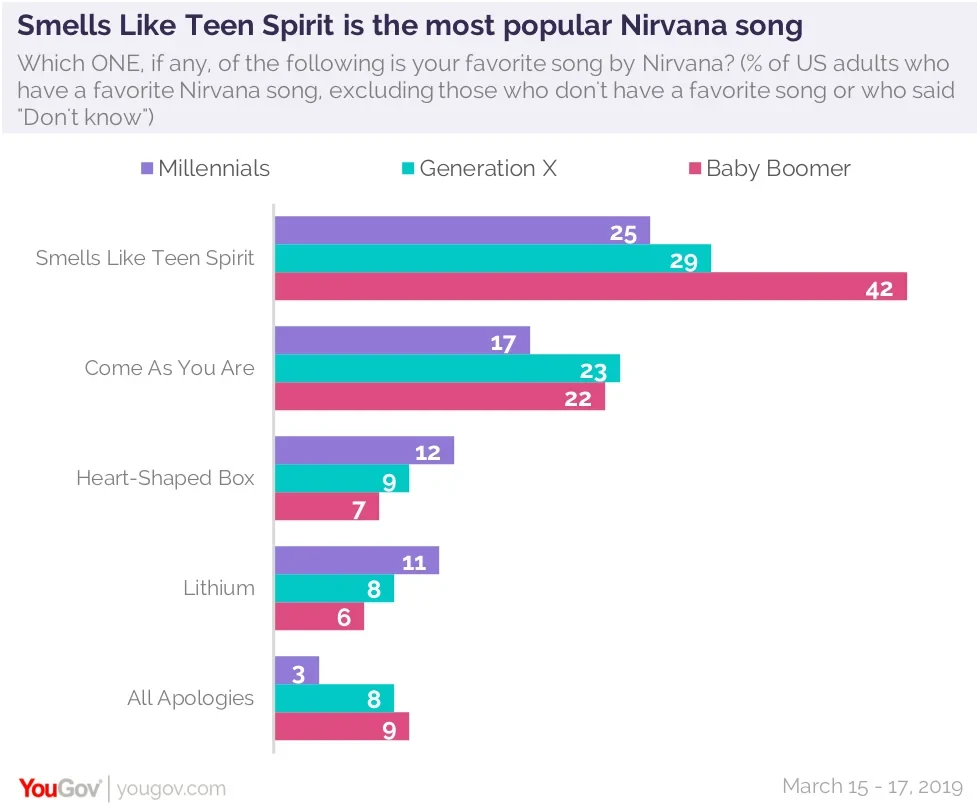 Over half of Americans say celebrity suicides open important discussions
When Cobain committed suicide in 1994, there was concern that his death would prompt others - particularly those in the Seattle area where Cobain lived - to make similar attempts. But researchers found that the opposite was true: the suicide rate in the Seattle area decreased in the wake of Cobain's death. Psychologists also found that calls to crisis centers increased, which could have indicated that people were willing to seek help to address mental health issues.
Most (56%) Americans agree that celebrity suicides provide an opportunity for important public conversations about mental health. Those who are generally familiar with Cobain are especially likely (70%) to say celebrity suicides can help open a mainstream dialogue about mental health.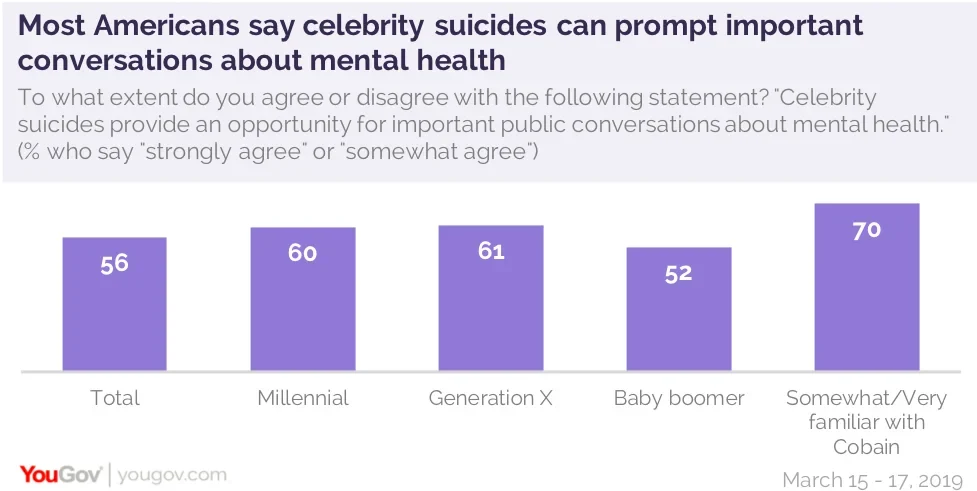 Methodology: Total sample size was 1,213 US adults aged 18+.The responding sample is weighted to the profile of the sample definition to provide a representative reporting sample. Interviews were conducted online between March 12 - 13, 2019.
See full results here.
Learn more about YouGov RealTime research and sign up to be a panelist here.
Image: Getty
If you or anyone you know is struggling with thoughts of suicide/self-harm, the National Suicide Prevention Hotline is available 24 hours a day at 1-800-273-8255, or via online chat.