Before Black Panther's release last year, 35% of Americans agreed superhero movies weren't very diverse but fewer (29%) feel that way a year later
The Avengers franchise, as this generation has come to know it, is drawing to a close. The premiere of Avengers: Endgame hits theaters on April 26 and the latest YouGov RealTime survey reveals that one in two (52%) Americans plan to watch the final chapter of the cinematic saga.

This figure is comparable to the anticipation around another Marvel blockbuster last year—Black Panther. The 2018 film was Marvel's first cinematic foray into the world of superheroes of African descent, and prior to its release, 55% of Americans reported they would watch the film.

How Avengers: Endgame compares to Black Panther

Across various demographics, interest in watching Avengers: Endgame, whether in theaters or at at another time, is similar to that of Black Panther last year. Two groups stand out for their likelihood to watch the Avengers movie: 65% of Hispanics and 73% of parents with children under the age of 18 lead all others in their intention to watch Avengers: Endgame. Before the release of Black Panther, 63% of Hispanics and 68% of parents also expressed interest in watching the film.



Notably, over half (58%) of black Americans say they will watch Avengers: Endgame but that number is sixteen percentage points lower than that of those who said they would watch Black Panther last year (74%). A number of factors may contribute to the gap in interest though they all point to a common theme: representation of persons of color on screen. Black Panther was the first Marvel movie—and arguably the first high budget film in history—to be directed by a black director and star a predominantly black cast.

Since Black Panther, perceptions of on-screen representation have changed somewhat

When it comes to diversity in superhero films, Black Panther's cultural impact may have swayed the minds of some Americans. Last year, 35% of Americans agreed that superhero movies don't tend to be very diverse. Just over a year later, 29% of Americans agree to the same. Hispanics mark greatest change in sentiment: 30% agreed that superhero films weren't very diverse in 2018 and just 19% agree to the same today.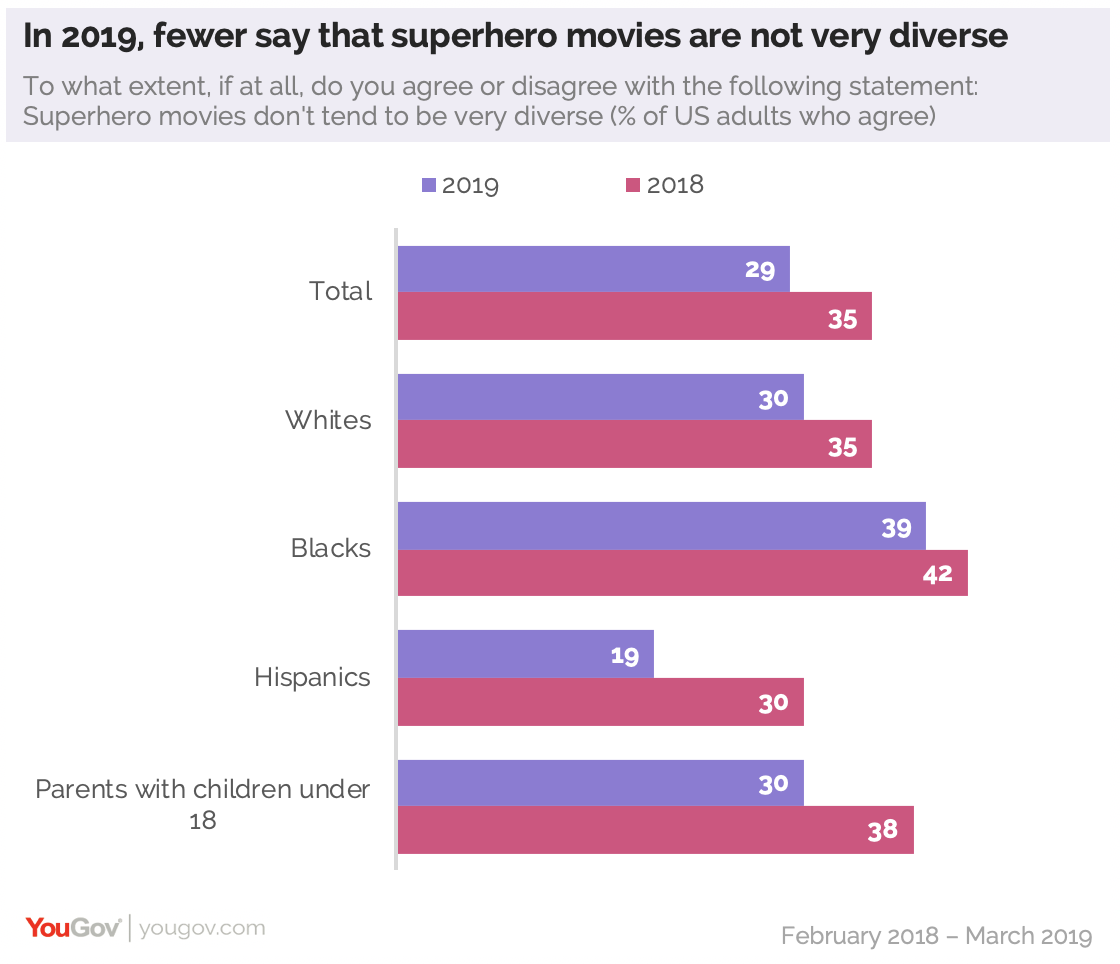 There is still work to be done though, especially when it comes to changing the minds of black Americans. Their perceptions toward diversity in superhero films remain relatively unchanged, with 42% agreeing that they aren't very diverse in 2018 and 39% holding the same opinion in 2019.

Which superheroes are people coming to see in Avengers: Endgame

More than a decade ago, the world was introduced to Iron Man (Robert Downey Jr.) and fans were teased with the idea of assembling a team of superheroes in the 2008 film's post-credits scene. These now iconic post-credit scenes would become staples in subsequent Marvel movies, each hinting at a shared universe where the fates of these heroes slowly converged.

Today, superheroes like the Hulk (Mark Ruffalo), Thor (Chris Hemsworth), Captain America (Chris Evans), Star-Lord (Chris Pratt), Ant-Man (Paul Rudd), Black Panther (Chadwick Boseman) and many more have fans returning to theaters to see what happens to them in the upcoming movie.

Among those who plan to watch the movie, close to six in ten say they are interested in seeing what happens to Captain America (59%), Iron Man (58%), and Thor (57%)—three of the earliest superheroes introduced by the Marvel Cinematic Universe (MCU). Interest is highest for Spider-Man (50%) next, followed by the Hulk (45%), Black Panther (44%), and Captain Marvel (43%).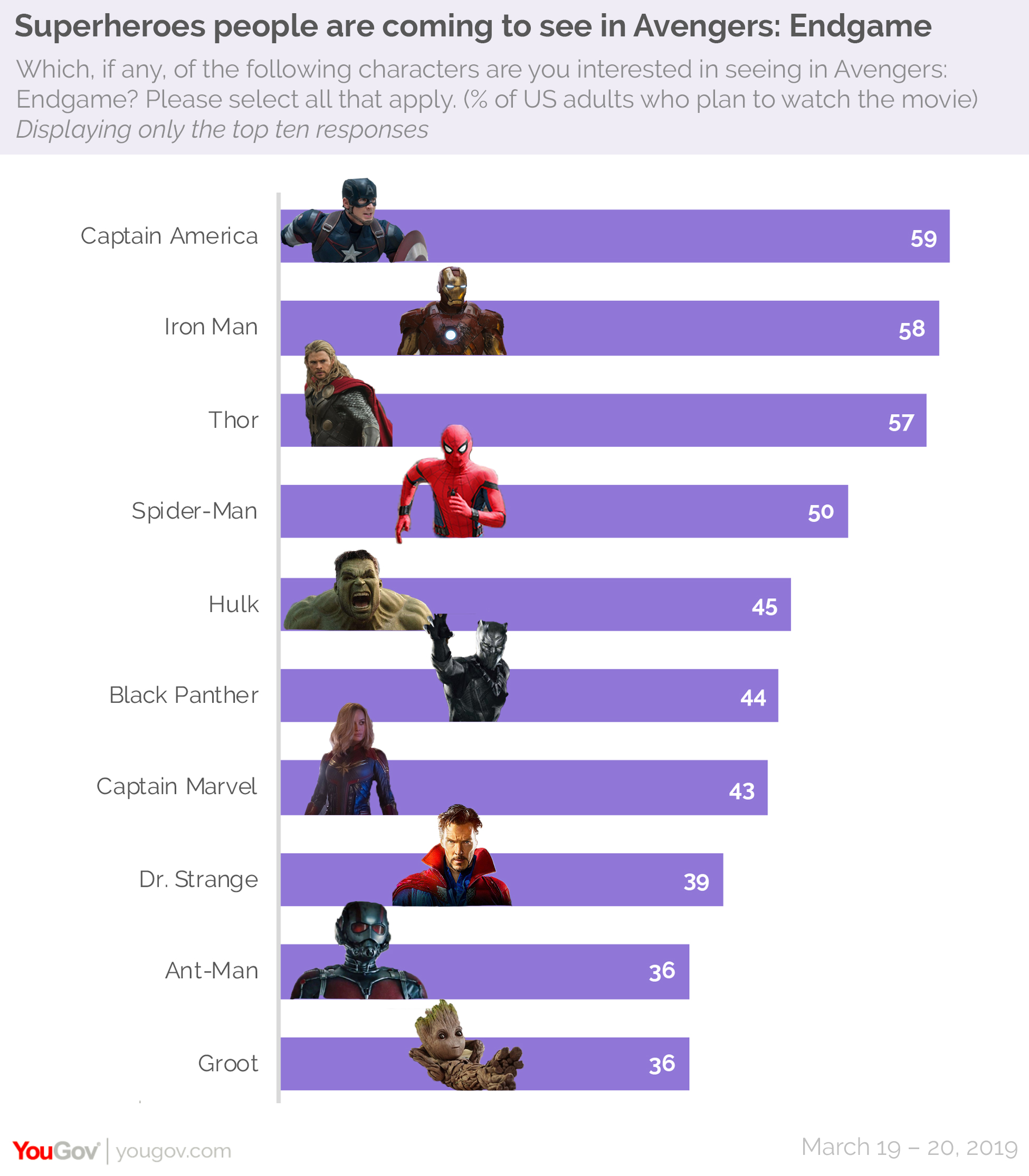 As for whether or not this will truly be the final Avengers movie within the Marvel Cinematic Universe, a majority think not. Among those who plan to watch Avengers: Endgame, 39% believe there will be another Avengers movie within the MCU but with a different team lineup and 22% say that there will be another movie with the same lineup. Just one in ten (11%) say this will truly be the end of the Avengers franchise.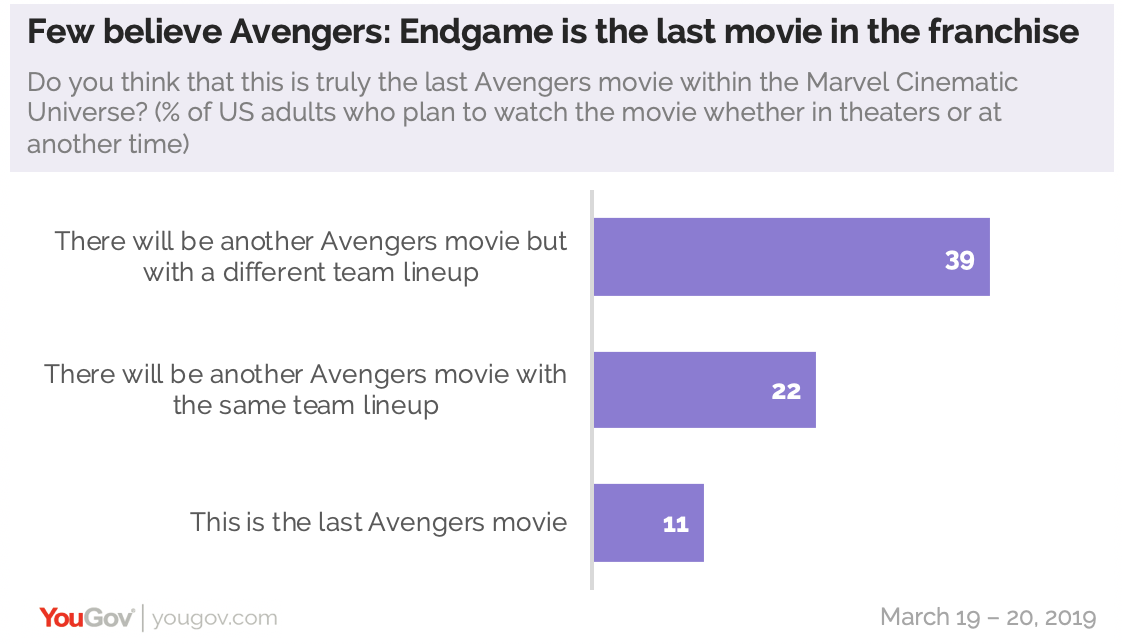 See the full results from the 2019 Avengers: Endgame survey and the 2018 Black Panther survey here

Methodology: The total sample size for this study was 1,206 US adults aged 18+ including 622 US adults who plan to watch Avengers: Endgame. All interviews were conducted online between March 19 - 20, 2019. Responses not included in the third graphic include Black Widow, Hawkeye, Thanos, Scarlet Witch, Rocket, The Wasp, Gamora, Bucky, Drax, Nebula, Falcon, Vision, Mantis, War Machine, Shuri, Okoye, M'Baku, and Wong.

Photos courtesy of Marvel Studios/Walt Disney Studios