America's favorite Christmas tune is not a pop song. In fact, it's an old school a capella that feels more at home in a church than a radio station: Silent Night.
One in 10 (10%) adults who have a favorite song named Silent Night as their pick—making the 1816 carol that tells the story of a bright and silent evening where a young infant slept peacefully—the most popular Christmas song in America, according to YouGov.
Behind Silent Night is White Christmas, which 8 percent of adults named as their preferred Yuletide song. The "dreaming of a white Christmas" tune was originally crooned by Bing Crosby but has since been given pop remixes by the likes of Michael Bublé and Kelly Clarkson.
In third place with 6 percent of votes: the 1994 classic co-written and performed by Mariah Carey, "All I Want For Christmas is You." The record-breaking song is so popular that Carey dropped a new music video for it ahead of Christmas this year. Closely following Carey for fourth and fifth place, respectively, are Jingle Bells (6%) and O Holy Night (6%).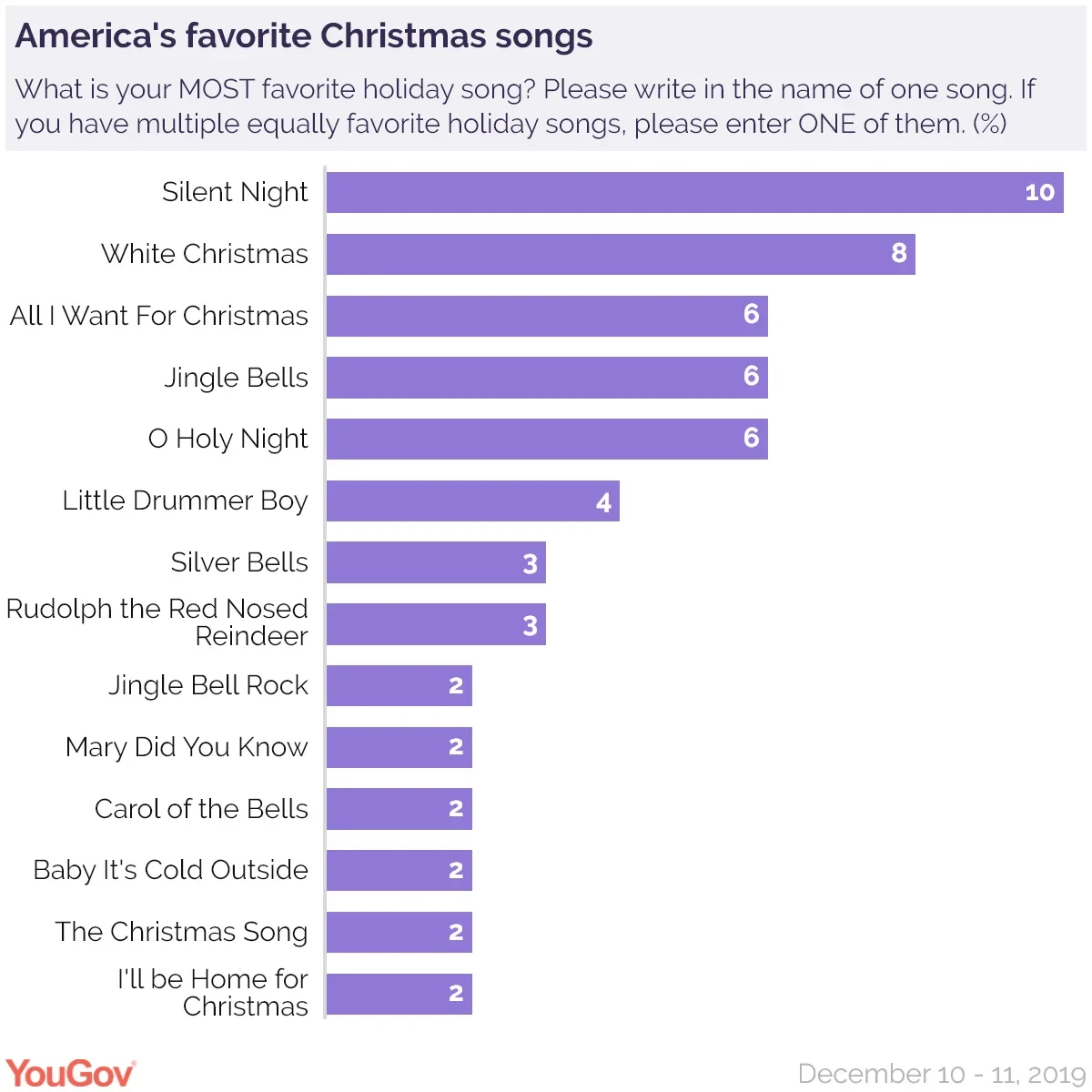 A few other top selections for America's favorite Christmas song include Little Drummer Boy (4%), Silver Bells (3%), Rudolph the Red-Nosed Reindeer (3%), Jingle Bell Rock (2%), Mary Did You Know (2%), Carol of the Bells (2%), Baby It's Cold Outside (2%), The Christmas Song (2%), and I'll Be Home For Christmas (2%). No other song earned more than 2 percent of mentions, but nearly one in five (19%) Americans listed a song other than these Christmas classics.
See the full dataset here and sign up to be a member of the YouGov panel
Related: From pets to presidents, here's what we learned about America this year
Methodology: Total weighted sample size was 1,209 US adults aged 18+. Sample was rebased to 749 in order to exclude respondents who submitted answers that were categorized as "Not Applicable" to the question, "What is your MOST favorite holiday song? Please write in the name of one song. If you have multiple equally favorite holiday songs, please enter ONE of them." The responding sample is weighted to provide a representative reporting sample. The survey was conducted online December 10 - 11, 2019. For the open-ended question asking panelists for Christmas song submissions, slight misspellings were counted as correct.
Image: Getty