As cinemas around the world ponder how to re-open, movie lovers continue to watch the latest Hollywood releases at home. And it's not looking like the situation is going to change any time soon. Upcoming blockbusters like Christopher Nolan's "Tenet," originally scheduled for a July 17 release date, have started dropping dates completely from their new trailers.
But regardless of whether movie lovers are viewing new releases in a cinema or at home, many will likely want to check out a trailer first to help them make the difficult decision of what to watch. Each week, YouGov Direct asks a group of its members to watch movie trailers. We then report on what they say. YouGov Direct's surveys investigate how effective movie trailers are in persuading people to consider seeing a film, what they think about the content of the trailer, and how good or bad they expect the movie to be. Thousands of people provide immediate feedback on movie trailers using the YouGov Direct platform.
YouGov Direct users crowned the trailer for comedy drama "The King of Staten Island" the winner this week. The flick follows a 24-year-old layabout who still lives at home with his widowed mother in Staten Island. It's a semi-autobiographical story based on "Saturday Night Live" star Pete Davidson's childhood in New York's "forgotten borough," mixing humor and pathos in this unusual slice of life comedy.
The comedy had the highest level of pre and post trailer interest this week. Prior to seeing the trailer 25 percent of YouGov Direct users said they were somewhat or very likely to see this tale of arrested development. After viewing the trailer, that number increased to 43 percent. That's a lift of 18 percentage points in intent.
What made it an effective trailer? When we asked users what they liked best about it over two-fifths of users (45%) said it was the trailer's story and themes that stood out the most. A further 31 percent said they liked one or more of the characters best. Most major film critics also enjoyed the movie's quirky personalities. Writing for the Wall Street Journal, Joe Morgenstern said the movie "constitutes a cockeyed pantheon of comic performances".
YouGov Direct asks respondents to tell us how good or bad they think a movie will be, based on the trailer. Once again "The King of Staten Island" scored high marks with users, who gave the movie a rating of 3.6. This is out of a possible 5.0 and compared to a median score of 3.5 for all trailers tested to date.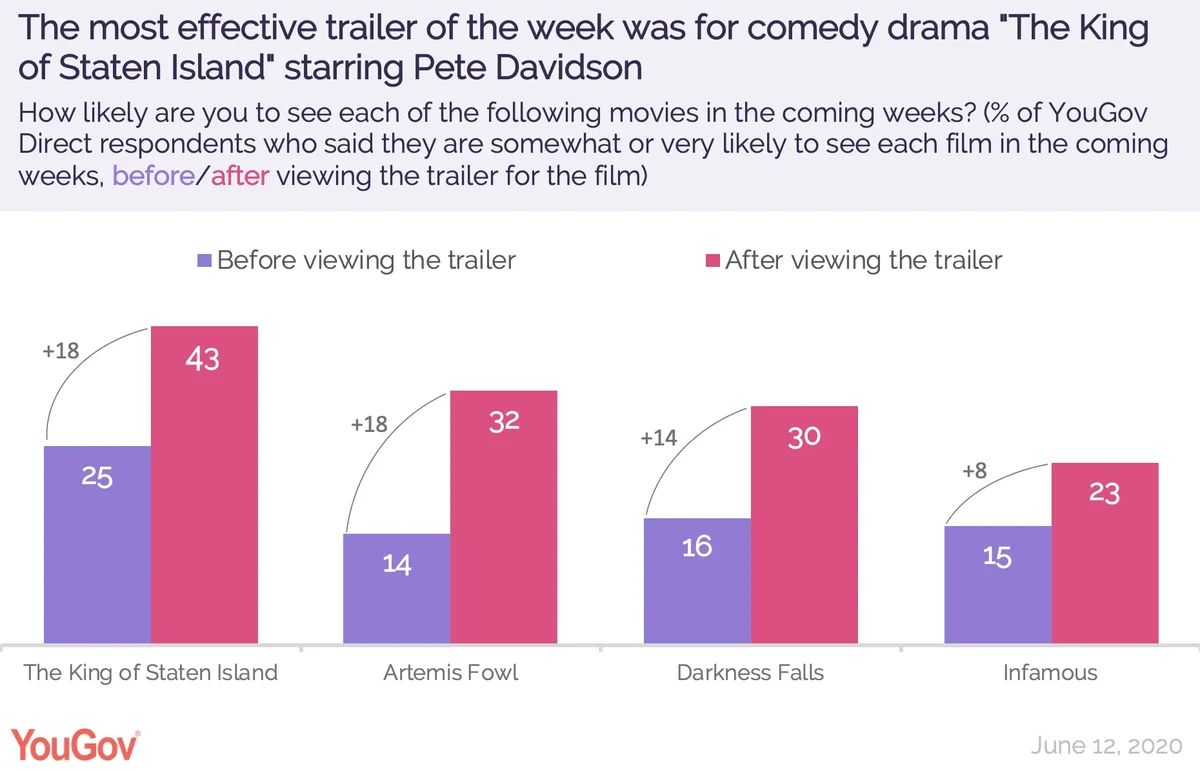 The runner up was Disney fantasy drama "Artemis Fowl," with a score of 3.5. Based on author Eoin Colfer's wildly popular children's fantasy series, the movie follows 12-year-old genius and descendant of a long line of criminal masterminds, Artemis Fowl, as he searches for his father amongst the hidden world of the fairies.
"Artemis Fowl" initially had the lowest user interest of all the films surveyed this week. Before seeing the trailer, 14 percent of YouGov Direct users said they were somewhat or very likely to see this family friendly film. That number jumped up to 32 percent after viewing the trailer.
Fantasy fans were especially excited about the film. Of users who identified as fans of the fantasy movie genre, 47 percent said they were likely to see the film after watching the trailer. Fantasy aficionados certainly have good reason to rejoice; after 10 years in development, Eoin Colfer's bestselling teen novels have finally made it to the big screen (or as close to that as possible).
But viewers might want to tread cautiously when approaching the movie. It's received a slew of terrible reviews in the past few days. Forbes Magazine put it bluntly, calling it "One of the worst YA fantasy movies ever". Users can make up their own mind this weekend, as long as they are signed up to Disney's new streaming service Disney+.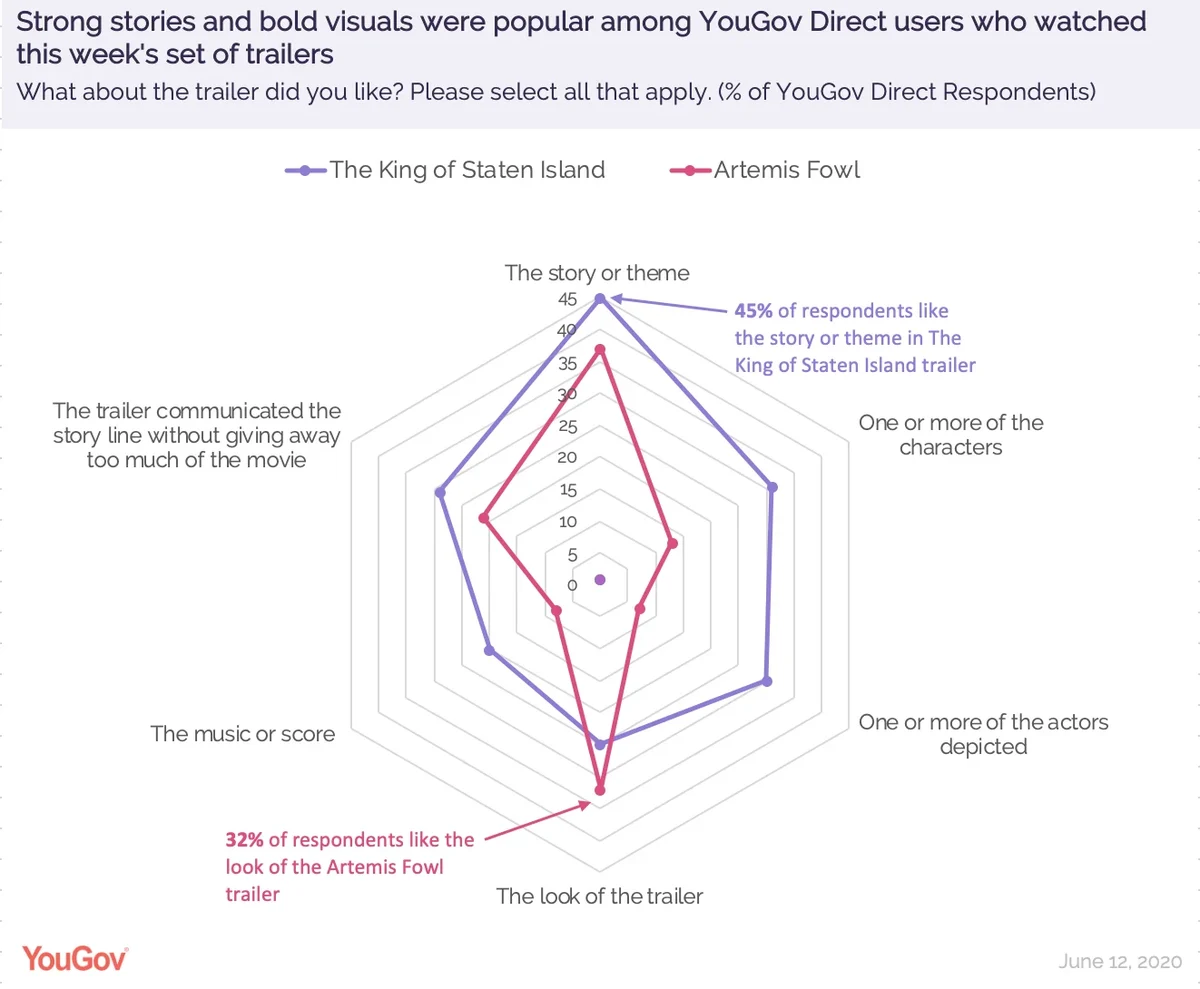 But not all trailers hit the mark with audiences. This week the action thriller "Infamous" turned a lot of heads, but perhaps not for the right reasons.
"Infamous" follows a fame-hungry drifter and her new boyfriend as they become social media sensations when they stream their cross-country robberies online. Starring former Disney star Bella Thorne, the crime flick positions itself as a "Bonnie and Clyde" for the social media age.
YouGov Direct users did not rate the film highly. Pre-trailer, 15 percent said they were likely to see this neon soaked drama. Post trailer, that number rose to 23 percent. That's a lift of 8 percentage points in intent, the smallest increase this week.
When we asked users to tell us how good or bad they think the movie will be, based on the trailer, they rated "Infamous" 3.0 out of a possible 5.0, the lowest rating this week. Over a quarter of (26%) users also said "I didn't like anything" when asked to say what they liked best about the trailer. The film is available to download on June 12.
Related:
Image: Getty
Methodology: Data is based on 4,000 interviews, including a minimum of 400 responses for each movie trailer tested. Surveys were conducted online on June 11, 2020.