If you are anxious about returning to the skies post-Coronavirus then the trailer for one of this week's new releases definitely isn't going to help. Amazon Studios' new film "7500" takes self-isolation to new heights in a taut thriller about terrorists hijacking a flight from Berlin to Paris. But despite its anxiety-inducing plot, the trailer for "7500" was a hit with YouGov Direct users this week.
Each week, YouGov Direct asks a group of its members to watch movie trailers. We then report on what they say. YouGov Direct's surveys investigate how effective movie trailers are in persuading people to consider seeing a film, what they think about the content of the trailer, and how good or bad they expect the movie to be. Thousands of people provide immediate feedback on movie trailers using the YouGov Direct platform.
The most popular trailer this week was undoubtedly the airborne thriller "7500." The film stars Joseph Gordon-Levitt as a pilot fighting to maintain control of his airliner when terrorists storm the cockpit.
The film scored the highest level of user interest both before and after the trailer. Before viewing, 38 percent of respondents said they were likely or somewhat likely to see this hijacking drama. After watching the trailer, that number rose to 44 percent.
Fans of the thriller genre were especially excited about the film. Of those who watched the trailer 53 percent said they were somewhat or very likely to see it. But it wasn't just thriller fans who responded well to the trailer. Post trailer interest was also high among fans of horror (56%), science fiction (49%) and even animated films (48%).
What made the trailer so popular? A third of respondents said that it was one or more of the actors that stood out for them. Those users certainly won't be disappointed as the film features a powerhouse performance by Gordon-Levitt, who spends most of the film locked in the cockpit of an Airbus AA320. A further 37 percent liked that the trailer kept its cards close, saying it "communicated the story line without giving too much away."
Also vying for your attention this week is the Netflix thriller "Wasp Network." Directed by renowned french auteur Oliver Assayas, "Wasp Network" tells the story of Cuba's most infamous spy ring.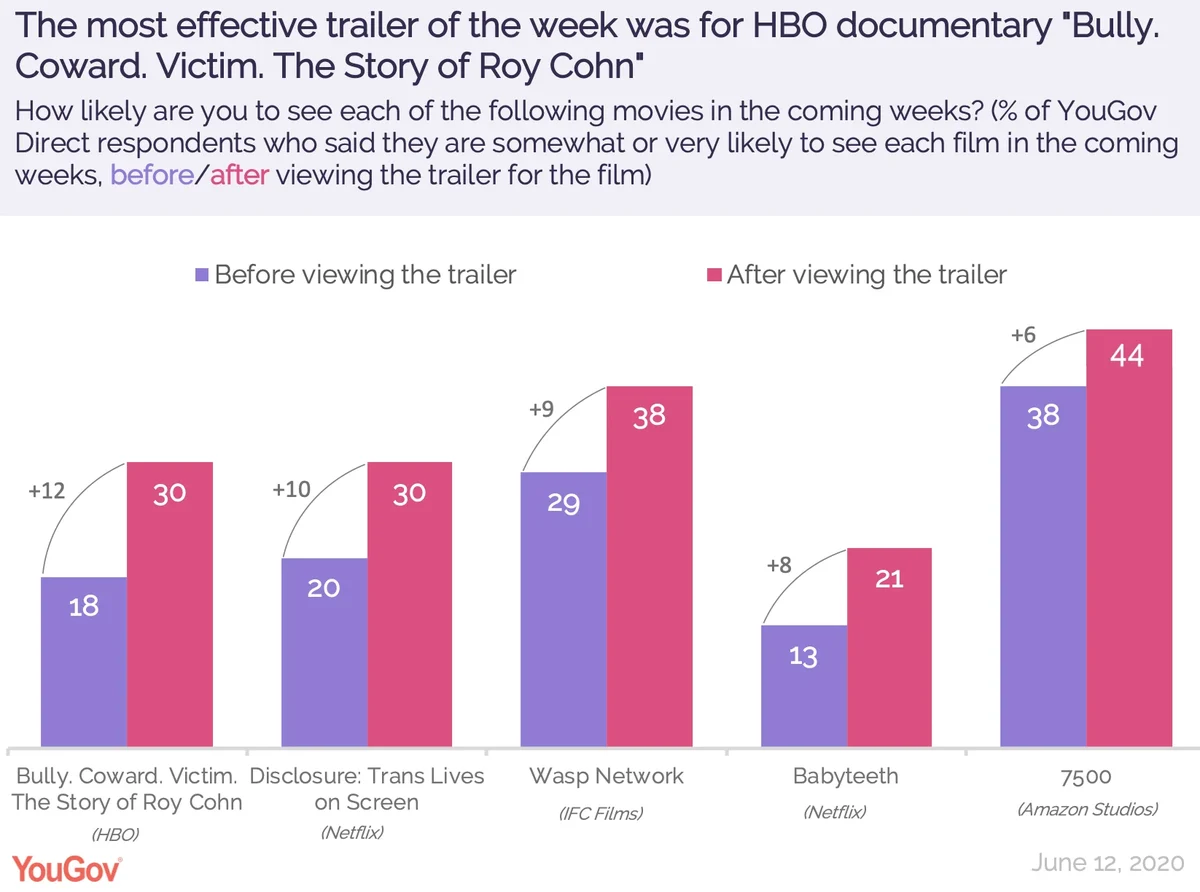 Despite being less popular overall with users, the trailer "Wasp Network" was better at reeling in new viewers. Prior to seeing the trailer, 29 percent of YouGov Direct respondents said they were likely to see this Netflix drama. But after viewing the trailer on the YouGov Direct app, 38 percent said they were now likely to see it. That's a lift of 9 percentage points in intent, 3 percentage points higher than Amazon's "7500".
The film's dramatic true story (based on the book "The Last Soldiers of the Cold War" by Brazilian journalist Fernando Morais) appeared to have intrigued viewers. When we asked what they liked best about the trailer nearly half (48%) of respondents said it was the trailer's story or themes. Another 28 percent of users said they liked the look of the Cuban set docu-drama.
YouGov Direct also asks respondents to tell us how good or bad they think a movie will be, based on the trailer. Respondents gave both "Wasp Network" and "7500" a rating 3.7 out of a possible 5.0, the highest rating of the week. This is compared to a median score of 3.5 for all trailers tested to date.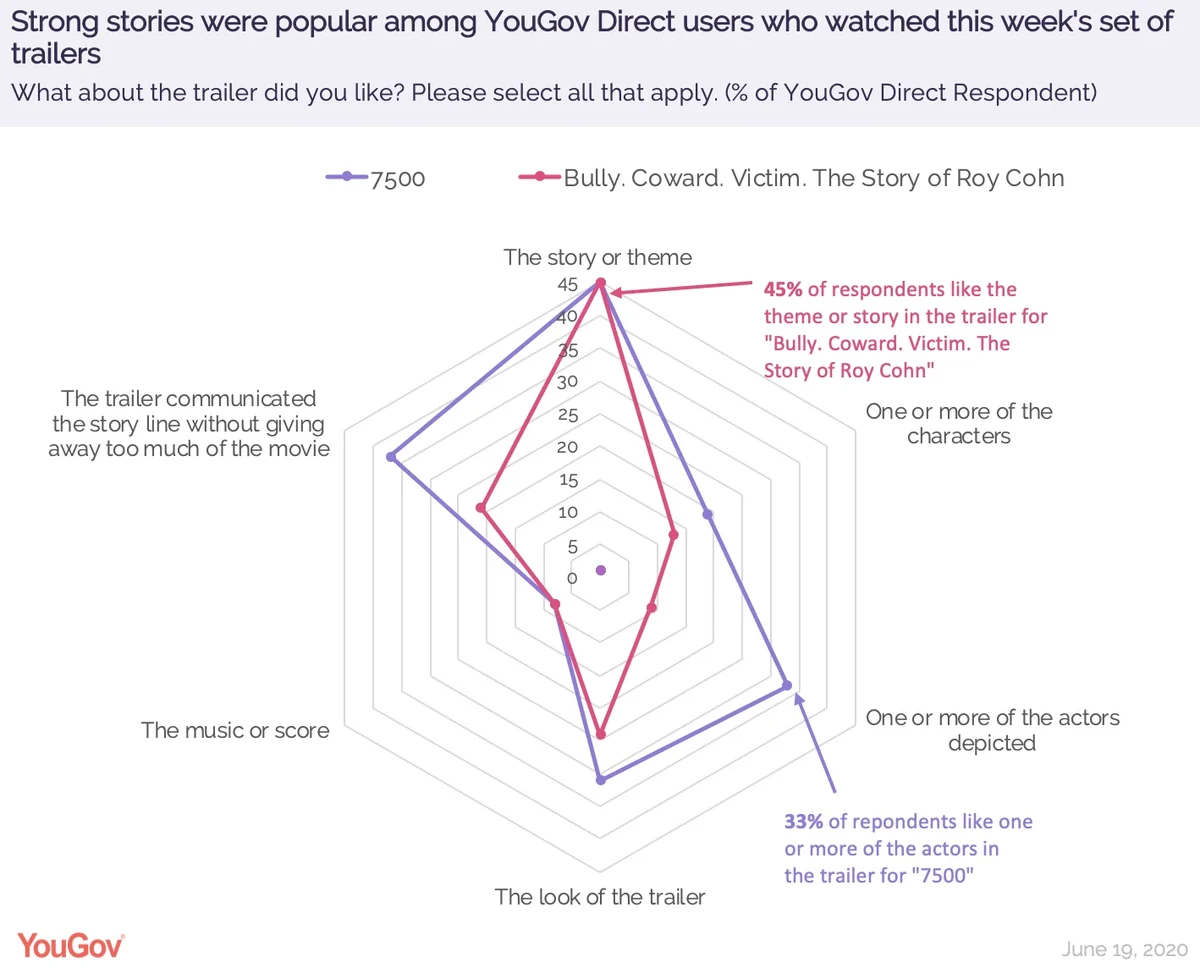 Rounding out this week is the political documentary "Bully. Coward. Victim. The Story of Roy Cohn." This HBO documentary explores the dark legacy of American attorney Roy Cohn and those victimized by his actions. It is made by filmmaker Ivy Meeropol ("Indian Point," "Heir to an Execution,") granddaughter of Julius and Ethel Rosenberg, who Cohn helped to convict. The couple was eventually executed.
The HBO Max film had the highest lift between pre and post trailer interest, suggesting that it's not just about Amazon and Netflix in the extremely competitive streaming market right now. Pre trailer, 18 percent of users said they were likely to see this unflinching documentary. Post trailer that number rose 30 percent. That's a lift of 12 percentage points in intent, the highest this week.
The biographical documentary appeared to have a slightly greater appeal to female viewers. 32 percent of YouGov Direct users who participate in trailer questions and identify as female said that they were likely to see this film, compared with 27 percent of those who identify as male.
Related:
Image: Getty
Methodology: Data is based on 4,000 interviews, including a minimum of 400 responses for each movie trailer tested. Surveys were conducted online on June 18, 2020.