The Netflix anthology series "Homemade'' made waves this week for being one of the first major movie projects to be written, filmed and edited in lockdown. But despite its groundbreaking premise and all-star cast, the trailer for this project failed to impress YouGov Direct users, who were far more excited by the trailer for Disney's recording of the smash hit musical "Hamilton."
Each week, YouGov Direct asks a group of its members to watch movie trailers. We then report on what they say. YouGov Direct's surveys investigate how effective movie trailers are in persuading people to consider seeing a film, what they think about the content of the trailer, and how good or bad they expect the movie to be. Thousands of people provide immediate feedback on movie trailers using the YouGov Direct platform.
Theaters may be closed but that doesn't mean you can't get the best seat in the house. This weekend you can follow along with political self-starter Alexander Hamilton as he fights for US independence in Lin-Manuel Miranda's musical phenomenon "Hamilton."
"Hamilton" was the most anticipated film this week amongst YouGov Direct users. Of those who took the survey, 92 percent were aware of the musical and 31 percent of users said they were already likely to see it before watching the trailer. That number rose to 41 percent post trailer. The trailer performed especially well with female audiences: 50 percent of female YouGov Direct users who participated in the trailer questions said they were likely to see the musical after watching the trailer, compared with 31 percent of men.
Unsurprisingly when we asked users what they liked best about the trailer, 40 percent said it was the trailer's music or score. This live version, which was recorded in 2016 with most of the original cast, is packed with the catchy melodies and compelling lyrics that audiences around the world have come to love.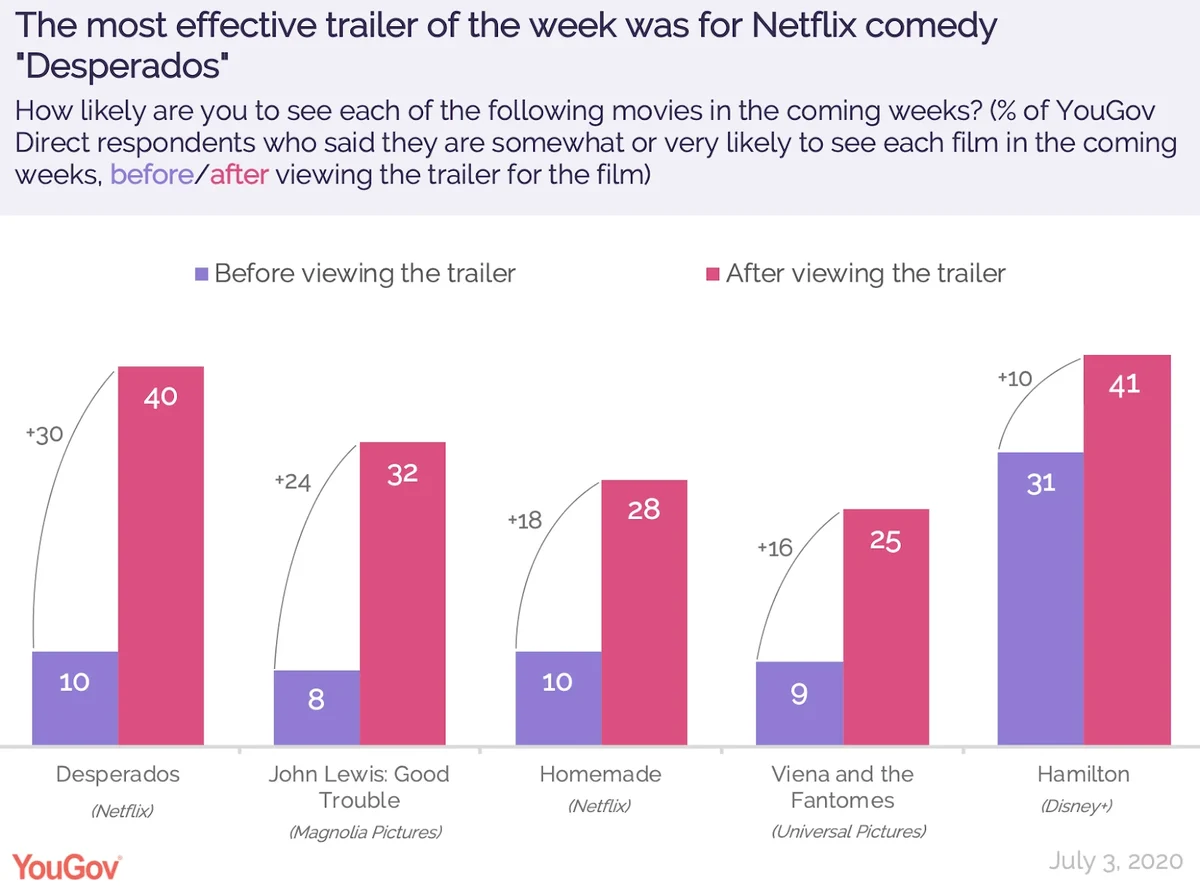 The title of most effective trailer this week, however, went to Disney+ streaming rival Netflix and their female led comedy "Desperados."
Ever sent a drunken email? In "Desperados," a panicked woman rushes all the way to Mexico — with her reluctant friends in tow — to try to delete a ranting email she sent to her new boyfriend while tipsy.
Before seeing the trailer, 10 percent of users said they were somewhat or very likely to see this comedy. After viewing the trailer, that number increased to 40 percent. That's a lift of 30 percentage points in intent, the highest lift this week. Once again, the trailer performed better with female audiences as 48 percent of female YouGov Direct users who participated in the trailer questions said they were likely to see the Nasim Pedrad-led comedy after watching the clip. That figure was 32 percent among male users.
What did users like about the trailer? 43 percent of respondents said it was the slapstick-filled storyline that stood out the most. Film critics, however, were less enthusiastic about the Netflix comedy. Writing for Indiewire film critic Kate Erbland said "as the senseless gags pile up, it becomes harder and harder to untangle what any of this is about."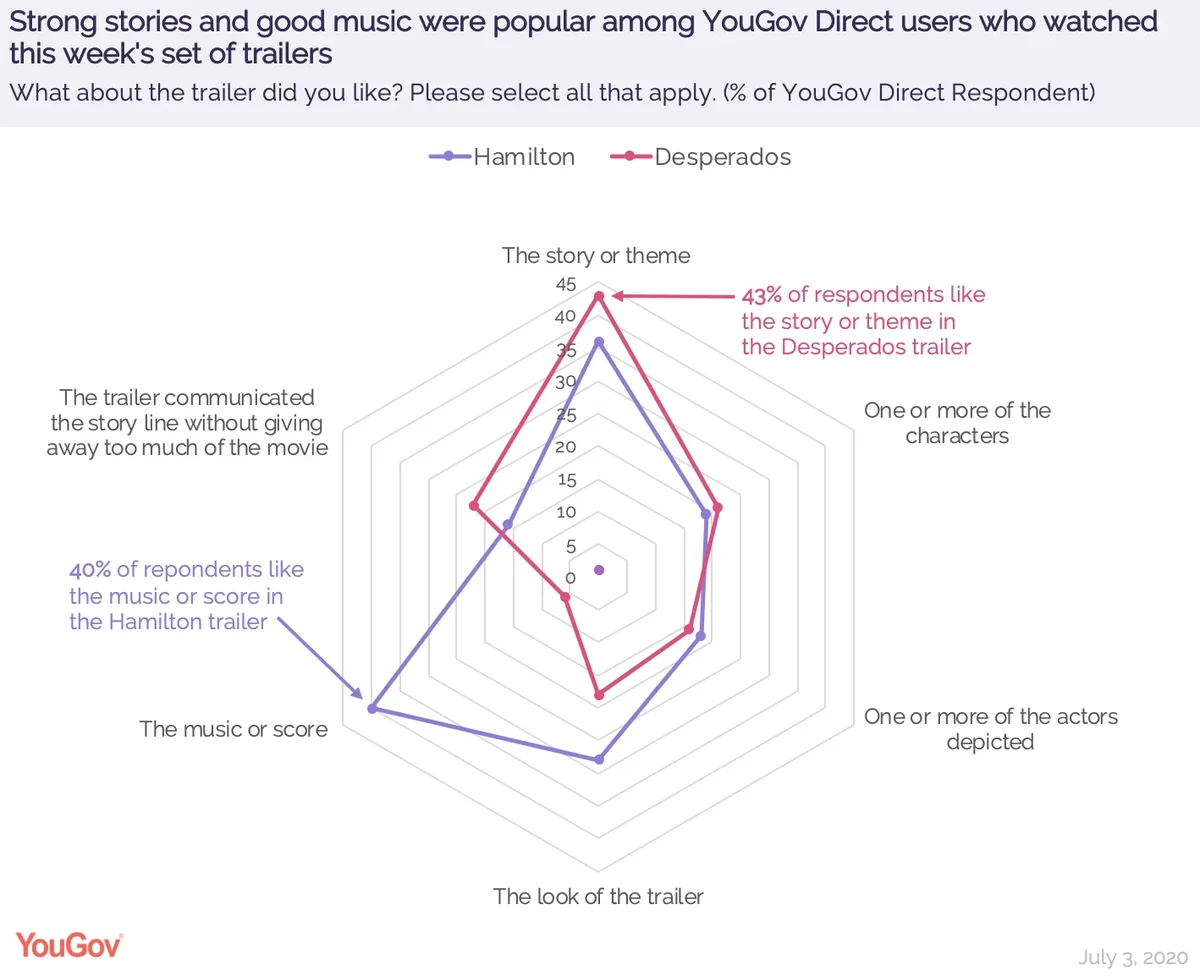 YouGov Direct also asks respondents how good or bad they think a movie will be, based on the trailer. "Hamilton" shared the highest score this week with the documentary "John Lewis: Good Trouble". Both scored 3.6 out of a possible 5.0. This is compared to a median score of 3.5 for all trailers tested to date. "Desperados" fared less well with a score of 3.3, and "Homemade" even worse with 3.2.
Related:
Methodology: Data is based on 4,000 interviews, including a minimum of 400 responses for each movie trailer tested. Surveys were conducted online on July 2, 2020.
Image: Disney