The sound of an ice cream truck is a familiar tune for most Americans. About four in five Americans (81%) say they would recognize the distinct jingle that ice cream trucks often play in the summertime, and about one-quarter (24%) recall hearing an ice cream truck in the last month.
In a follow-up to Americans' favorite ice cream flavors, a new YouGov poll sought to determine Americans' favorite treats from ice cream trucks. The poll showed 1,000 U.S. adult citizens a series of 11 match-ups. Each match-up included two items selected randomly from a list of 29 desserts that are commonly sold at ice cream trucks (based on a mix of delicious in-person research and online lists of popular items). For each match-up, people were shown a picture of each treat and asked to choose which item they would prefer to get. The treats were then ranked by their "win percentage," that is: how often each item won when it was included in a match-up — after being weighted in the usual way YouGov polls are, to ensure representativeness by factors such as gender, age, race, and education.
Three treats emerged in essentially a tie for the top spot: the Crunch Ice Cream Bar (which won 64.2% of its weighted match-ups), the original peanut-covered Drumstick ice cream cone (64.1%), and the classic vanilla ice cream sandwich (64.1%). The chocolate-and-vanilla-twist ice cream cone took fourth place with a 62.4% weighted winning percentage, and the chocolate-coated Klondike bar rounded out the top five (60.1%).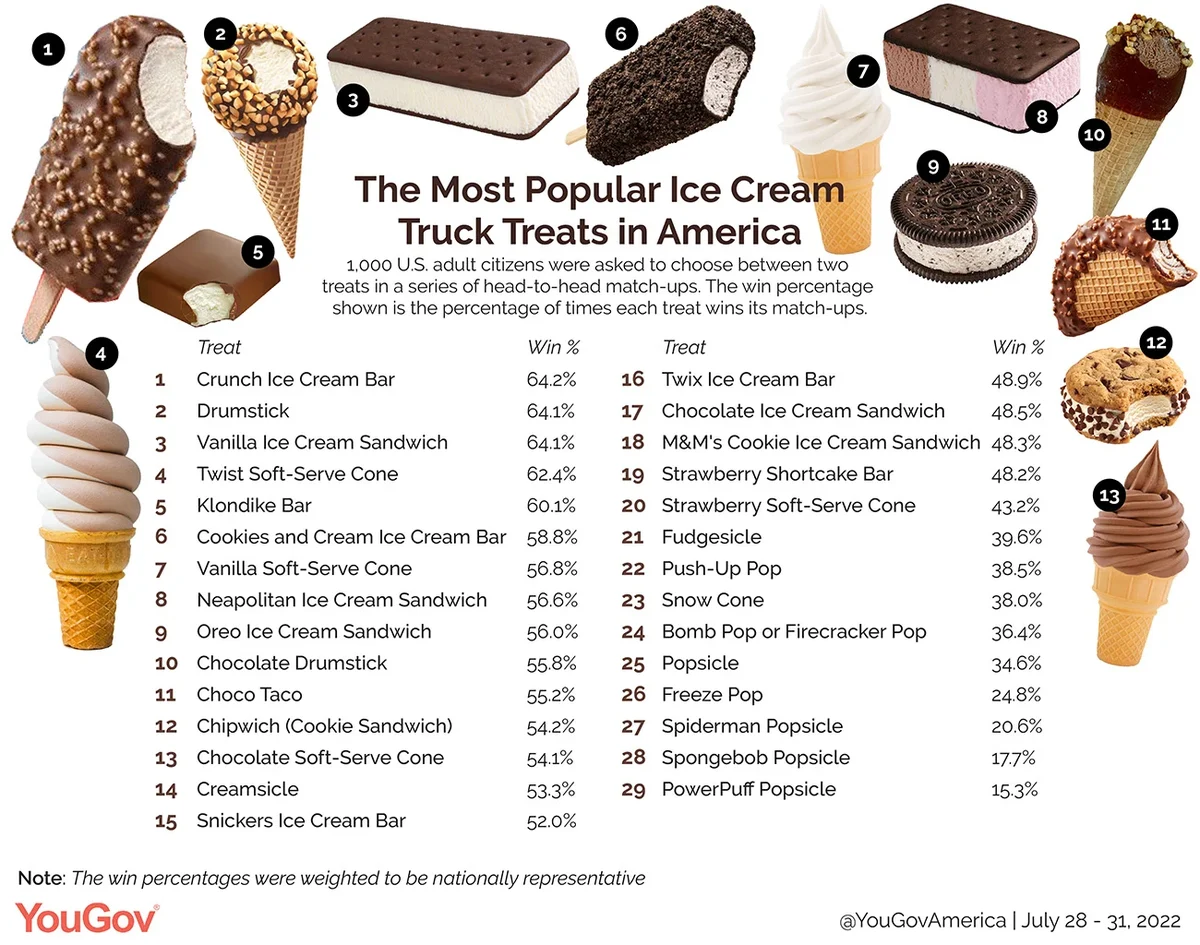 Most of the top treats included chocolate as one of their ingredients. The Choco Taco — whose discontinuation was announced as this poll was being designed — landed in 11th place with a 55.2% win rate.
The frozen items that won the fewest match-ups were the notoriously hard-to-photograph character popsicles. The ice pop characters depicting Spiderman (20.6%), Spongebob (17.7%), and Bubbles from the PowerPuff Girls (15.3%) did not do well, taking the bottom three spots on the list. In an effort to keep the items competitive but realistic, YouGov displayed the box image for each character popsicle alongside a real-life version of it.
Despite the enthusiasm for many of the treats on the list, nearly two-thirds of Americans (64%) say they have not ordered from an ice cream truck in the last year — consistent with a recent New York Times report that showed that many owners of ice cream trucks are struggling to keep a profitable business.
— Carl Bialik and Taylor Orth contributed to this article
This poll was conducted on July 28 - 31, 2022 among 1,000 U.S. adult citizens. Explore more on the methodology and data for this poll.
Related: America's favorite ice-cream flavors: vanilla, chocolate, and mint chocolate chip
Image: Adobe Stock by Sidekick