And other interesting things your beliefs might say about your OTC medication use
A new study from YouGov looked at the relationships between people's belief in certain ideologies and how often they use certain over-the-counter medications, including contraceptives, pain medication and smoking cessation aids.
For example, we found that 18% of those who believe in Darwinian evolution are very likely to purchase OTC drugs in the next month, which is 6% below the national average of all respondents in the market for similar medicine. It's important to note that the beliefs mentioned herein are not mutually exclusive and respondents were allowed to select as many as applied to them.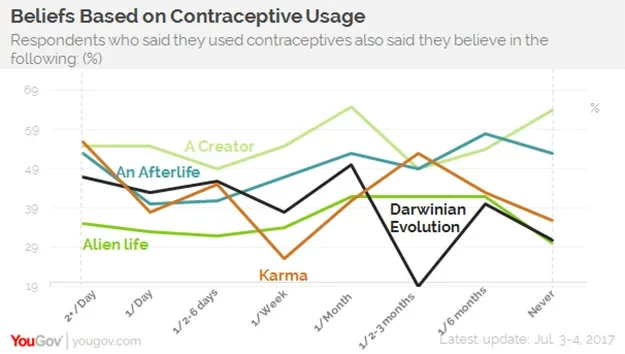 We found that amongst respondents who told us about their contraceptive use (e.g., condoms, contraceptive foam, etc.), people who used them multiple times per day were the most likely to believe in karma (56%), which is 18% higher than the general population. We also found that if someone uses contraceptives 1 to 3 days per month, they were 18% more likely to believe in Darwinian evolution than the national average. For those who believe in a creator, we found that these people are most likely to never use contraceptives (64%), or just once a month (65%).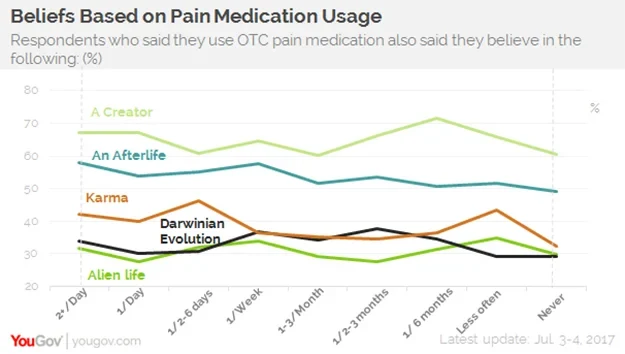 Of those who told us about their pain medication usage, believers in a creator were most likely to use pain medication only once every six months. Those who take pain medication less than once in 6 months were slightly (6%) more likely to believe in alien life than the general population at a rate of 35%. Meanwhile, belief in an afterlife was highest (58%) among those who said they take pain meds several times a day.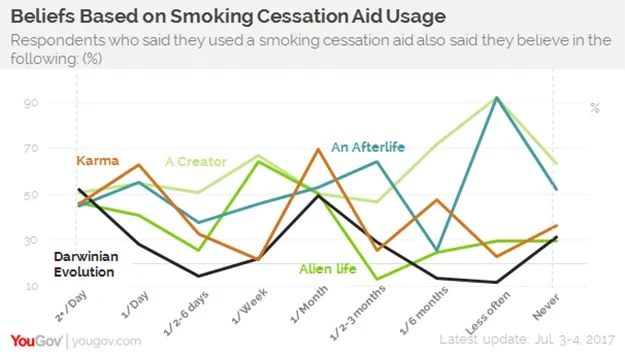 Of respondents who say they use smoking cessation aids less than once in six months, 92% believe in a creator and/or an afterlife. This represents a significant 30% increase above the general population's likelihood of sharing this belief. Belief in alien life was higher among smoking cessation aid users than in the other OTC markets shown, peaking at 64% of one day per week users.