80% of Americans approve of the $15 billion in emergency spending to deal with the aftermath of Hurricane Harvey
The federal government and President Trump get high marks for their compassion and management of Hurricanes Harvey and Irma – but the good grades on storm management don't translate into gains in overall presidential approval. The latest Economist/YouGov Poll suggests that most of the public disagrees with the President's other big action last week – rescinding Deferred Action on Childhood Arrivals (DACA), which protected those illegally brought to the United States as children.

Nowhere is the distinction between the two issues more clear than on the question of the President's compassion. Nearly two in three believe the President, who visited Texas twice last week and will head to Florida this week, cares about the needs and problems of those affected by the hurricane. But just about the same percentage believes he does not care about the dreamers.

Republicans are different. Two in three Republicans (65%) think the President cares at least somewhat about the Dreamers; 93% say he cares about the hurricane victims. Republicans approve of the President's DACA decision by three to one. By 50% to 35%, the public at large does not. Opinion of the DACA program, established by President Obama, has not changed for Republicans or for the public overall since last week's poll, conducted before the decision to rescind became public.
Compassion has not been a strength for this President. Just over a third (37%) think he cares even somewhat about their own needs and problems. A majority of the public (54%) believes he cares little or not at all about their own needs and problems.
The approval ratings for the President's handling of Hurricanes Harvey and Irma are clearly positive – more than twice as many approve of how he has handled the response to each storm as disapprove. The public's responses on Harvey were just about the same last week as they are today. Even Democrats are as likely to approve of how the President has handled the hurricanes as to disapprove.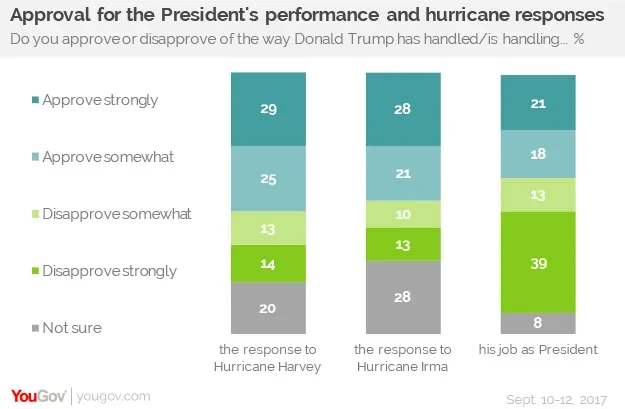 But the President's overall approval rating has slipped back below 40% this week, and there is a more typical partisan division. Nearly nine in ten Democrats disapprove of how the President is handling his job overall. For the first time since May, half of Republicans strongly approve of the President's overall handling of his job, suggesting the DACA decision also mattered, a decision that most Republicans (66%) approve.

Perceptions of government performance on these storms has been very good, both last week, as Harvey was inundating Texas, and now in this week's poll, conducted as Hurricane Irma battered Florida. For many Americans, the hurricanes were personal: half knew at least one person affected by Harvey, and even more knew someone who had been affected by Irma. As of Tuesday, more than a third had contributed to assist the victims of Harvey and nearly one in four had already committed to help those affected by Hurricane Irma.

Some perceptions of government preparation and response to the hurricanes even improved over the positive ratings of a week ago. That is particularly true on the question of whether state and local officials in Texas and Louisiana did a good job in storm preparation.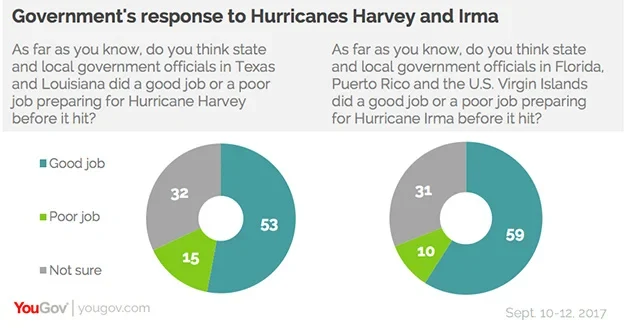 Americans give the federal government high marks, too. But they also want more – 80% approve of the $15 billion emergency spending authorized by Congress to deal with the aftermath of Hurricane Harvey. While most are confident this hurricane relief will get to the people who need it, even more worry about fraud, waste and abuse in federal emergency disaster relief funds. And they prefer that money be distributed carefully to insure that only legitimate claimants receive it, even if that means people have to wait longer for assistance.
See the full results from this week's the Economist/YouGov pollImage: Wikimedia Commons