New data highlights the Johnson & Johnson brands that US shoppers think represent either good or poor quality
As consumer product juggernaut Johnson & Johnson, valued at $358 billion, prepares to release its Q3 FY 2017 results next week, new data from YouGov BrandIndex reveals that more consumers considered Neutrogena a quality brand in the company's third quarter than at any point in the past few years.
Not only that, but when examining over a dozen other Johnson & Johnson brands — from Tylenol to Benadryl, Listerine to Aveeno — Neutrogena had the biggest gain in YouGov's Quality metric throughout the past three months, meaning an increasing number of consumers said they thought the line of skincare products represented good quality, as opposed to poor quality. On July 1, Neutrogena had a Quality score of 36. By October 1, it had risen 11 points to hit 47.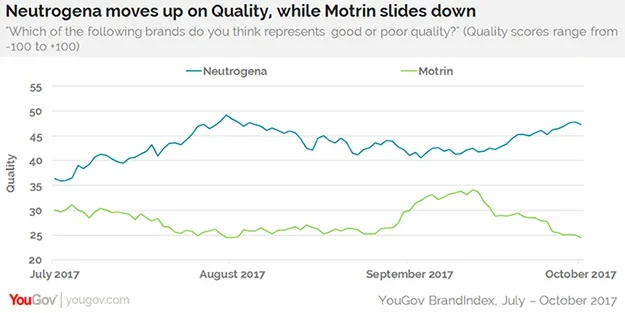 Johnson & Johnson's pain-relief medication Motrin, however, has moved in the opposite direction, falling from a score of 30 to 25 throughout the same time period. On the aforementioned list of over a dozen company brands, Motrin suffered the biggest drop in Quality.
Last August, Dwayne "The Rock" Johnson stated on Twitter that he uses "Neutrogena deep cream face wash." His tweet was reported in several mainstream publications, such as GQ, Elle, and People, giving Neutrogena a healthy amount of positive press.
Photo: Getty