51% of people would support voluntarily raising taxes to fund local mental health services
As local governments deliberate raising taxes to support mental health services, they may find more support than previously expected. About half (51%) of Americans would support voluntarily raising taxes to fund mental health services locally, according to a YouGov survey of more than 27,000 people from March 2019. Nearly one in four Americans (24%) oppose this measure, while 25% remain uncertain.
That's more support than has previously been shown for other surveyed tax initiatives — including voluntarily raising taxes for cleaner neighborhood air (47% willing) and increasing NASA funding by raising income taxes (44% support). American's willingness to increase taxes that fund mental health resources could come down to its perceived significance. An additional YouGov survey of 58,000 people found that 87% of Americans say it's important for people to talk about mental health.
A few cities, like Denver, have already taken steps to fund local mental health programs through tax increases. In the midst of the Caring 4 Denver initiative to fund mental health treatment with a small tax increase, more than half of Denver residents (53%) said in a YouGov poll that their city offered access to mental health resources. In November 2018, Denver voters approved a ballot measure to increase sales tax to fund mental health services in the city.
According to data from YouGov Omnibus/CityBus survey of some of America's largest market areas, Denver and Portland tied (53%) for the top cities where residents believe there is access to mental health clinics. They were followed closely by Houston (52%) and Washington, D.C. (51%), where more than half of surveyed residents also considered mental health clinics accessible.
At the bottom of that list, only 36% of surveyed residents in the Miami - Fort Lauderdale market area considered mental health clinics accessible, closely followed by Los Angeles (37%) and Dallas-Fort Worth (38%) and Detroit (39%).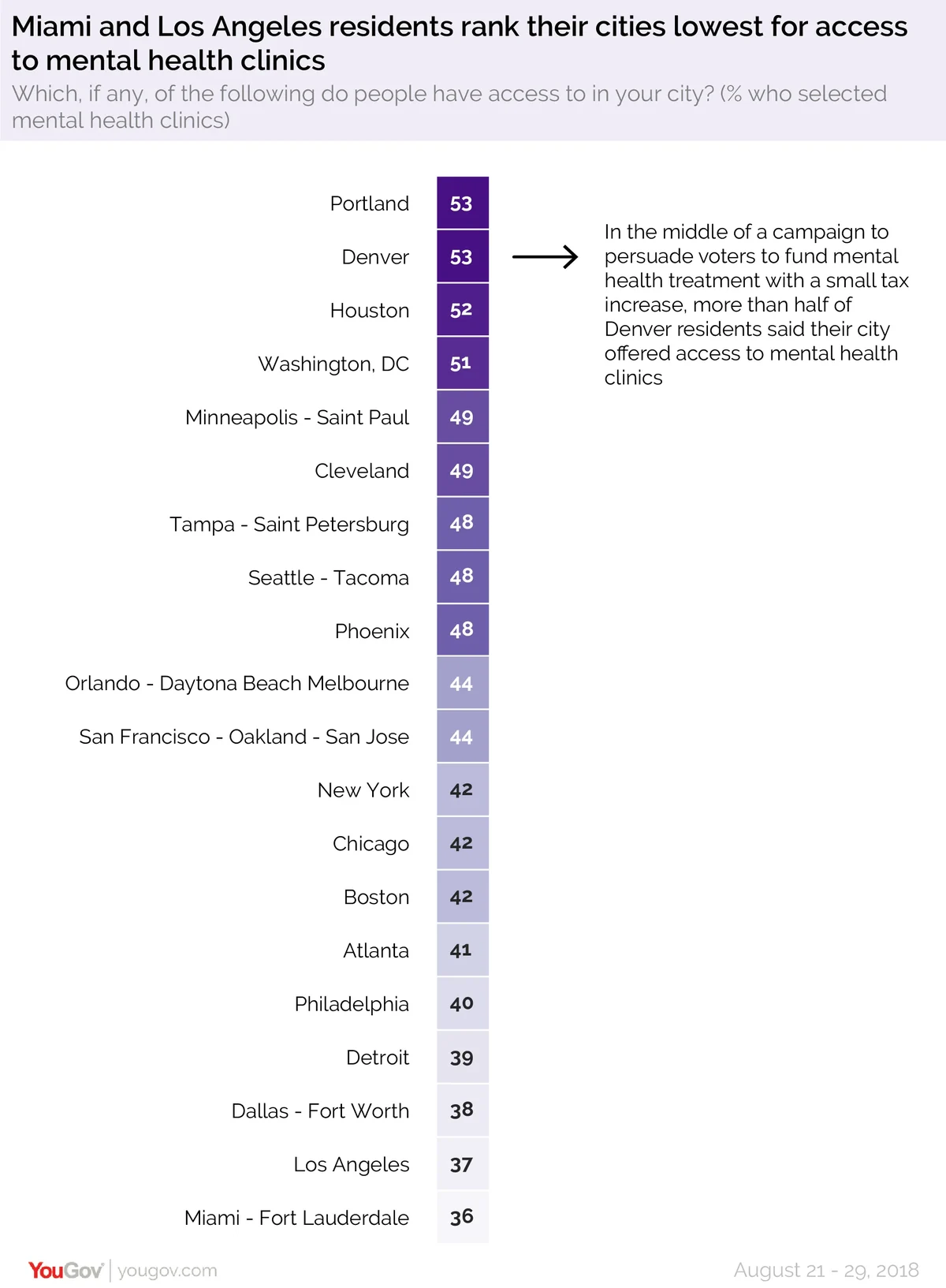 YouGov Methodology: For the YouGov Citybus data, the total sample size was 4,065 US adults aged 18+ (i.e. approximately 200 people per metro area). Interviews were conducted online between August 21-29, 2018. The respondents surveyed in this study reside in the following Designated Market Areas: Atlanta, Boston, Chicago, Cleveland, Dallas - Fort Worth, Denver, Detroit, Houston, Los Angeles, Miami - Fort Lauderdale, Minneapolis - Saint Paul, New York, Orlando - Daytona Beach Melbourne, Philadelphia, Phoenix, Portland - Oregon, San Francisco - Oakland - San Jose, Seattle - Tacoma, Tampa - Saint Petersburg, Washington DC.
Read the city-by-city data on access to women's health clinics, and learn more about YouGov Omnibus polling.
Image: Getty