Half of Americans don't have an opinion on the potential agreement, but those who do are mostly for it
Benjamin Netanyahu sharply criticized the emerging agreement over Iran's nuclear program in a controversial speech this week. The Israeli president told a joint session of Congress that the potential arrangement between Iran and other world powers, including the United States, is a "very bad deal" that would "pave the way" for the Middle Eastern nation gaining a nuclear weapon.
However, public opposition to the potential agreement with Iran remains low. Asked "From what you know about it now, do you support or oppose the terms of the international agreement to limit Iran's nuclear program?" only 16% of Americans said they opposed it, roughly half the number who express support (34%). Half of Americans are either not sure whether if they support the deal (15%) or don't know enough about it to have an opinion (36%).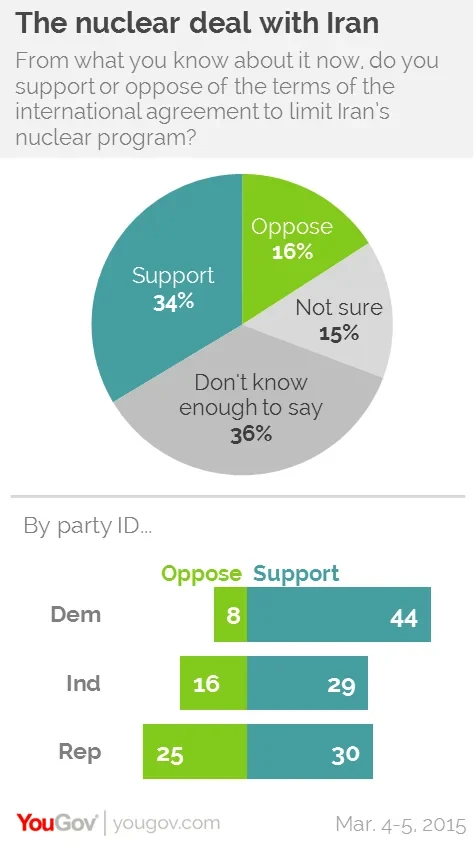 Though congressional Republicans have been vocally supportive of Netanyahu's position and sharply critical of Obama's handling of the Iran issue, self-identified Republicans across the country are not overly opposed to what they've heard about the deal. 30% say they support the deal, while 25% are opposed. Democrats support the deal by 44 to 8 and independents by 29 to 16.
The exact details of the deal are unclear, but it is likely it would allow Iran to continue limited nuclear enrichment (for non-military purposes) and would last at least 10 years. In return for submitting to regular inspections, economic sanctions against Iran would be gradually eased.
Some commentators have described Netanyahu's speech as an historic one, and he is only the second foreign leader in history to have given three speeches before joint sessions of Congress. However, most Americans weren't watching. In fact only 44% even saw clips of the speech on the news. This includes 12% who saw the whole speech. Republicans were much more likely to say they saw some of the speech than Democrats (33% versus 16%).
Republicans are also more favorable towards Netanyahu than before. At the end of February, about half (51%) of Republicans had a favorable opinion of the Israeli. In the most recent poll, two-thirds (67%) do. Democrats continue to be more unfavourable than not (39 to 17), and this is unchanged from last week (41 to 16). Overall 35% of Americans see Netanyahu favorably and 25% unfavorably, basically the same as the 34-27 split before.
As for Iran, 60% say the country's nuclear program poses a serious threat to the United States, down from 67% a week ago. The majority (57%) of Americans also think it's at least somewhat likely the U.S. will use military force against Iran in the next 10 years, an event which most Americans (58%) also believe would lead to a "large war".
PA image
Full poll results can be found here and topline results and margin of error here.