Most Americans are not happy with President Donald Trump's decision to withdraw US troops from Syria and abandon its Kurdish allies while the Turkish military attacks. The latest Economist/YouGov poll finds strong support for that decision from one group: those who identify with the President's political party. Republicans approve of the US withdrawal by two to one.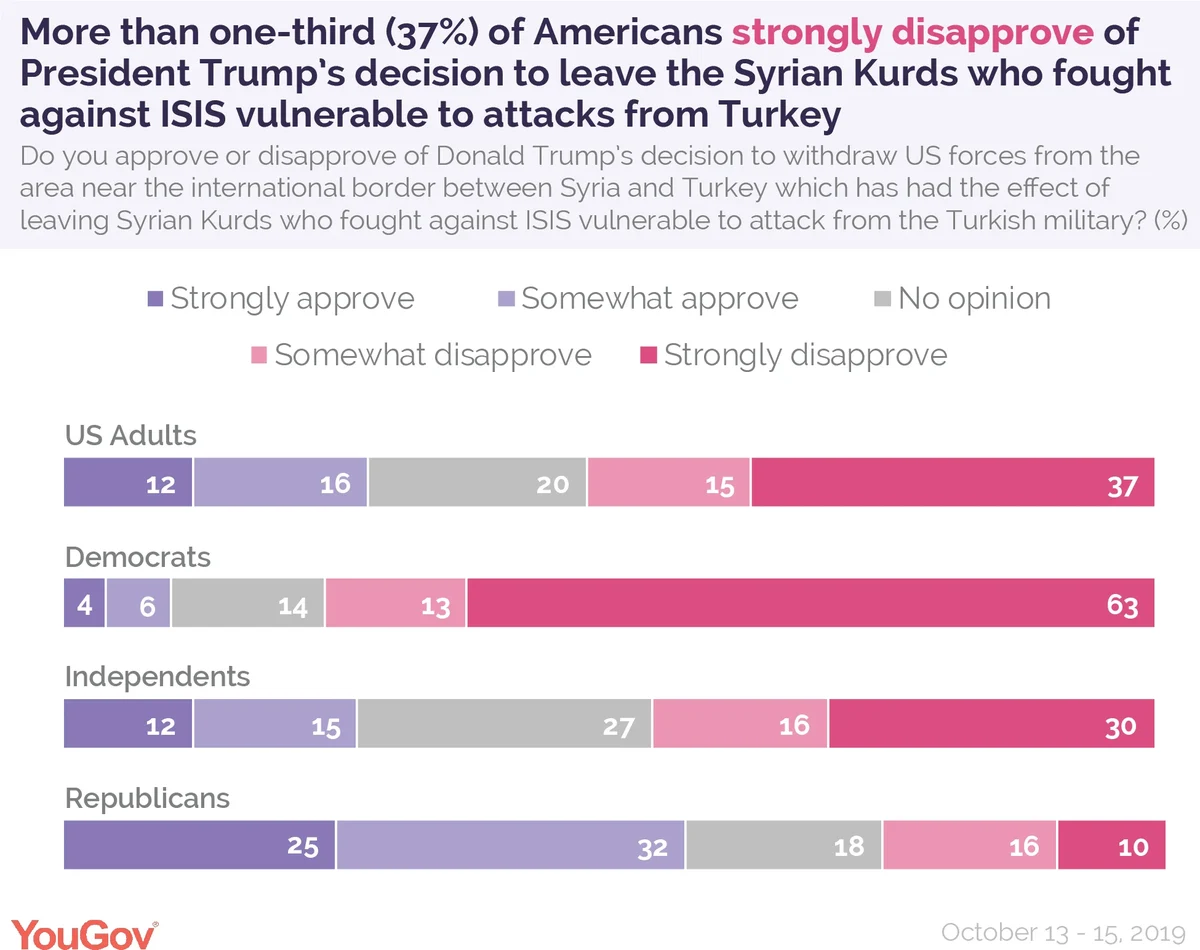 This puts Republican rank and file at odds with many of their own representatives in Congress, who have condemned the withdrawal. Democrats and Independents agree with many members of Congress and overwhelmingly disapprove of the president's decision. As for the president's overall handling of foreign policy, disapproval outweighs approval, as it has for a while. This week 49 percent disapprove and 39 percent approve. A majority of the public remain uneasy with President Trump's ability to handle an international crisis.
On several issues, Republicans see a rosier world. They take a more positive view of Saudi Arabia, for example, and view it as a friendly country or an ally rather than unfriendly or an enemy by a margin of 46 percent to 33 percent. The public overall is more likely to describe Saudi Arabia as unfriendly or an enemy. Republicans are also somewhat more likely than others to describe Turkey as a friend.
Although Republicans are nearly as likely as the public overall to believe the Syrian Kurds are friendly toward the United States rather than unfriendly, they are less likely to view the Kurds as American allies. By more than two to one, the public overall believes the Kurds are friends of the United States. The GOP margin is slightly smaller. But while 27 percent overall call the Kurds allies, just 18 percent of Republicans agree. Those Republicans who do think of the Kurds as US allies, however, disapprove of the president's troop withdrawal.
Republicans, like the rest of the public, see a serious threat to the United States from ISIS. More than eight in 10 Republicans (86%) and Democrats (82%) call ISIS an enemy. Only 14 percent of Republicans believe that ISIS has been completely defeated, though that figure is more than three times the percentages of Democrats (4%) and independents (3%) who believe that is the case.
Republicans also don't see a threat to American elections. Foreign interference with elections would bother seven in 10 (70%) Americans "a lot,"—including Republicans (62%)—but many Republicans don't believe foreign interference is likely. Most Republicans deny that Russia interfered with the 2016 election (56%), and 45 percent don't believe they will interfere in 2020.
The public overall takes a very different view. Half of US adults (51%) believe Russia interfered with the 2016 election and most (46%) believe they will do it again. And while Democrats and independents are not especially confident that the country effectively can defend itself from foreign government intervention in the 2020 presidential contest, nearly three in four Republicans (74%) are "very confident" or "somewhat confident" that it can.
Related: Economic jitters up despite the lowest jobless rate in 50 years
Read the full toplines and tables results from this week's Economist/YouGov poll
Image: Getty