The Duke and Duchess of Sussex's plan to step away from their role as British Royals isn't something that will affect Americans directly. But in the latest Economist/YouGov Poll, Americans support their decision to do just that – although Americans believe Prince Harry and his American-born wife, Meghan Markle, the Duke and Duchess of Sussex, should pay a price for taking that action.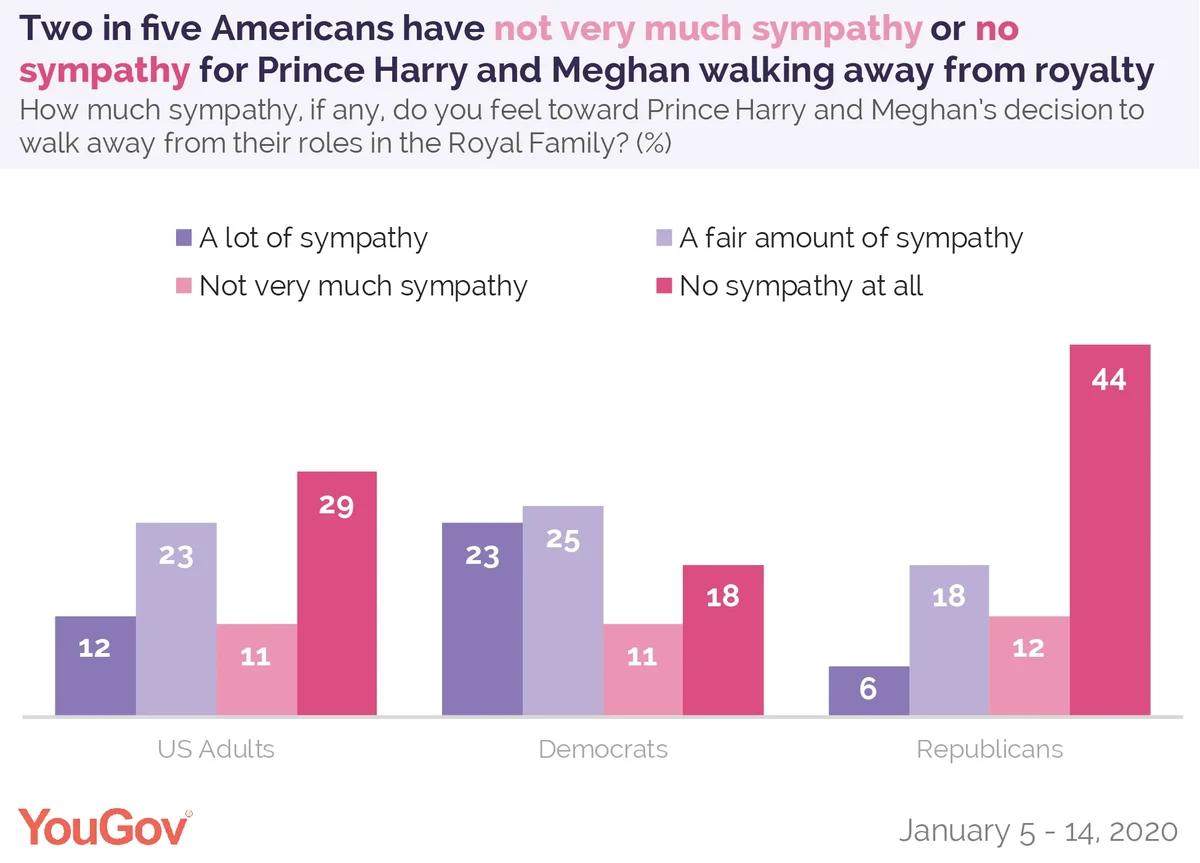 By more than four to one, Americans support the decision to step back from their roles in the Royal family. But there is a political component – as well as a racial one – to public support. Black Americans are especially likely to support the decision, and Democrats are more positive than Republicans (though Republicans also support the decision, and by more than two to one).
Support for the decision doesn't always mean sympathy for Harry and Meghan. In fact, more Americans say they don't have very much sympathy or have no sympathy at all for the Royals than have even a fair amount of sympathy for them. More than two in five (44%) Republicans express no sympathy at all.
By more than two to one (48%-22%) Americans believe that the Sussexes will be able to become financially independent after they step away from the Royal Family. That, as well as the American public's lack of sympathy, may be why Americans don't think Harry and Meghan should receive benefits from the British government after they depart:
By 42% to 19%, Americans don't want the Sussexes to receive Duchy of Cornwall income – income available to Harry's father, Prince Charles
By 35% to 24%, Americans don't think they should be able to live at Frogmore Cottage, renovated recently by the government and the couple for their residence
Americans overwhelmingly – 53% to 13% – think the couple should not receive any public funds
However, Americans are divided on whether or not Harry and Meghan should keep their royal titles after "Megxit," and on whether the British government should continue to fund their security.
Americans quite like the Royal Family – at least they like most of them. Queen Elizabeth II remains the most popular royal, though her grandchildren are not that far behind in popularity. Prince Harry is just about as popular with Americans as his brother William, who is second in line to the throne. Twice as many Americans hold an unfavorable view of Meghan Markle, the Duchess of Sussex, as are negative about William's wife Catherine, the Duchess of Cambridge. Much of the difference is racial and political.
Meghan Markle is even more popular than Queen Elizabeth is among Black Americans, and Prince Harry is just about as popular as his Duchess. One in four whites and one in three Republicans have a negative view of Meghan.
See the full toplines and crosstabs from this week's Economist/YouGov poll
Related: Concern about war with Iran eases
Image: Getty