Democrats might think that Israel should have done more to prevent civilian deaths in Gaza, but overall Americans tend to think that Israel has done a good job of preventing civilian deaths
The latest Gaza War has lasted over a month, with a death toll of over 2,000 - all but 67 of whom have been Palestinian. As of Monday afternoon, however, fighting has temporarily ceased after Israel and Hamas agreed to an Egyptian-brokered 72 hour ceasefire. The hopes for a longer ceasefire are limited, however, as both sides are increasingly doubling-down on their requirements for an agreement at the same time as preparing for a longer-than-expected conflict.
The latest research from YouGov shows that 32% of Americans do think that Israel could have done a better job of preventing civilian deaths, with 21% of the public saying that Israel could have done a 'much better' job. 17% of the public say that Israel has done about as well as could be expected, while 21% think that they did more than was necessary to prevent civilian deaths - meaning that, overall, 38% of Americans think that Israel did at least as good a job as they could to prevent civilian deaths. There is a significant partisan divide, however, as 43% of Democrats say that Israel did not do enough while 40% of Republicans think that Israel did too much.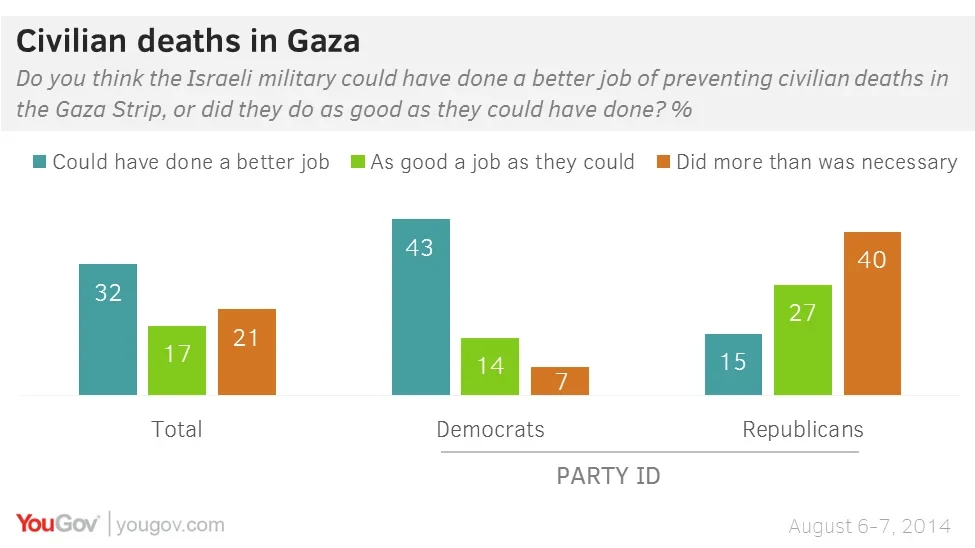 Asked whether the criticism heard in the news of Israel's responsibility for civilian deaths in Gaza is fair or not, the public do tend to say that it is unfair (40%) rather than fair (29%). Democrats tend to say, however, that the criticism has been fair (44%) rather than unfair (21%).