Americans are already concerned about the Ebola outbreak in West Africa, but most think the world do more to find a cure if the virus were more common in the United States and Europe
Nearly three in four Americans in the latest Economist/YouGov Poll believe more effort would be made to cure Ebola if the outbreak were taking place somewhere other than Africa – specifically in Europe or here in the United States. If the outbreak now affecting western Africa were happening in Europe or the United States, nearly half say there would already be a cure.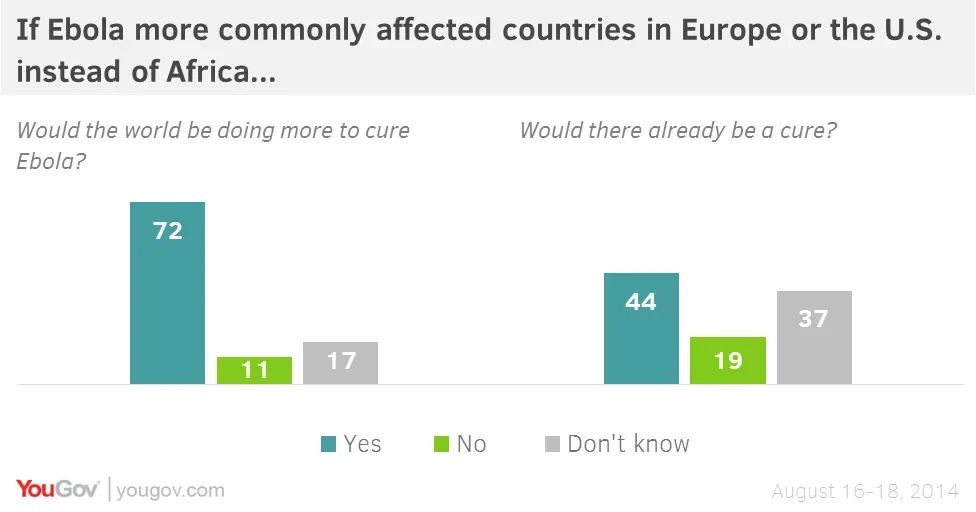 There isn't much disagreement whether there would be more effort if the Ebola virus were threatening Europe or the United States. Similar percentages of Republicans and Democrats, blacks and whites, and men and women agree. As for whether there would be a cure by now, more than half of Democrats, African-Americans, and those 65 and older think there would have been. 49% of women agree (compared with just 39% of men).
Will Ebola affect the United States? There is concern that it could. More than half the public is at least somewhat concerned that the virus could cause an epidemic here.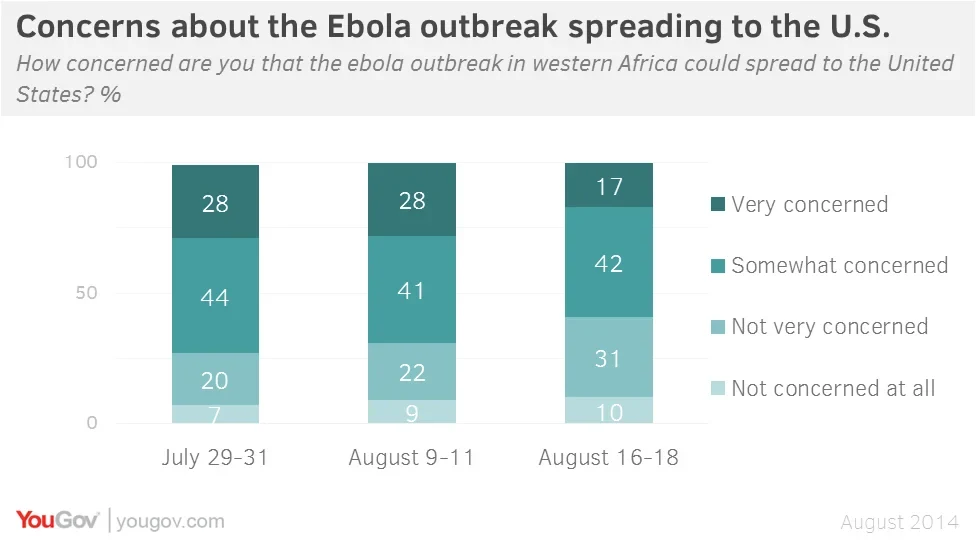 Concern increases with age, is higher among Republicans than Democrats, and higher among conservatives than liberals. Two-thirds of African-Americans are at least somewhat concerned.
Many Americans want more action. 56% say the affected countries aren't doing enough to contain the Ebola virus, and about a third believe the United States isn't doing enough either.
A third say the United States should increase its spending on Ebola research, though more think the United States should continue to spend what it is spending now. Hardly any people think spending should be reduced.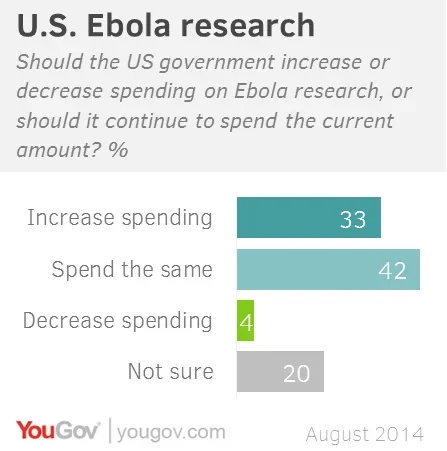 A larger percentage of African-Americans than whites favor increased spending. 37% of Democrats and 30% of Republicans would increase spending.
Opinions of the President's handling of the Ebola crisis are more positive than negative. 37% approve, 30% do not. Much higher percentages disapprove of the President's management of other overseas issues, like the crises in Iraq, Syria and Ukraine, and the fighting between Israel and Palestine.
Image: PA
Full results can be found here.
Economist/YouGov poll archives can be found here.