Americans overwhelmingly like Medicaid and Medicare and support Medicaid expansion, though Republicans like Medicaid much less than they like Medicare
When the Affordable Care Act came into being, it included a provision for Medicaid coverage expansion and uniformity in coverage paid mainly by the federal government. The Supreme Court's Obamacare decision permitted states to opt out – and most Republican-controlled states did. But a number of Republican Governors have accepted the expansion, or have proposed an individualized state plan to the national government or have indicated they will do so.
Most Americans understand the differences between Medicare, which provides medical coverage for those 65 and older, and Medicaid, which provides coverage for low income people. In the latest Economist/YouGov Poll, 75% knew Medicaid was the program providing health insurance coverage for low income people. Older Americans (most of whom receive Medicare coverage) and the most well-off respondents were the most aware (82% and 83% respectively), while younger and less well-off adults were less likely to recognize the difference (though seven in ten in each group did).
Most Americans have favorable opinions of both programs, though more are positive about Medicare.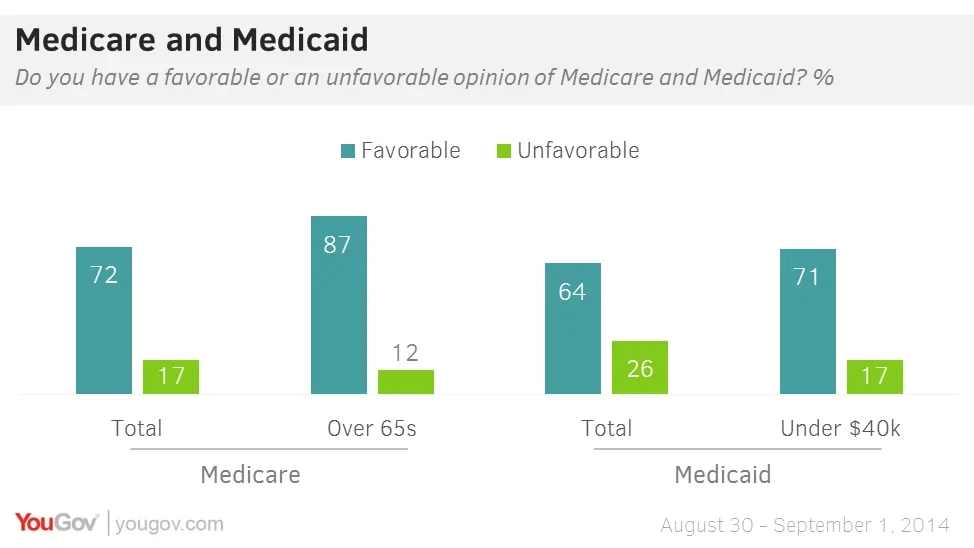 Those who are most likely to be receiving the benefits of each program are even more positive. That is especially true about those who are eligible for Medicare. Half of those 65 and older are very favorable towards that program; nearly three in four with family incomes under $40,000 a year are positive about Medicaid.
But there are political differences among the public, with many Republicans echoing GOP governors in their reaction to the Medicaid program and especially any expansion of it. There is even a party difference in attitudes towards the more popular Medicare.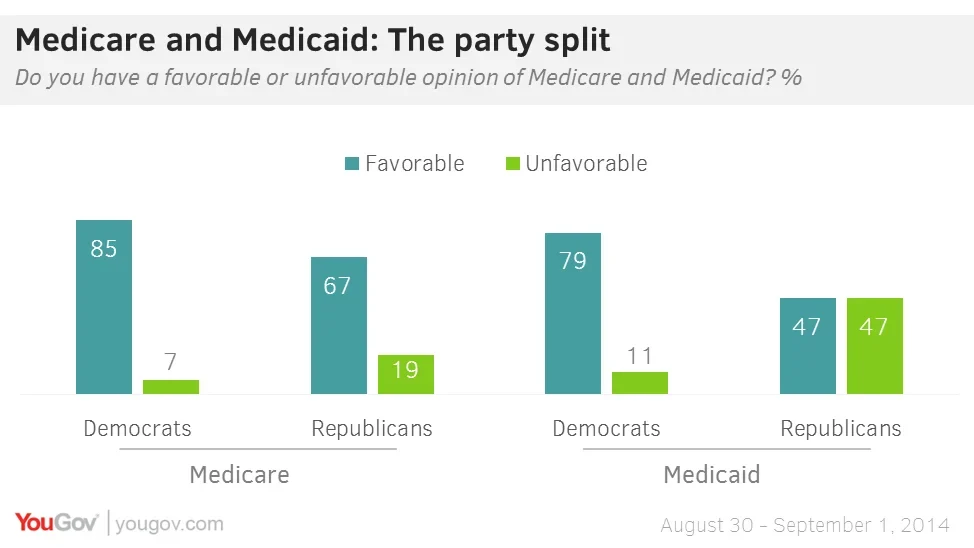 While most Republicans have a favorable view of Medicare, nearly a third do not. But the party difference is larger when it comes to Medicaid. Democrats are overwhelmingly positive, but Republicans are divided.
Republicans definitely side with the GOP governors who have rejected the expansion of Medicaid benefits. Most oppose doing that, while most Democrats and independents do not.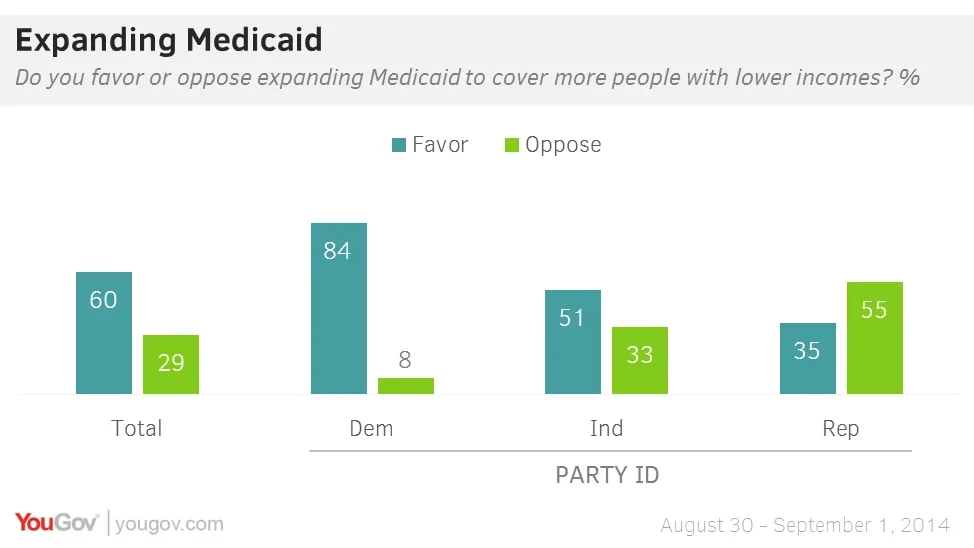 Overall, Medicaid expansion is favored by two to one.
And the entire health care law continues to be divisive. In this week's poll, the public remains closely split on whether they want the law repealed or want it kept or expanded. This division is intensely partisan: 78% of Republicans favor repeal; 72% of Democrats want to expand the ACA or keep it as it is.
Full results can be found here.
Economist/YouGov poll archives can be found here.
Image: PA