Only 26% of Americans view the outgoing attorney general favorably, though that's slightly better than the ratings of two other prominent cabinet members who left this year
Last week U.S. Attorney General Eric Holder announced that he would be stepping down, drawing to a close his six-year stint at the Justice Department. The nation's first African-American attorney general and a close ally of Barack Obama, Holder's legacy is will be a subject of fierce debate – while he has been lauded for his work protecting civil rights, he has critics on both the left and the right.
A new YouGov poll that asked Americans how they view the nation's top law enforcement officer shows him to be a controversial public figure.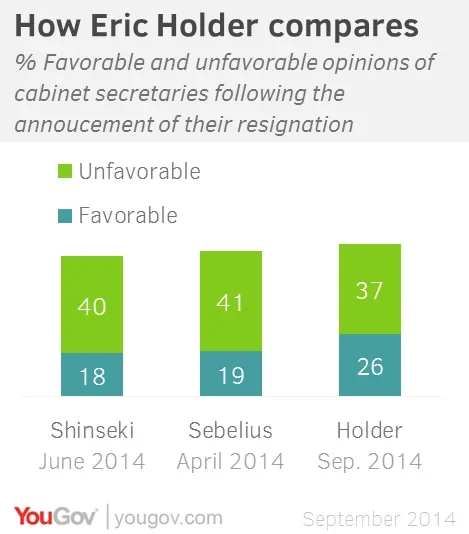 37% view Eric Holder unfavorably, to only 26% who view him favorably. Americans tend to disapprove of the job he's done as attorney general by a similar margin (27%-39%). However, at least a third of Americans are not sure how to answer either question, a reminder that even some of the most visible cabinet members reach only a limited national audience.
However, Americans are more positive about Holder than they were about two other recent departing cabinet secretaries, both of whom oversaw their departments during troubled times.
When Eric Shinseki announced his resignation as Secretary of Veterans Affairs in the wake of the VA hospitals scandal, only 18% saw him favorably, and 40% saw him unfavorably.
Former Health and Human Services Secretary Kathleen Sebelius, who oversaw the roll-out of the Affordable Care Act website, was viewed favorably by 19% and unfavorably by 41% in April.
Divisions
Liberals have expressed disappointment with Holder's handling of some issues, particularly the failure to prosecute bankers involved in the 2007-08 financial crisis. But the loudest criticisms have come from conservatives, including Republicans in Congress – who voted to hold Holder in contempt over his role in investigations into the "Fast and Furious" gun-running operation. Holder has also long been outspoken on issues of race, and he vocally opposed sentencing policies and voter ID laws that disproportionately impacted minorities.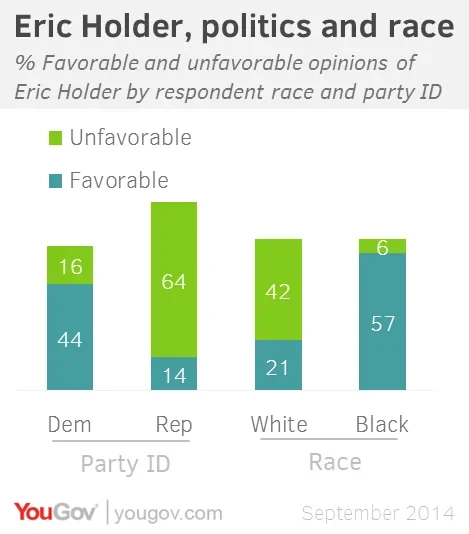 Perhaps reflecting some of these issues, there are more Republicans (64%) with an unfavorable opinion of Holder than Democrats with any opinion of him (60%). At the same time, blacks overwhelmingly view Holder favorably, by 57%-6%. Whites view him unfavorably by a two-to-one margin (42%-21%).
In an ironic turn, the timing of Holder's announcement has led to calls by some Democrats to find him a replacement, with Republican senators arguing he should stay in office until next January, when the next Congress begins. GOP gains in the Senate this November could give them increased leverage in the nomination process for Holder's successor.
Image: PA
This article has been updated for clarity.
See the full results here.