The number of Americans concerned about an Ebola outbreak in the United States has grown since August, and more want government action
The existence of Ebola patients in the United States has raised attentiveness and concern about the virus spreading and becoming an epidemic here. In addition, the latest Economist/YouGov Poll finds more interest in increasing U.S. activity to combat the disease.
Twice as many Americans are very concerned about an epidemic in the United States today than were that worried in August, when Ebola emerged as a threat – but in western Africa. Then, just 17% were very concerned that Ebola could spread to the U.S. and become an epidemic here. Now that there are cases in the United States, a third are very concerned.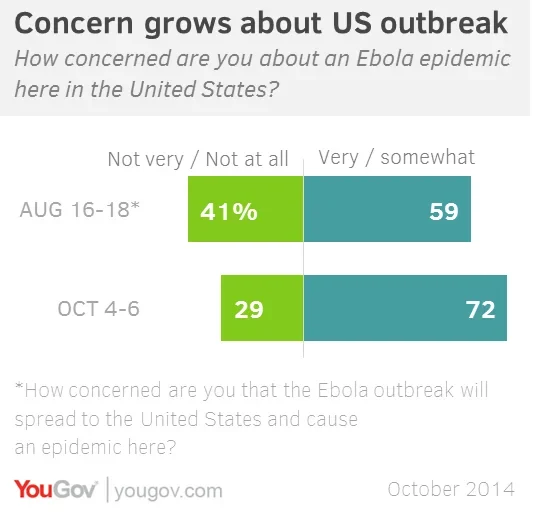 There is especially high concern among African-Americans. 40% of them say they are very concerned about the possibility of an epidemic here. Some of the largest increases in concern comes from senior citizens (from 13% very concerned in August to 40% today).
There is also more attentiveness today. Three out of four Americans are following news about the Ebola case in Texas closely and a third say they are following it very closely. In August, when the epidemic was limited to western Africa, just 16% were following that breakout very closely.
What should the United States do about Ebola? Nearly half the public thinks the U.S. isn't doing enough – an increase of 15 points from the answers they gave in August, when the virus was only active in western Africa. And Republicans are especially likely to want more action. The percentage of Republicans who think the United States is not doing enough has nearly doubled since August. Democrats feel a little more confident that enough is being done.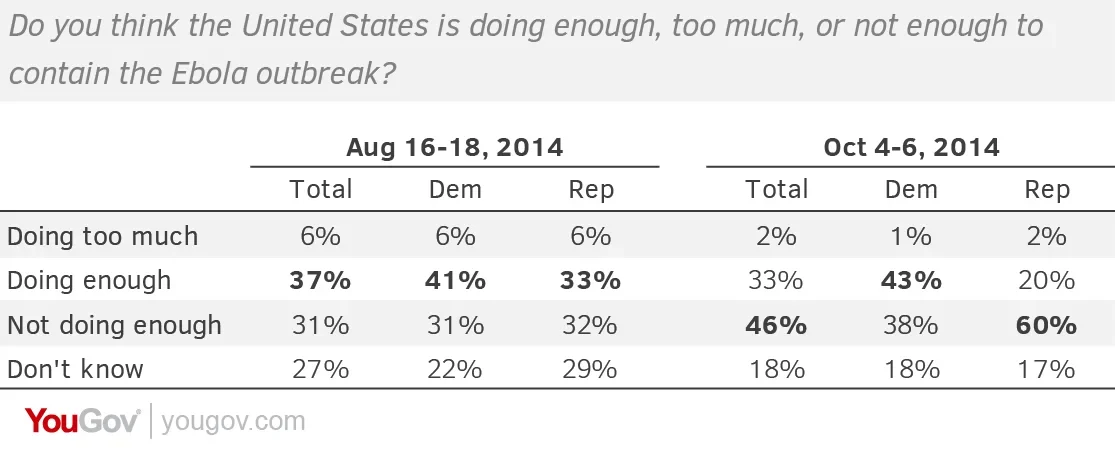 Republican concern over the possibility of an epidemic in the United States has increased from August, too. Then, just 15% of Republicans were very concerned about the possibility of Ebola spreading to the U.S. and causing an epidemic. Now, as Ebola has arrived, the percentage of Republicans saying they are very concerned about an epidemic in the U.S. has jumped 23 points, up to 39%.
What can be done? There is widespread support for medical quarantine: Americans overwhelmingly agree with the quarantining of the family of the Ebola victim in Texas. 43% would like the government to spend more money on Ebola research, up ten points from August. But Democrats and Republicans have different views when it comes to questions about government spending, and this issue is not different. More than half of Democrats – but only a third of Republicans – would increase government spending on Ebola research.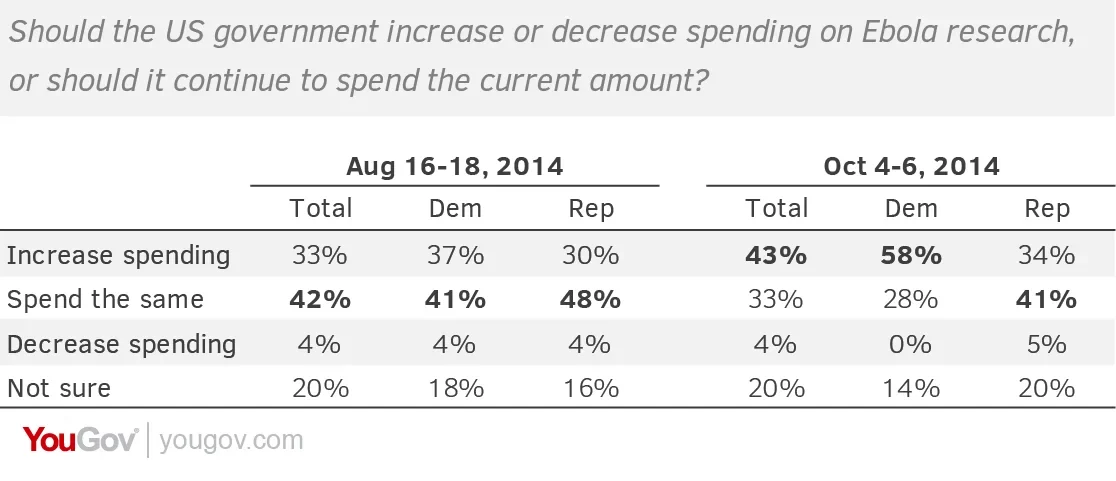 Americans still believe that more action would have been taken by the entire world if the disease had been discovered in Europe and not in Africa. 62% say more would have been done in that circumstance. And nearly twice as many believe there would have been a cure for Ebola now if the disease had been concentrated in Europe than disagree with that possibility.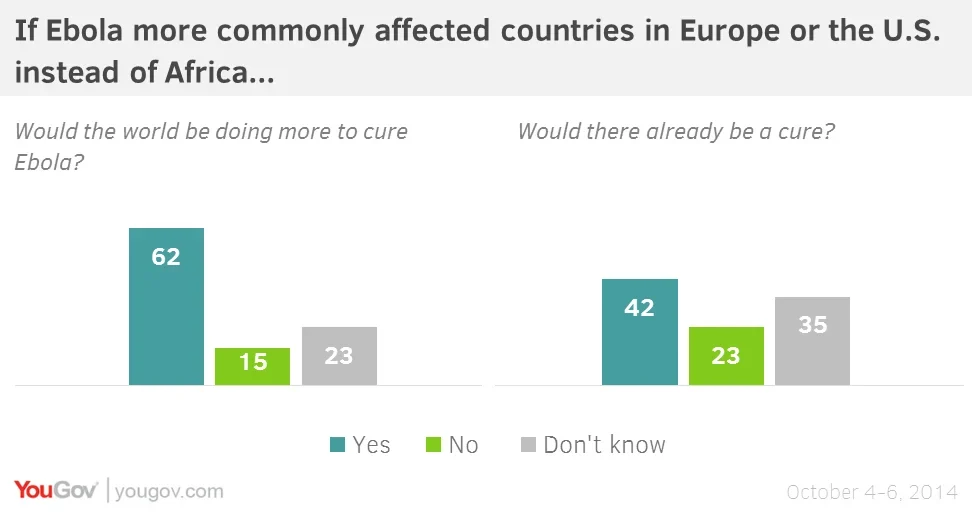 African-Americans are especially likely to say there would have been a cure now if this were a European virus – 59% of blacks think that would be the case.
PA image
Full results can be found here.
Economist/YouGov poll archives can be found here.