Most support ending the embargo on Cuba, and the public tends to approve of President Obama's handling of the issue
Americans in Economist/YouGov Polls conducted in the last four years have supported travel, trade and even diplomatic relations with Cuba, and the President's initiative to improve U.S. relations towards the Castro-led regime in Havana hasn't changed those opinions. And while Republicans are less likely to support all these options, about a third of Republicans would favor trade and diplomatic relations, while half would allow some kinds of travel.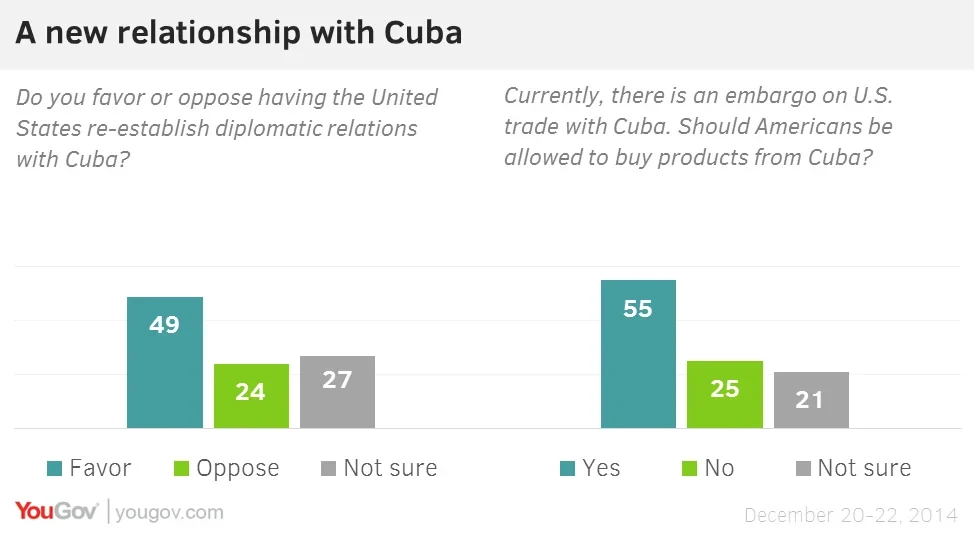 Those levels of overall support for engagement with Cuba have remained fairly constant over the last few years. About half the public has favored re-establishing diplomatic relations since 2011, while somewhat higher percentages have supported travel and lifting the trade embargo.
Republicans have always been less supportive.
But one group that has been extremely supportive of changes in U.S. policy towards Cuba is the U.S. Hispanic population. More than two in three Hispanics support lifting the trade embargo, while six in ten would permit unrestricted travel and want diplomatic relations, a larger percentage than the public overall.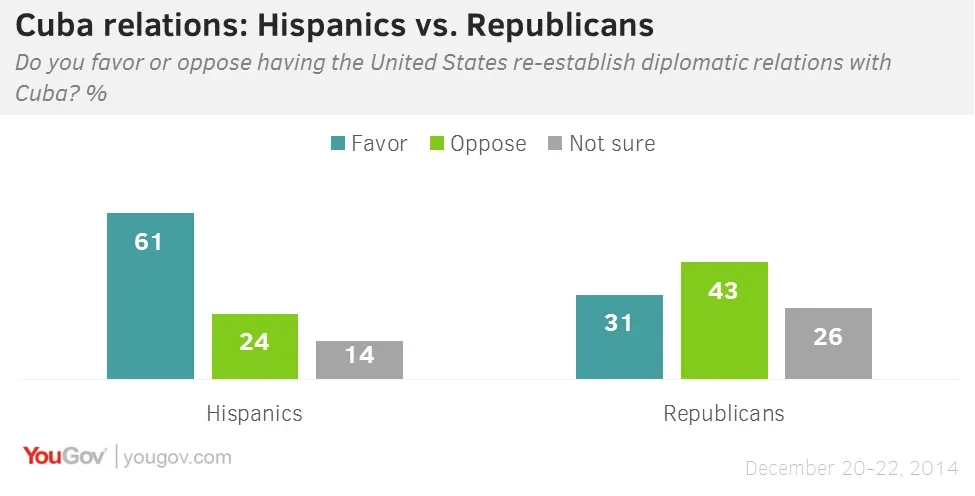 Americans may also be softening their view of the people and the country of Cuba (though not its leaders). By 47% to 33% they think Cubans generally like Americans, or at least have a favorable view of the United States. And while a majority of the American public still sees Cuba as either unfriendly or even an enemy of the United States, those percentages have dropped since April. The percentage viewing Cuba as an enemy is the lowest seen in Economist/YouGov Polls asking the question; just as many today would call Cuba an ally or friend, the largest percentage that ever have said that in the poll.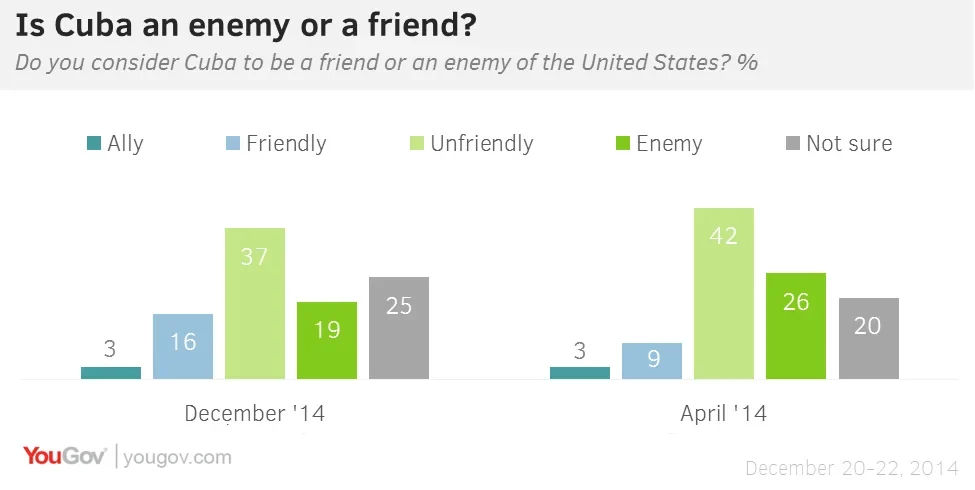 But Americans still don't like the Cuban leadership. Only 9% have a favorable opinion of Fidel Castro, and while his younger brother Raul, now running the country, fares better with the American public, just 17% have a favorable view of him. Just under half are unfavorable towards Raul, while 78% dislike Fidel. Russian President Vladimir Putin is seen just about as negatively by Americans as Fidel Castro.
Both Castros, however, are seen as strong leaders (so is Putin). President Obama is not. Only 42% describe the American President as a strong leader. Two-thirds say that about Raul Castro, while three in four think Fidel Castro and Putin are strong leaders.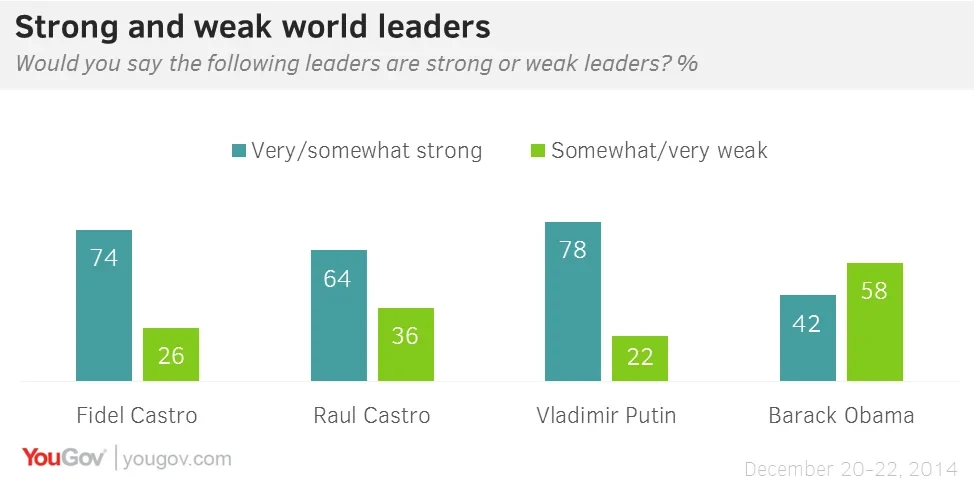 But President Obama is getting credit for his Cuba initiative. Unlike their majority negative job rating, and the negative scores the American President receives on foreign policy in general and on his handling of Russia, Americans are more likely to approve than disapprove of the way Barack Obama is handling Cuba,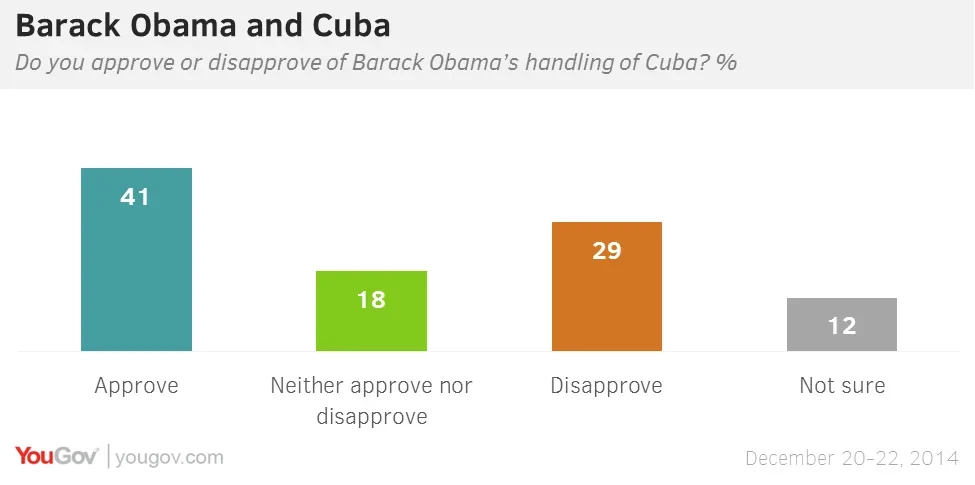 That rating, like all other assessments of the Democratic President, has partisan overtones. Even though large minorities of Republicans favor the specific actions the President has taken, only 11% approve of his handling of Cuba. 63% disapprove.
Economist/YouGov poll archives can be found here.