Nearly half of Americans think that police brutality protestors have at least some responsibility for the murder of two NYPD officers last month
Days before Christmas last month two New York City police officers, Wenjian Liu and Rafael Ramos, were gunned down by Ismaaiyl Brinsley who had earlier that day shot his ex-girlfriend in Baltimore. The killings came at a tense time in New York, as protestors took to the streets each night over the decision not to prosecute the police officer who killed Eric Garner in Staten Island in July. Brinsley said in social media posts that he was going to kill two cops to avenge the death of Eric Garner and Michael Brown, the Missouri teen who was killed in August.
At the funerals of both Rafael Ramos and Wenijian Liu many police officers turned their backs on Mayor Bill de Blasio, who they have accused of not properly supporting the police, and former NY governor George Pataki accused the protestors and Eric Holder of of inspiring the murders.
YouGov's latest research shows that 44% Americans think that the people who have been protesting the recent police killings in Ferguson and Staten Island do shoulder at least some responsibility, though 34% do not think the protestors have any responsibility for the killings. Most Americans (52%) say that Barack Obama does not have any responsibility for the killings, and people also tend to say that Eric Holder (40%) and Bill de Blasio (39%) do not have any responsibility.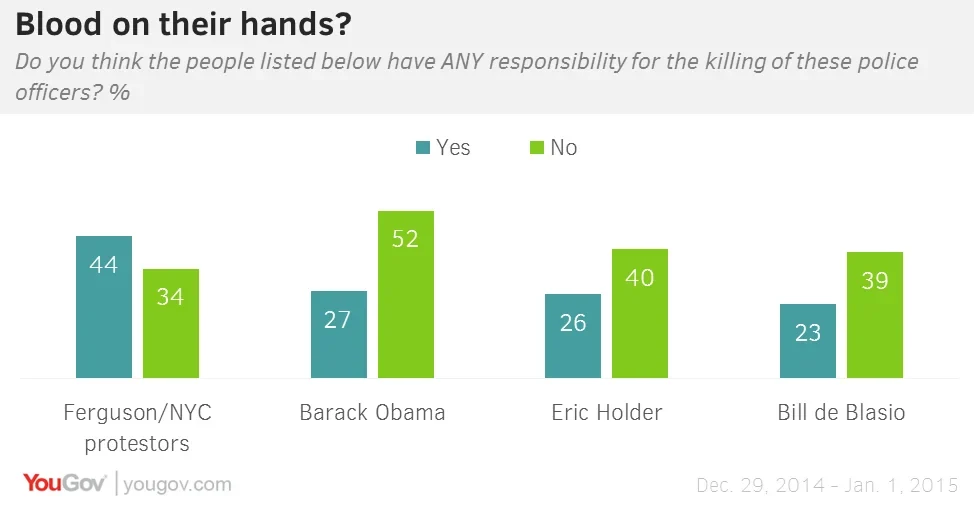 Opinion is split on whether or not it was appropriate for police officers to turn their backs on the mayor when he spoke at the funeral of Rafael Ramos, with 36% of the public saying it was OK and 38% saying that it was unacceptable. There is a significant partisan split on the issue, with 59% of Democrats saying that it was unacceptable and 58% of Republicans saying that it was acceptable.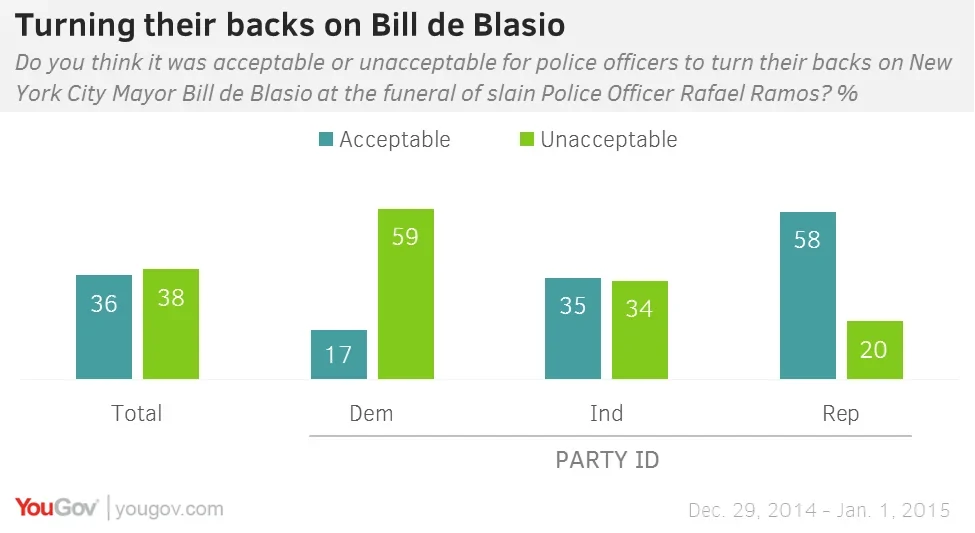 In addition to turning their backs on the mayor at the funerals of Ramos and Liu, NYPD officers have also dramatically curtailed their law enforcement efforts, with the number of arrests down by two-thirds compared to this time last year, despite no change in city policy, raising questions of whether the police in New York are properly accountable to city hall.
Americans tend to say that the police (40%), not elected officials (33%), should have the greater say about how the law is enforced. Democrats tend to say that elected officials should have greater control, but a majority of Republicans think that law enforcement policy should largely be determined by the police, not politicians.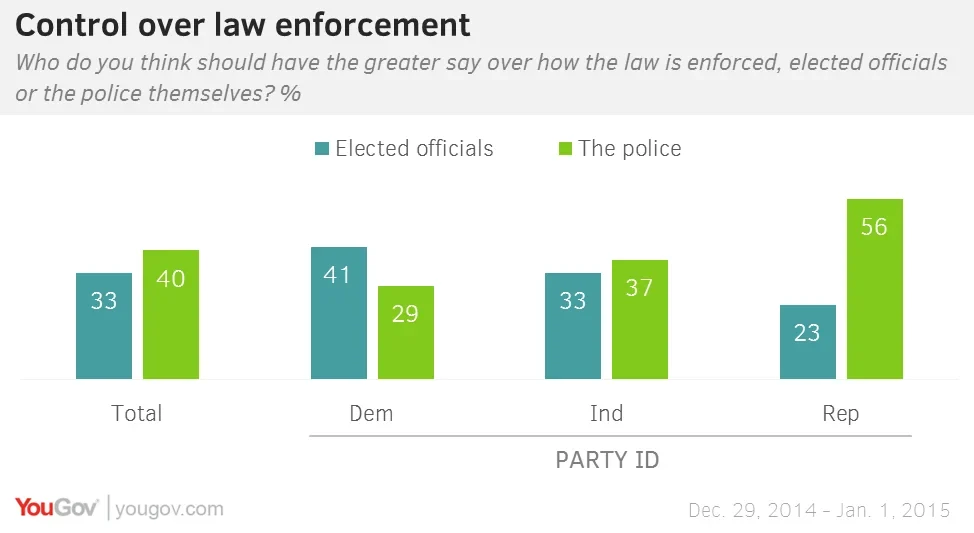 Full poll results can be found here.