Support for stricter financial regulation has been dwindling, despite the fact that most Americans think the problems that caused the financial crisis have not been fixed
Debate over banking reforms enacted after the 2008 financial crash recently returned to the U.S. Congress. The bill passed in December of 2015 to fund the government included a controversial provision rolling back parts of the 2010 Dodd-Frank Wall Street reform bill, and in January the House passed additional legislation further weakening the financial rules with the support of House Republicans and 29 Democrats. In his State of the Union Barack Obama said he would veto legislative attempts to undermine Dodd-Frank, though he signed into law the government funding bill to the dismay of the law's advocates.
YouGov has tracked public opinion on financial regulation since 2009 and finds public support for additional regulation of financial markets has steadily eroded. Today, only 31% think more needs to be done, not significantly different than the 28% who think existing rules should be rolled back. Another 24% back maintaining the status quo, while 17% don't know how they feel.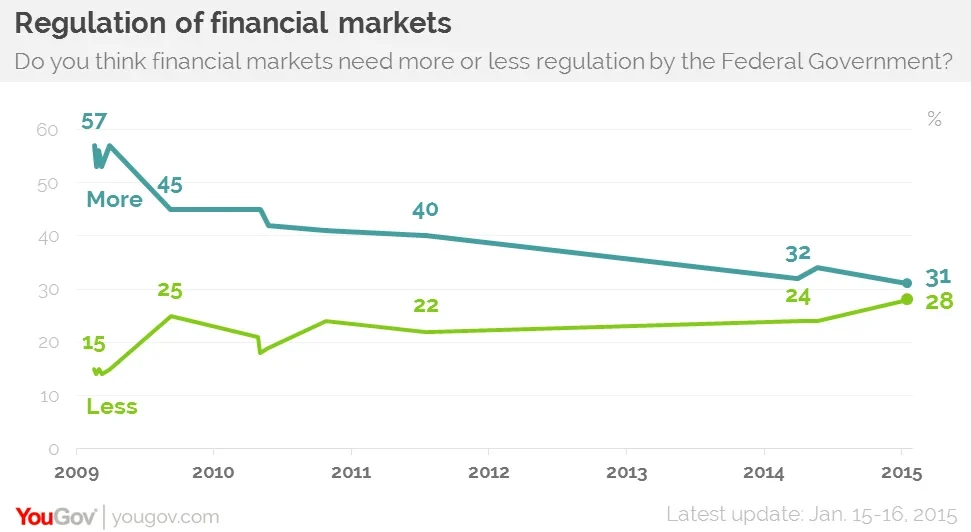 In early 2009, in the wake of the biggest financial shocks for decades, the majority (57%) of Americans wanted to clamp down on the financial industry, while only 15% favored less regulation and 16% wanted things to stay the same. However, by September of that year – after the Obama administration proposed a law introducing financial reforms – support had already dropped below 50%. The percentage who wanted less regulation also shot up around this time, particularly among Republicans. Barack Obama signed the Dodd-Frank Act into law in July 2010.
Support for more regulation has declined across all political groups, though the majority of Democrats remain supportive (52%, down from 72% in Feb. 2009) and the majority of Republicans never were (only a third wanted more regulation in 2009, when a third also wanted less; now 53% want less and only 13% want more).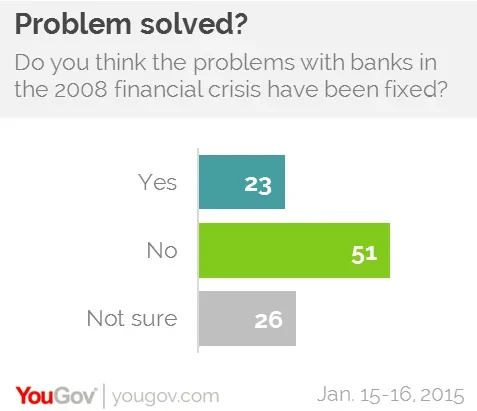 Of course, the shift doesn't translate to overall satisfaction with how Washington dealt with the financial crisis. 51% of Americans say that most of the problems with banks in the 2008 financial crisis have not been fixed, while just 23% think they have. Here there is bipartisan agreement: 48% of Democrats and 50% of Republicans say the problems remain.
Some of the disconnect may be due low public awareness of existing law. Asked specifically whether the law the Congress passed in 2010 overreached, only 18% say it did, while 27% say it didn't go far enough and 38% respond "not sure". Even among Republicans, only a third (33%) say the 2010 law went too far. Meanwhile 41% of Democrats say the law – passed largely with Democratic votes – was too weak. Additionally, only a third of the general public say they are even somewhat familiar with the "Dodd-Frank law which regulates financial markets", including just 4% who are "very familiar".