President Obama and Republicans in Congress continue to get negative ratings on the issue of deficit reduction, despite shrinking deficits
After skyrocketing at the outset of the financial crisis, the U.S. government's deficit has been falling rapidly in recent years, a product of federal spending cuts and a growing economy, and the nonpartisan Congressional Budget Office (CBO) estimates it will fall again this year. Yet YouGov's latest research suggests the shift has hardly registered with the general public, who generally disapprove of the way both President Barack Obama and Republicans in Congress have handled the issue.
Asked whether the gap between the amount of money the federal government took in and the amount it spent in 2014 was larger or smaller than the gap in 2013, only 25% of Americans said (correctly) that it was smaller. More – 36% – said the deficit had grown, while 39% weren't sure how to answer.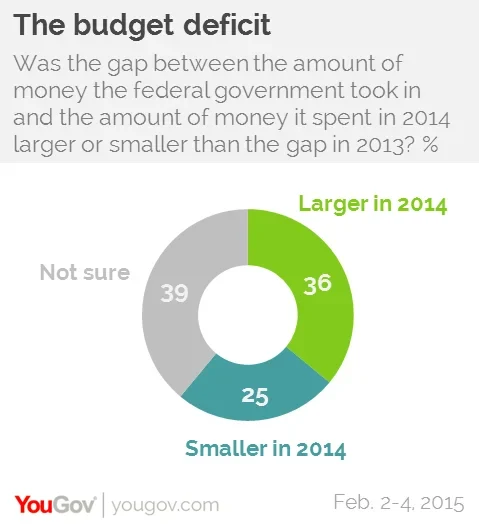 When asked in August 2013 about the change from 2011 to 2012, Americans gave nearly identical responses, with 39% under the impression the deficit had grown and 24% believing it had shrunk.
According to the latest CBO estimates, the government took in $483 billion less than it spent in fiscal year 2014, compared to $680 billion in 2013, a decrease of nearly a third. Between 2011 and 2012, the deficit shrank by about half as much.
Deficit politics
Though it has subsided since the early years of Obama's presidency, the budget deficit has not disappeared as a potent political issue for Americans. During late-2009 and early 2010, nearly two-thirds of the public cited the deficit as a "very important" issue facing the country, and today about half still do.
Changes in how Americans rate Obama and congressional Republicans on the issue have been even more modest.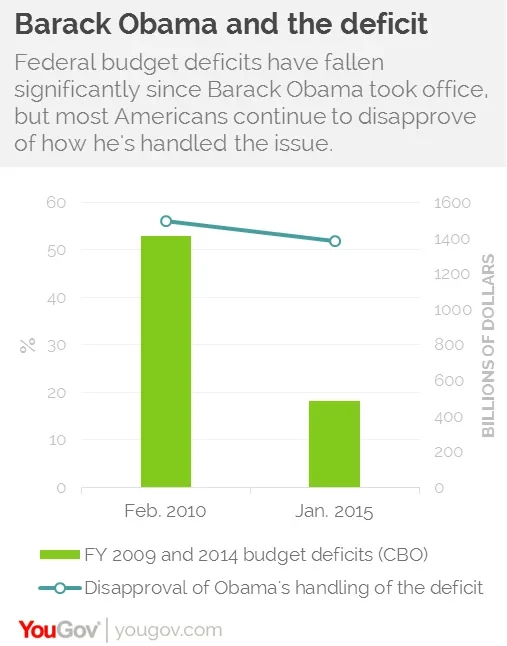 During February 2010, after a year when the budget shortfall exceeded $1.4 trillion, just 34% of Americans approved of how the president was handling the budget deficit, while 56% disapproved. So far this year, 36% have approved and 52% have disapproved, a minor shift despite a reduction in the deficit of nearly two-thirds.
Ratings of congressional Republicans are no better. In fact, only 21% of Americans approve of how the Republicans are handling the budget deficit, identical to last January, though disapproval has fallen 11 points over the same period, to 57%.
PA image
See full topline results and demographic breakdown
Update: An earlier version of this report indicated that the deficit had been reduced to $483 million. The correct amount, as indicated in the second chart, is $483 billion.