Many oppose allowing any political or religious ads on public property, not just the Mohammed cartoons on the Metro in Washington, D.C.
At the end of May a free speech group led by Pamela Geller, a controversial anti-Islam activist, announced that it would seek to purchase advert space on the Washington Metro system to display a cartoon of the prophet Mohammed. The cartoon, which won first place at a contest in Texas which saw an attack by two gunmen who were killed by police, would have been displayed on trains, buses and stations in Washington if it were not for the decision by the Metro to ban all adverts which are 'issue oriented'. The move seems to allow the DC Metro to avoid the situation of New York's MTA in 2014, which was forced to run another set of adverts paid for by Pamela Geller after a judge ruled that refusing to do so infringed her First Amendment rights.
YouGov's latest research shows that Americans tend to agree that the DC Metro shouldn't allow an ad depicting the prophet Mohammed to be displayed on mass transit in the city. 45% say the ads should not be allowed while 28% say that they should. Most Democrats (53%) and many independents (44%) agree on the prohibition, but Republicans narrowly say that the Metro should (44%) rather than should not (36%) allow the ads.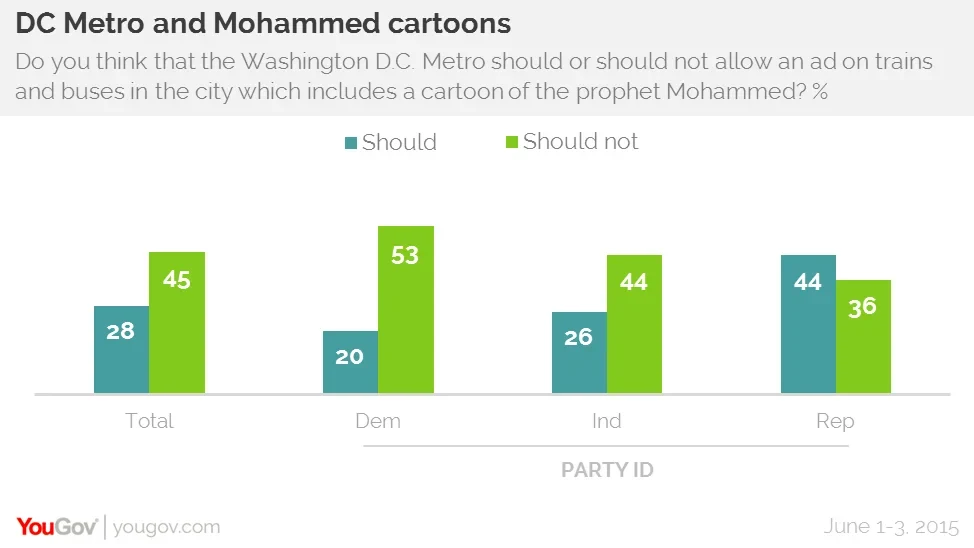 Similar numbers of each group agree with the Metro's decision to prohibit all issue ads rather than display the cartoon of Mohammed, with 45% of Americans approving of it and 25% disapproving.
Many Americans (40%) actually think that issue ads should be prohibited on public property in general, though 34% of the public do think that political and religious ads should be allowed on government property where ads are normally displayed, such as airports and train stations.
Among Democrats nearly half (48%) think that issue ads should not be allowed on public property and only 27% say that they should. Independents tend to oppose allowing issue ads (39% to 28%) while most Republicans (55%) think that political and religious ads should be allowed on public property.