Many lack confidence in the TSA's ability to catch terrorists, but most think screenings are necessary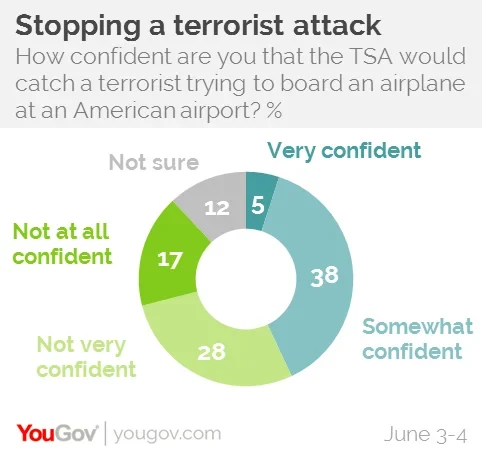 After the shocking revelation that TSA agents failed to detect 95% of fake weapons and bombs smuggled onto planes by undercover agents the acting head of the Transport Security Administration (TSA) was dismissed last week by the Secretary for Homeland Security.
YouGov's latest research shows that very few Americans have high confidence that the TSA would catch a terrorist trying to board an airplane at an American airport. Only 5% are 'very confident' in the TSA, while 38% say that they are somewhat confident that the TSA would catch the terrorist. 45% are either 'not very' or 'not at all' confident in the TSA.
Confidence in the TSA is much lower than for other groups involved in air safety. By comparison, 40% of Americans have a 'great deal' of confidence in air traffic controllers. Even the Federal Aviation Administration (FAA), another government agency, is much better regarded with only 23% saying that they are 'not too' or 'not at all' confident in the FAA while 28% have a 'great deal' of confidence.
Additionally, only 12% of air travellers think TSA screening procedures are "extremely" or even "very" effective. Meanwhile over a third (36%) think the screenings are not too effective or not effective at all.
While most Americans (58%) think that airport screenings are necessary, 27% say that they are overly intrusive and don't do much to keep air travel safe. There is something of a partisan divide on the issue, as Republicans (33%) are almost twice as likely as Democrats (18%) to say that airport screenings are overly intrusive and not particularly effective.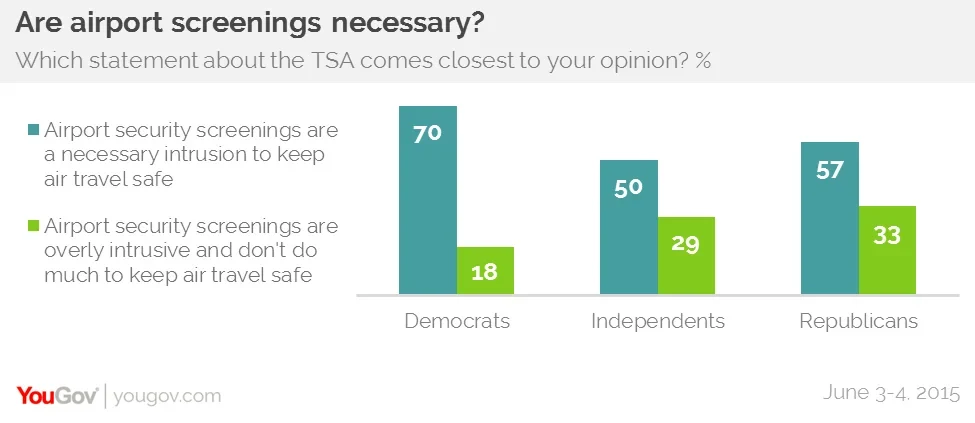 Problems at the TSA are likely to be far harder to resolve than just changing top management, however, as many industry experts say that problems are so endemic that having effective airport security in the US may depend on "starting from scratch".
Full poll results can be found here and topline results and margin of error here.