Most Americans support building a fence with Mexico but not one with Canada
Donald Trump has made forcing the Mexican government to build a fence along the entire length of their border with the United States a major plank of his presidential campaign. Much of the border with Mexico is already fenced, but the Canadian border has long been unguarded and often unmonitored. In many areas the border is almost invisible, dividing American residents on one side of the street from the playground their children play in on the other side of the street. Scott Walker drew scorn and not a small amount of ridicule for appearing to suggest that the United States build a wall along the Canadian border.
YouGov's latest research shows that most Americans (64%) support building a fence on the border - when that border is the one with Mexico. Only 27% of the American public oppose it. Even Democrats are evenly split (44% to 43%) while large majorities of independents (65%) and Republicans (87%) support a Mexican border fence.
When it comes to the unlikely proposition of a Canadian border fence, however, most Americans (55%) oppose fencing off our neighbors to the north. 28% of Americans do support a Canadian border fence, but virtually every demographic group is opposed. Republicans tend to oppose a Canadian fence 49% to 33%, while most Democrats (57%) and independents (56%) also oppose it.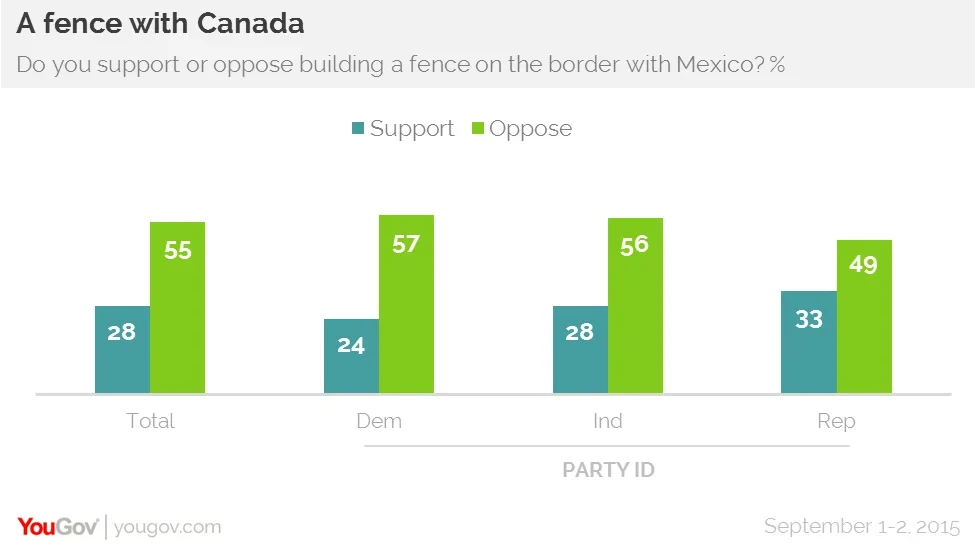 Scott Walker has since walked away from the Canadian border comments, but his Republican opponents latched onto the comments. Rand Paul, who is also seeking the Republican nomination for President, called the idea 'dumb'.
Full poll results can be found here and topline results and margin of error here.