Most Americans think the House investigation into Hillary Clinton's role in Benghazi is at least partly politically motivated
The House Select Committee on Benghazi has been accused of doctoring emails from the private server used by Hillary Clinton when she was Secretary of State, and even a few Republicans have intimated that at least one of the purposes of the committee was to affect her standing in polls. And in last week's Democratic debate, Vermont Senator Bernie Sanders told Hillary Clinton that "the American people are sick of hearing about your damn emails."
Those emails that Clinton sent and received on a private server while she was Secretary of State will likely be a topic during her appearance at a hearing of the House Select Committee on Benghazi. And so will the former Secretary of State's performance before and during the 2012 attacks on the U.S. consulate in Libya.
Many Americans in the latest Economist/YouGov Poll are predisposed to agree with the suggestions that the hearings are politically motivated. While many give credit to the seriousness of the committee members to find out what really happened in Benghazi, more than half see it at least in part as an attempt to embarrass Clinton and the Obama Administration.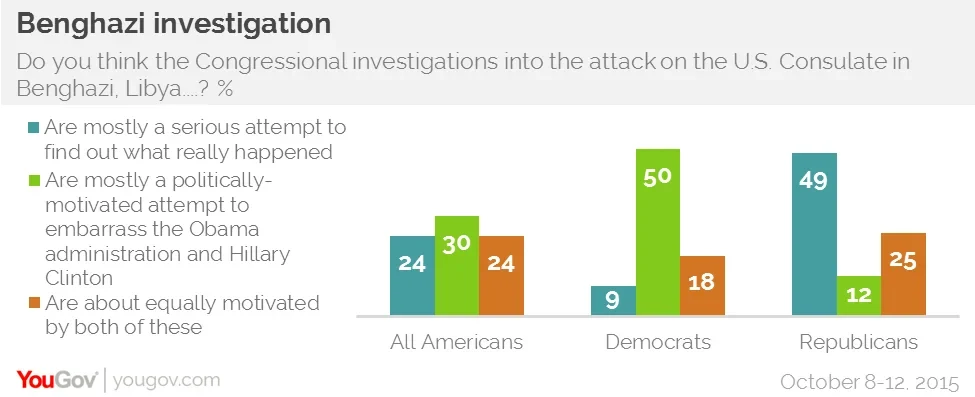 Views of the Committee's motivations are extremely partisan. Half of Democrats view the hearings as mainly politically motivated; half of Republicans describe it as mostly a serious attempt to discover the truth.
[Half the sample was read the quote by House Majority Leader Kevin McCarthy which linked the Benghazi Committee to Hillary Clinton poll numbers. He said, "…we put together a Benghazi special committee, a select committee. What are her numbers today? Her numbers are dropping." However, within party groups, whether or not a respondent was reminded of the statement made little difference in their answers about the panel's motivation.]
Benghazi clearly was not Clinton's best moment as Secretary of State. And Americans were never satisfied with her performance on Benghazi. Her highest approval rating for handling Benghazi came immediately after the attack, but it was still only 38%. Today, only 26% approve.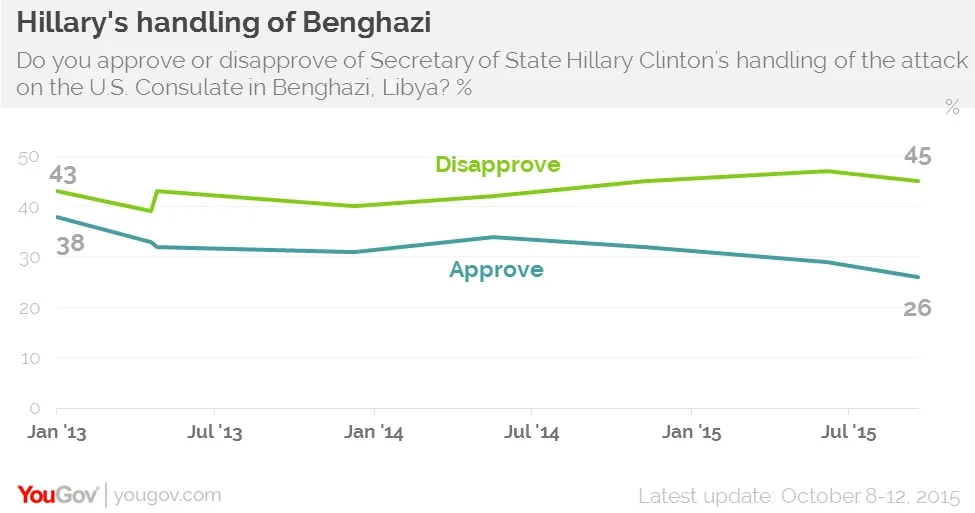 The approval ratings on Benghazi were always partisan. However, Democrats now offer only limited support: in the latest poll, 49% of Democrats, just under half, approve of how Clinton handled what happened in Benghazi, and 18% disapprove. Republicans have few doubts: 79% of Republicans disapproved of Clinton's performance in that situation.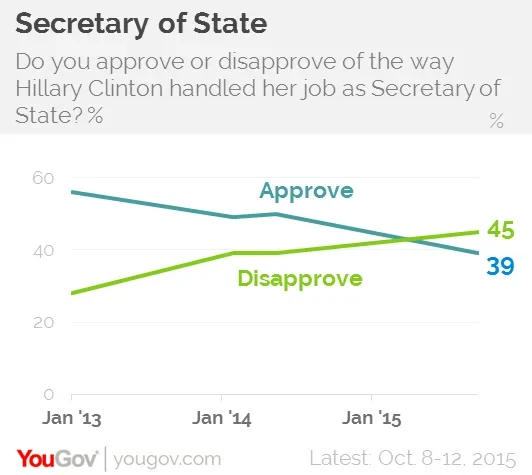 Politics intrudes when it comes to the overall assessment of Clinton's work as Secretary of State as well. Before Clinton entered the 2016 race for the presidency Americans generally approved of her performance as Secretary of State, and she routinely received better marks than Barack Obama. Even in mid-2014, more than a year after she left the job, 50% approved of the way she performed her job as Secretary of State. Now more disapprove than approve.
Only 39% now say they approve of how Clinton handled her job as Secretary of State. 45% disapprove.
One issue for Clinton when she testifies before the House Committee will be her believability. This is an area where she has a problem with the public. When Americans are asked to describe her, one of the most common negative words they use is "liar."
And an Economist/YouGov Poll conducted just before Labor Day found only 30% of the public describing Clinton as "honest and trustworthy."
See the Economist/YouGov results
Economist/YouGov poll archives can be found here.