In the wake of the Paris attacks American opinion has hardened towards Syrian refugees and America's role in sheltering the world's displaced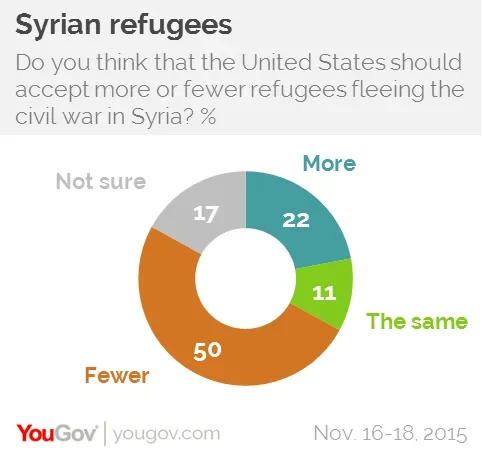 Governors of 26 states are now saying that their states will not be accepting any more refugees from Syria, citing terror concerns after the recent attacks in Syria. States have no power to prevent refugees from settling in their states, but they can refuse to assist in relocation efforts and generally make new settlement difficult. Other states have taken a different stance, with the governor of New York, Andrew Cuomo, stating that refusing entry to Syrian refugees would be like taking down the Statue of Liberty.
YouGov's latest research shows that half the American public think that the United States should be accepting fewer Syrian refugees. 11% say that the United States should accept roughly the same inflow of refugees that it does currently, while 22% think that America should accept more Syrian refugees. The percentage of Americans saying that the US should accept fewer refugees has increased significantly since September, when only 30% wanted fewer Syrian refugees and 29% wanted more Syrian refugees to come to the United States.
The hardening of attitudes is not limited exclusively to Syrian refugees, either. In September 52% of Americans said that the United States should provide refuge to people fleeing war or oppression, whatever country they come from, while today 38% of Americans say the same thing. 39% of Americans say that the United States should not provide shelter to refugees, up from only 21% in September.
The change is more dramatic among Republicans, only 17% of whom now say that the United States should provide refuge for people fleeing war. Most Democrats (52%) still think that the United States should provide refuge, though this has fallen from 65% in September.