Americans are split on whether it is more important to protect customer data or cooperate with the government, but when it comes to the Apple court order specifically nearly two-thirds want Apple to cooperate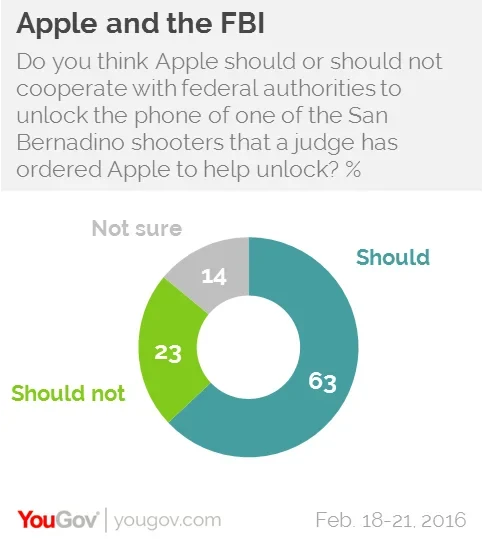 One of the shooters in the San Bernadino attacks allegedly communicated with potential co-conspirators on an iPhone that Apple have now been ordered to unlock. For a long time Apple had cooperated with federal authorities in unlocking phones relevant to ongoing criminal investigations, but recent scrutiny of alleged privacy violations has led Apple to withdraw its cooperation.
The latest research from YouGov shows that a large majority of Americans (63%) say that Apple should obey the court order that they cooperate with the FBI in unlocking the San Bernadino iPhone. Just under a quarter of Americans (23%) disagree and do not think that Apple should cooperate. Support for compliance is high across all demographics, though Republicans (72%) and women (68%) are more likely than Democrats (61%) and men (58%) to support Apple cooperating to unlock the phone.
Americans are evenly split, however, over whether it is more important in principle to protect data privacy or to cooperate with criminal and counter-terror investigations. 41% of Americans say that it is more important to protect data privacy while 43% say that it is more important to cooperate with the government. The most noticeable split is actually between men and women. Men (49% to 38%) tend to prioritize data privacy, while women (33% to 47%) tend to say cooperating with the government is more important.