Americans tend to support the transformed relationship with Cuba, and most approve of Obama's upcoming visit to Havana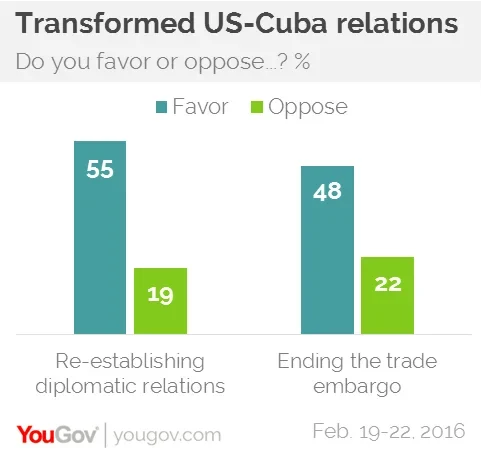 For decades the Cold War lived on across the Florida Straits, as the United States maintained its embargo with Cuba and the two countries lacked diplomatic relations. In recent years, however, the Obama administration has ended the long policy of isolation. The two countries now have diplomatic relations, trade restrictions are easing and Barack Obama is set to be the first president since Calvin Coolidge to visit the country.
Research from YouGov shows that Americans are generally happy with the transformation in relations between Washington and Havana. Most Americans (55%) support the decision to re-establish full diplomatic relations and just under half (48%) favor an end to the trade embargo. Only 19% oppose diplomatic relations and 22% oppose full trade between Cuba and the United States.
Obama's decision to visit Cuba as part of a broader tour of Latin America is more controversial, however. Most Americans (51%) support his decision to stop off in Havana, but a third of the country (34%) oppose it. Democrats (82%) and independents (46%) approve, but over two-thirds of Republicans (69%) disapprove.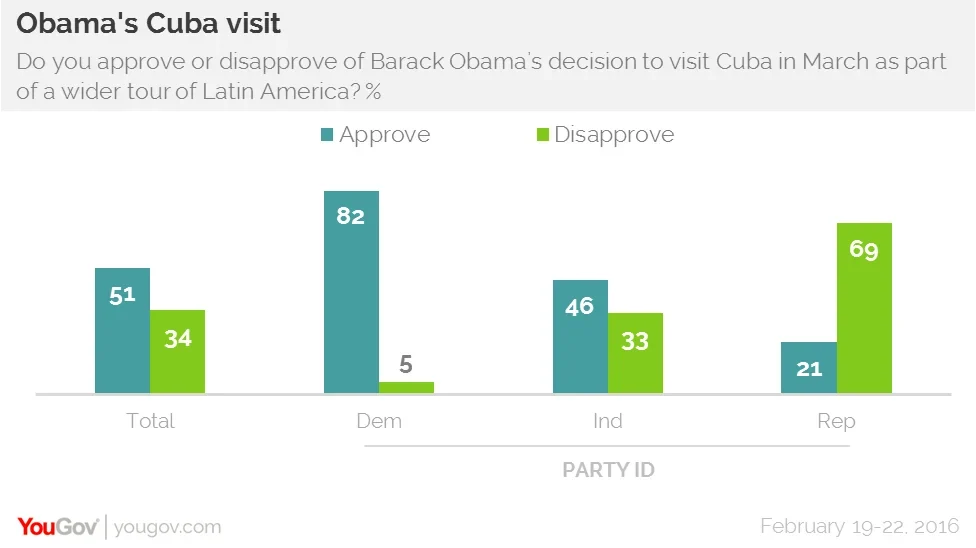 As the US government eases restrictions on Americans travelling to Cuba the island is set for a tourism boom. Nevertheless, even if money were no object, Americans are more likely to say that they would not (44%) like to go to Cuba rather than would like to (39%).
Full poll results can be found here and topline results and margin of error here.