This is a summary of a YouGov/Economist Poll, conducted June 2-5, 2016.
Trial heats among registered voters:
Hillary Clinton: 44% (+2 from May 20-23)
Donald Trump: 41% (0)



Bernie Sanders: 48% (0)
Donald Trump: 37% (-2)

Preferred 2016 presidential nominee among likely Democratic primary voters:
Hillary Clinton: 51% (+2)
Bernie Sanders: 41% (-2)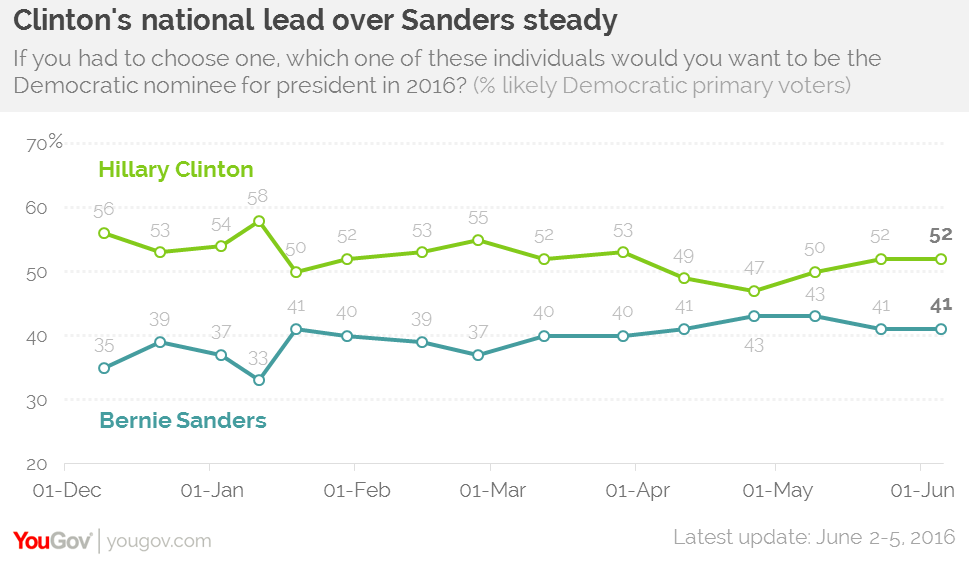 (Among all adults...)
Approval of Obama as president:

Approve: 46% (-1)
Disapprove: 48% (0)

Approval of Congress:
Approve: 12% (0)
Disapprove: 62% (+2)
Direction of the country:
Right direction: 25% (-2)
Disapprove: 63% (-1)
---
Other highlights:
The Democratic primary

52% of Bernie Sanders supporters would like Bernie Sanders to run as an independent. Only 33% say he should support Hillary Clinton
71% of Americans, including 77% of Democratic primary voters and 55% of Sanders supporters, expect Clinton to win the nomination. 32% of Sanders supporters still think their candidate will win.
Third-party runs


There is little interest in a third-party run by David French (4% in favor), Ben Sasse (3%) or Mitt Romney (16%).
12% "would consider" voting for Libertarian Party candidate Gary Johnson, however. This includes 27% of Republicans who say they supported someone other than Donald Trump in the Republican primary – but only 9% of Republicans overall, and 17% of independents.
---
For additional questions and detailed demographic breakdowns, see the full questionnaire here.
The Tracking Report can be found here.
Economist/YouGov poll archives can be found here.