Following a high-profile speech, the Republican nominee continues to trail his opponent in public confidence on the economy and taxes
Republican presidential nominee Donald Trump continues to make headlines but has yet to make up any ground on his Democratic rival. And many of Trump's supporters in the latest Economist/YouGov Poll no longer view their vote as one for the New York businessman, but more as a vote against Hillary Clinton.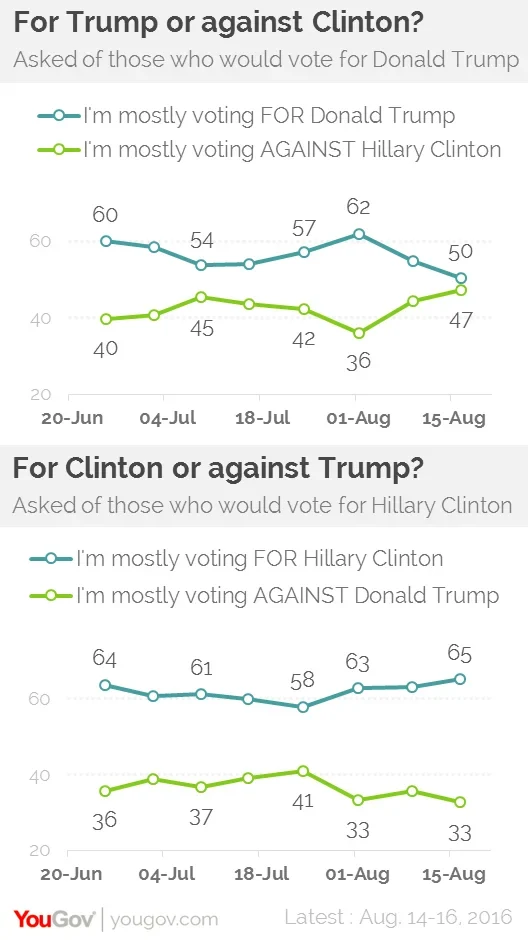 Two weeks ago, after both parties' nominating conventions, nearly two-thirds of those supporting Trump said their vote was a positive one. That has now dropped to only half, while about the same percentage say they are casting a vote for Trump mainly as a vote against Clinton. In contrast, Clinton's supporters are twice as likely to say their vote is a positive one as to say it is negative, and that ratio has not changed in the last few weeks (only former supporters of Vermont Senator Bernie Sanders who will now support Clinton say they are motivated more by antagonism towards Trump than by their positive views of Clinton).
One in five registered voters do not choose either Trump or Clinton in a four-way contest against Libertarian Gary Johnson and Green Party candidate Jill Stein.
Clinton's support is both more committed and more open to growth. Among those who say they have a "good idea" which candidate they will vote for, Clinton leads Trump by nine points, 49% to 40%.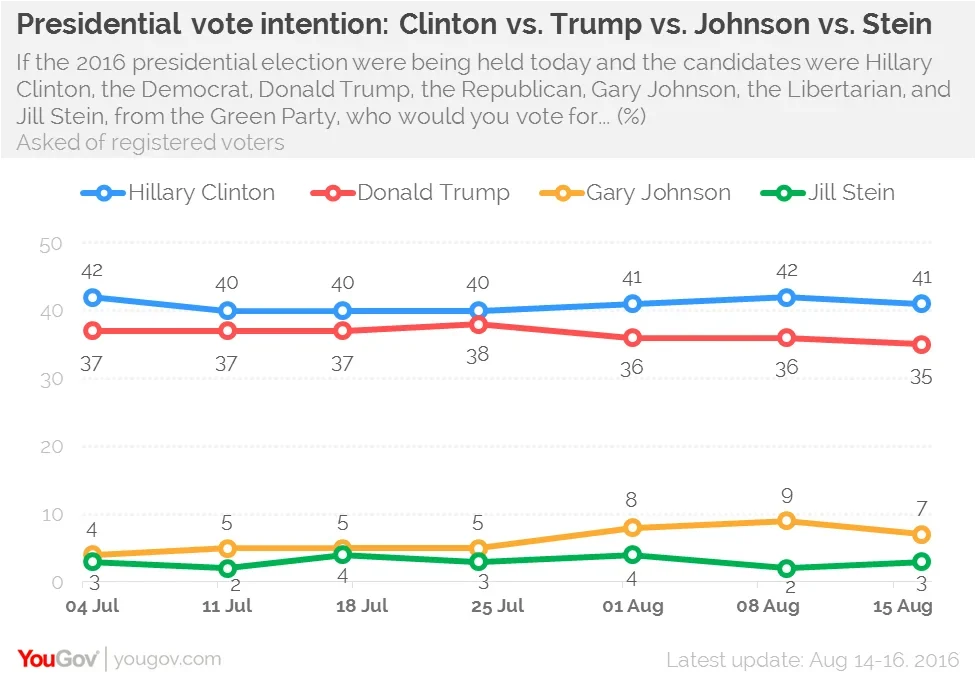 And there is a difference in the willingness of voters to consider supporting each candidate. Just 44% of registered voters say they could consider voting for Trump in November; 51% say they could consider voting for Clinton. However, only one in three of those now favoring other candidates say they would be willing to even think about voting for Trump or voting for Clinton, underscoring the negative assessments both candidates have received through most of the campaign.
Trump's path to victory is hampered by his lack of appeal to women voters. Although men divide closely between Clinton and Trump (Trump holds a three-point edge in this week's poll), women give Clinton a 14-point lead. Men are also twice as likely as women to say they are voting for Johnson or Stein. But Trump's problem with women voters extends beyond his current standing in the horserace: most women say they would not even consider voting for Trump.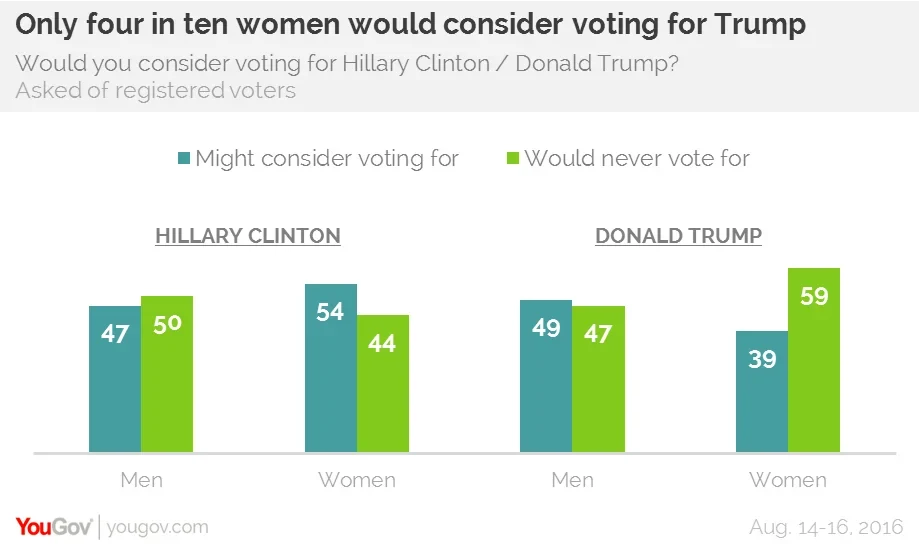 Trump's various attempts to win over support last week have gained him little. Even after his major speech on economic policy, most Americans are still uneasy about his approach to handling the economy. If anything, he has lost ground on this, and failed to move many Americans against Hillary Clinton's economic policy.
And on one issue Republicans historically fare well on – taxes – Clinton scores better than Trump.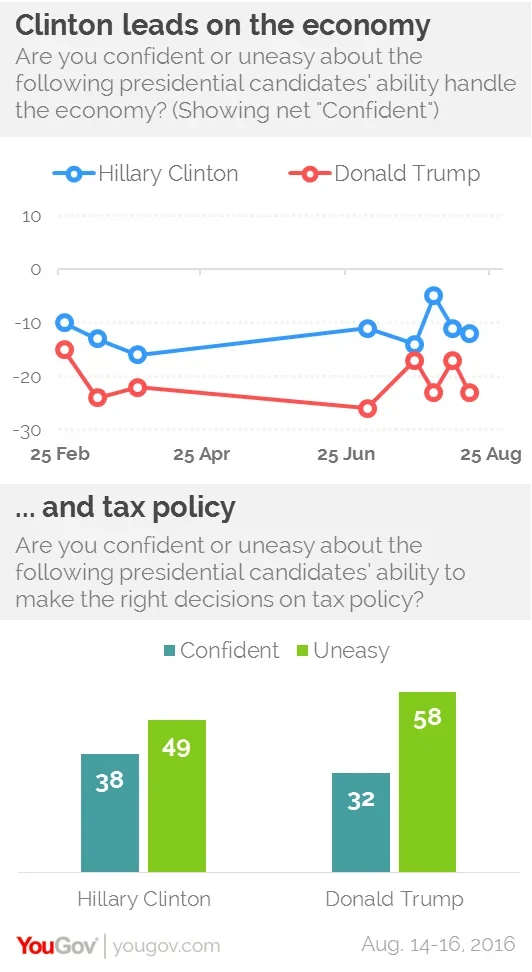 Trump's economic plan is seen as more beneficial than Clinton's only for those at the upper end of the economic ladder: by two to one, Americans say his economic plan would be better for the wealthy and better for big business. Clinton's plan is seen as better for the poor and for the middle class. As for Wall Street, the judgment isn't clear. 38% think Trump's plan is better for Wall Street, while 33% say Clinton's is.
Trump's other attacks on Clinton – that she is weak, and that she is corrupt – may be hurting the former Secretary of State, but Trump hasn't gained on Clinton when it comes to either characterization. Half of the public say they would use the word "corrupt" to describe Clinton, but 48% would use that word to describe Trump. And six in ten say the word "tough" describes each of them.
And when it comes to honesty, neither one gets high scores. Only 28% think Clinton is honest and trustworthy, and only 27% say that about Trump.
Trump's supporters like to think Hillary Clinton is older than Trump (she is more than a year younger, as Trump recently turned 70, while Clinton is now 68, but will turn 69 later this year). 44% of those now voting for Trump say Clinton is now older; 37% know Trump is older. Trump's supporters are also dubious about Clinton's health: by 65% to 25% they say she is not in good enough physical condition to serve effectively as President for the next four years. Most Americans disagree and believe she is.
See the rest of this week's YouGov/Economist Poll