Americans still tend to have an unfavorable opinion of the President-elect
America is still divided in their opinions of President-elect Donald Trump, and on some things is still negative about his ability. Only 35% now say Trump has the temperament for the Presidency, and 59% think he is not even somewhat qualified for the job. But there are a few signs that he is making some progress as he proceeds in the transition towards his inauguration. Just half the public in this week's Economist/YouGov Poll views him unfavorably; prior to the election, that percentage frequently exceeded 60%.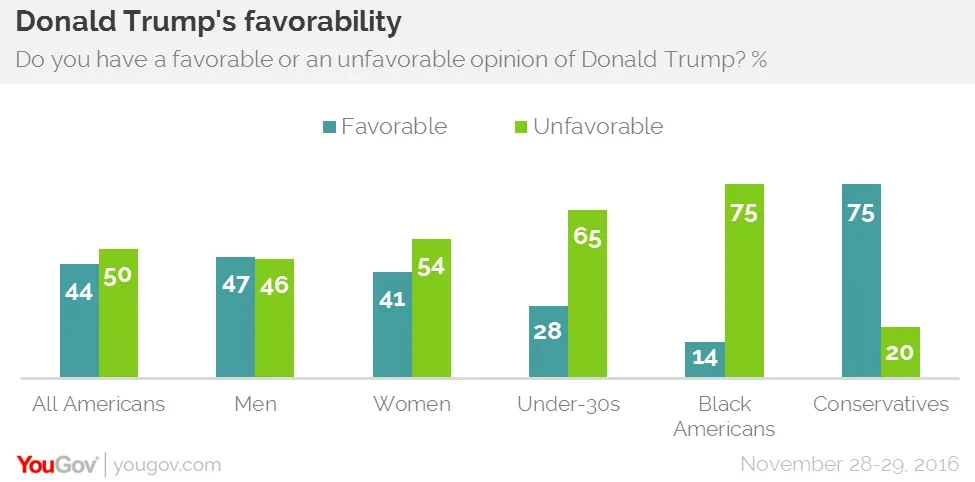 But there are clearly still areas of concern. Some groups are clearly not yet willing to like the election winner. Men are evenly divided, women are negative. Two-thirds of young adults and three-quarters of African-Americans have unfavorable views of Trump.
One in five conservatives are unfavorable towards the soon-to-be President, too. Many of them are not convinced he is one of them. Just about as many conservatives describe Trump as a liberal or a moderate as identify him as a fellow conservative. For the rest of the public, there is some uncertainty about exactly what the President-elect's ideological convictions might be.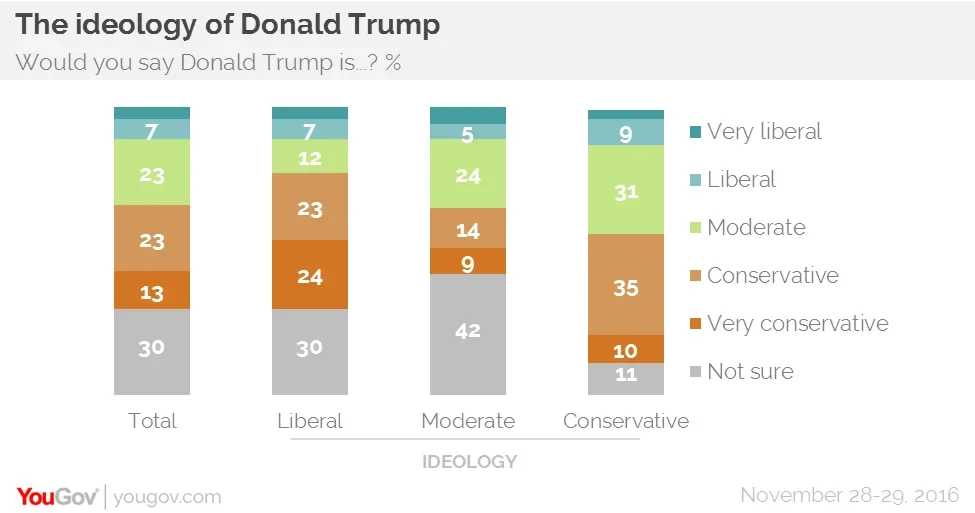 There is also concern over his lack of consistency on some issues. Just a third of the country would use the word "consistent" to describe Trump, and slightly more think he is changing his positions on some domestic issues than believe he's been consistent. But a plurality just aren't sure.
One of the ways Donald Trump may be able to bring more people on board is through the transition process. Right now, he barely gets a positive approval rating on that. 45% of the country approves of how he is handling the transition, while 40% disapprove. As for as the Cabinet nominations announced last week, the public is still out: many don't have an opinion about those he has named. But Americans do have opinions about two names that have been out there for a while: the competitors for the job of Secretary of State Rudy Giuliani, former New York City Mayor, and Mitt Romney, defeated for the Presidency in 2012 by Barack Obama.
Both men get mixed reviews overall. But Trump supporters seem to have a decided favorite: while they divide evenly on the former Massachusetts Governor, who spent much of 2016 criticizing the man whose Administration he could join, they overwhelmingly have positive views of Giuliani.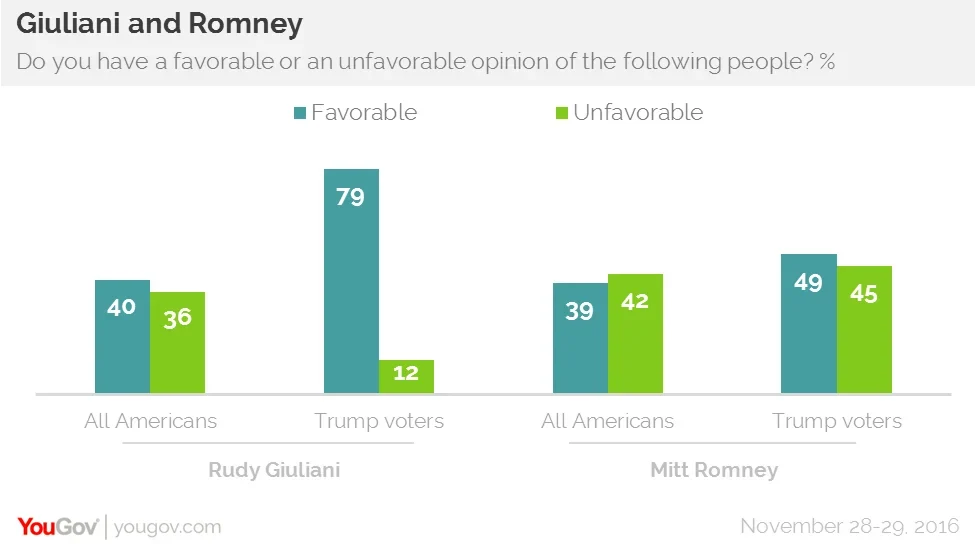 South Carolina Governor Nikki Haley, who also criticized Trump during the campaign, has already been named for the position of United Nations Ambassador. About half the public can't judge her, but those who do are marginally favorable. Trump's voters view her favorably, 49% to 16%.
The poll was completed before the news about some of Trump's other appointments.
But the country is still unclear about what happens now. Just over four in ten are optimistic about the next four years with Trump as President; just under four in ten are pessimistic.
See the rest of this week's YouGov/Economist Poll